The Hurry Up is your nightcap of Ohio State recruiting news, catching you up on the day's events with an ear on the ground for what's next.
---
BUCKEYES MAKING SPLASH IN CALIFORNIA 

Ohio State's spent more time on the West Coast in this recruiting cycle than any in recent memory, and it's paying off in spades.
California's Wyatt Davis, a five-star offensive lineman from St. John Bosco Prep, says the Buckeyes are making a big move in his recruitment.
From Scout.com:
"It's an incredible program and you know when you go there, you're going to be competing for championships so I definitely have a lot of interest. It doesn't bother me at all that the offer came a little later than others, I'm excited to visit."
How strong is the Ohio State brand right now? Davis released a Top 15 on April 5 and the Buckeyes weren't even on the list.
I just want to thank everyone who has been recruiting me in this process it truly means a lot to me. pic.twitter.com/ZPmYS2hobc

— Wavy Dub (@wyattdavis53) April 6, 2016
So how have they vaulted into consideration? Through the hard work of an Ohio State commitment, Haskell Garrett.
"Haskell (Garrett) is actually the one who told them about me. He had me call up Coach Hinton and we had a good talk and he told me how upset they were about being late on me but they wanted to offer. Then I talked to Coach Meyer and that was incredible. He told me he watched my tape and said I was a heck of a player and they really liked me a lot."
Davis has offers from everyone who is anyone and most have him leaning towards Alabama or Stanford, but he'll be in Columbus in June. From there, anything can happen.
If you're looking for a fun anecdote/side note about a recruitment? How's this one: Davis' father, Duane, may look familiar.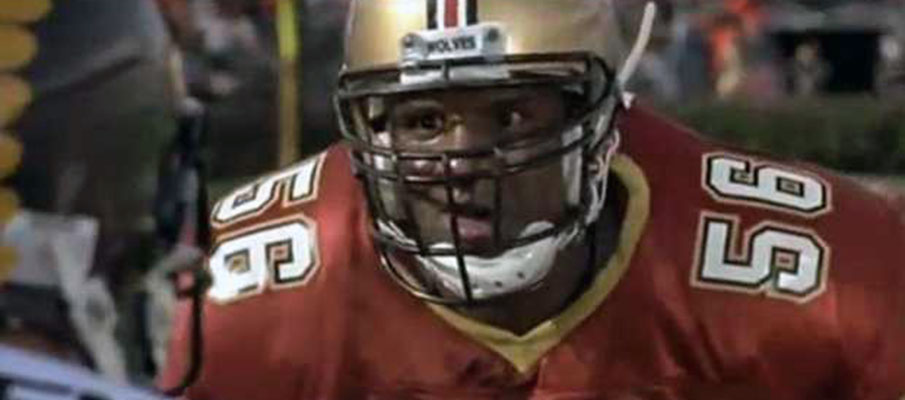 Yes, that is Alvin Mack from The Program. 
TARON VINCENT STILL LIKING OHIO STATE

We've spent a lot of time talking about defensive tackles in the 2017 class lately but not much about 2018, and it's getting close to the time for that to change. IMG's Taron Vincent – a Baltimore native – is the country's top-ranked player at the position in that class, and Ohio State is widely regarded as one of the leaders in his recruitment.
I talked to one source at IMG recently and they pulled no punches.
"Taron's such a great kid all around," the source said. "He's all about the Buckeyes, which is a good sign for us heading forward."
In fact, the source went on to say that were it not for his father – Troy, who played at Wisconsin – urging him to slow down, a commitment to Ohio State may have already happened.
The 6-foot-2, 285-pounder is expected to make a number of college visits this summer. That includes a stop at Ohio State. 
CASS TECH CONTINUES TO DOMINATE NATIONALLY

Over the last few years, there have been very few – if any – high schools across the country that have produced the talent that Detroit Cass Tech has. Thanks primarily to the efforts of Kerry Coombs, Ohio State has been able to tap into the flow of talent since 2014. They're working hard to make an impact in 2017 as well, recruiting Jaylen Kelly-Powell and Donovan Peoples-Jones as hard as any other team in the country, but there are a number of big-timers suiting up for the Technicians including four players heading to Nike's The Opening this summer.
Joining Kelly-Powell and Peoples-Jones in Beaverton will be offensive lineman Jordan Reid and defensive back Donovan Johnson, each of whom participated in the regional camp in Columbus earlier this month. Johnson, who was the fastest man at the Ohio camp, is a three-star cornerback with offers from Penn State, Virginia Tech, and others.
It's a good time to be recognized at Cass Tech and the Ohio State staff, despite a bit of an uphill climb thanks to head coach Thomas Wilcher's close relationship with Jim Harbaugh, is still moving the dial in Detroit. 
Kelly-Powell is a player that I – at one point – had projected as a Buckeye commit, but as the numbers' issue inside of Ohio State's recruiting class became a bigger issue, it seems he's leaning towards Michigan right now. Peoples-Jones has long leaned towards the Maize and Blue, but there's still some guarded optimism in Columbus that if they can get him on campus and show the strength of Ohio State's academic programs, that they could make his decision a touch more difficult.
WILLIAMSON, MOND TALK IMG SPRING GAME

On Friday night, the embarrassment of riches that is the IMG Academy football program took to the field for their spring game, offense versus defense, and it turned out pretty well according to a few of the Ascenders' key players.
"It went well," quarterback Kellen Mond said. "I threw the ball pretty good. I'm still trying to get my form back since I was out for two weeks. Overall, both sides of the ball played well."
Westerville native Marcus Williamson, who starts at cornerback for IMG, said he thinks the defense carried the day.
"It was just offense versus defense," Williamson said. "I'd say defense won. I had two passes broken up and three tackles, I believe."
Ohio State was at IMG last week – Tim Beck and Luke Fickell –  and Williamson said things are right on track between himself and the Buckeyes. He's eager to spend his summer back home in Ohio, but it won't all be a vacation.
"When we (Fickell and Williamson) talk we just catch up and talk about future plans," he said. "I'll be home all summer so I'll try to get on campus a few times. I'll probably camp at Ohio State if I can, just to work with (Kerry) Coombs."