When it comes to recruiting and the development of talent, the Spartans of old were known more so for the latter. Their signing day hauls typically weren't flashy like the Ohio States and Alabamas of the world, but Mark Dantonio and his staff—including current Pitt Panther head coach Pat Narduzzi—had a knack for getting the most out of their players; often turning unheralded recruits like Darqueze Dennard and Le'Veon Bell into superstars. 
Today, the Michigan State staff is still known for their player development, but their success on the recruiting front has been on the up and up. Dantonio and Co. are still focusing on the Midwest, but lately they've been having a bit more success going up against schools like Notre Dame, Michigan, and even Ohio State. 
Since Urban Meyer's arrival in Columbus, the Buckeyes and Spartans have battled it out for a number of prospects. Today we look at some of the more prominent moments of the Meyer/Dantonio saga. A saga that started with some animosity over an in-state flip. 
---
Back in June of 2011, things weren't going so well for Ohio State. Just a few short weeks after Jim Tressel's resignation, one of the state's top prospects pledged to Mark Dantonio and the Spartans. Se'Von Pittman cited his relationship with Pat Narduzzi, his lead recruiter, as one of the contributing factors. He also touched on his decision to flee his home state ($):
"One of the biggest things that played a part was being different and making a difference. Being a guy that really can be an example for younger players to be different and go out and do what you need to do."
Six months later, the Buckeyes—with Urban Meyer at the helm—were the talk of the college football world. When Pittman elected to flip from Michigan State and join Meyer in Columbus, Mark Dantonio was a little bit perturbed. 
"Ohio State has a new coach, and it's different," Dantonio told the Detroit News. "I would say it's pretty unethical, in the end."
So it took less than a month for Urban Meyer to send a message to the Big Ten, all the while pissing off two of the conference's premier programs—including Bret Bielema, which is always fun.
DAMON WEBB • DB • DETROIT, MI • 2014
Damon Webb may have been the most important signee of the 2014 class. The four-star cornerback from Cass Tech was playing at a Michigan pipeline and was thought by most to be a future Spartan or Wolverine. Buckeyes' cornerback coach Kerry Coombs clearly had other plans as he began his flag-planting endeavors across the southern portion of the Mitten State. 
Webb turned out to be the ringleader of the 2014 class as he made countless trips to Columbus and helped spread the word to some of the state's other top prospects; including future Buckeyes like Mike Weber and Josh Alabi.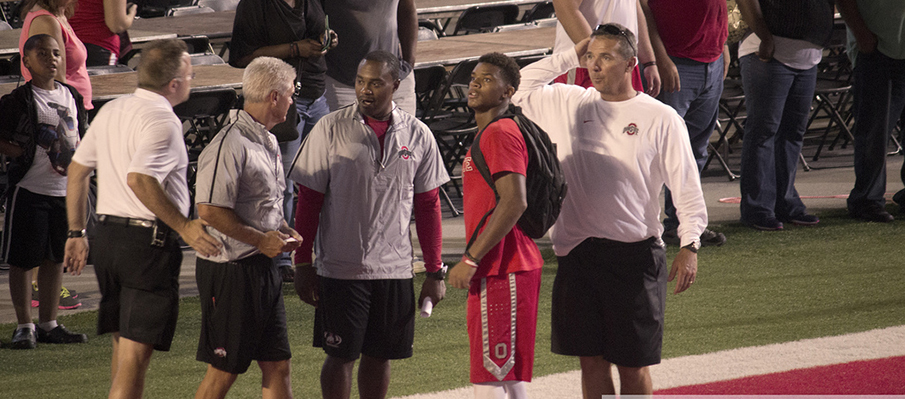 Ohio State was in need of offensive tackles in 2014, so securing a commitment from the nation's fourth-ranked offensive tackle was a pretty big deal. Though Jamarco Jones pledged to the Buckeyes in June of 2013, Urban Meyer and Ed Warinner had to fight off the Spartans all the way up until signing day. 
Buckeye fans were on edge when Jones elected to take his official visit to East Lansing less than a week before signing day. The four-star lineman had several friends attending Michigan State, so there was definitely some cause for concern. Things obviously worked out in the Buckeyes' favor, and Jones is hoping to step into one of the starting tackle spots in 2016. 
MALIK MCDOWELL • DE • SOUTHFIELD, MI • 2014
The recruitment of Malik McDowell is still one of the stranger ones we have ever seen. Ohio State, Michigan State, Michigan, and Florida State were all in the running, but a disagreement between the five-star defensive end and his parents made things very interesting—and a bit awkward—to follow. The Detroit Free Press covered the recruitment and some of the issues Malik's mother had with the Spartans.
"I want him to get a good education," Crowe said. "Not that he can't get a good education at MSU. But he also wants to be a first-round pick after college. Nothing is guaranteed, but I don't think their defensive line coach has the background for that."
Due to the ongoing feud, McDowell wasn't able to fax his letter of intent to Michigan State until April; nearly two months after his commitment. He will be suiting up on Saturday and has been a force for the Spartans' defensive line. 
L.J. SCOTT • RB • HUBBARD, OHIO // MIKE WEBER • RB • DETROIT, MI • 2015
Running back recruiting for the 2015 class was a bit of a wild ride. For Ohio State, things mainly centered around Damien Harris, L.J. Scott, and Mike Weber. It seemed like the Buckeyes were the clear leader for each of them at one point or another, but when Harris began trending to the SEC, Urban Meyer and Stan Drayton had to turn up the heat on Scott and Weber.
When George Hill became the first commit for the Buckeyes 2016 class, many thought it would put Ohio State right at the top for fellow Hubbard, Ohio standout L.J. Scott. However, the Buckeyes' continued focus on Harris allowed Michigan State to swoop in and strengthen their relationship with the four-star tailback. Scott would visit Columbus and East Lansing multiple times before ultimately committing to the Spartans in July. The true freshman has made an instant impact for Michigan State's 2015 campaign, though his carries have been a bit more limited in recent weeks.
Mike Weber, the nation's ninth-ranked running back, was heavily targeted by the Buckeyes, Spartans, and Wolverines. On a day when he overslept and missed his scheduled visit to East Lansing, Weber instead committed to Brady Hoke. He would later open up his recruitment when things started to go downhill in Ann Arbor. That opened the door for Kerry Coombs and Stan Drayton to get back into the picture. The Harbaugh hire made things a bit interesting before signing day, but right now Weber finds himself as the potential heir apparent in the Buckeye backfield. 
GAVIN CUPP • OT • LEIPSIC, OHIO • 2016
Cupp committed to Michigan State in May of 2015, jumping eagerly on an offer from one of the country's top programs and most consistently strong offensive line units. Still, as an Ohio guy, Cupp couldn't stop thinking that maybe he'd not given Ohio State enough time to evaluate his game and decided–against the wishes of Mark Dantonio and Michigan State–to camp with the Buckeyes during Friday Night Lights in July. 
The Spartans pulled Cupp's offer, initiating a national firestorm, and took a commitment from another Ohio offensive lineman (AJ Arcuri). Cupp was seemingly left out in the cold. The Buckeyes, after watching his performance at FNL, decided they liked what they saw from the 6-foot-5, 280-pounder and offered him a scholarship the following week, which he quickly accepted.
The fourth-ranked player in the state of Michigan committed to the Buckeyes just six months ago. Michael Jordan was projected by most to end up at one of the in-state programs, but Ohio State was able to pull another one away from the Wolverines and Spartans. 
There had been some speculation that Jordan may take a few visits to other schools, but he had always denied any interest in looking around. That speculation ended last month when the four-star signed his financial aid agreement and announced his plan to enroll early.
Congrats to OL Michael Jordan for officially joining the Buckeye Family! pic.twitter.com/7S0ZIx2Xyi

— Urban Meyer (@OSUCoachMeyer) October 19, 2015
JOSH KING • DE • DARIEN, IL • 2016
The Buckeyes are going to sign one of the top defensive end hauls in America, but with the departure of Terrell Hall, someone like Josh King could have been the icing on the cake. King visited Ohio State in the winter of 2014 and then returned to campus in March of this year. Things heated up rather quickly as many suggested the Buckeyes had risen to the top of his list. Things cooled down between the two parties and Ohio State didn't appear on his top five which was released in May. King committed to the Spartans shortly thereafter.
The Buckeyes' recruitment of four-star defensive end Auston Robertson was a prime example of a team not being able to take them all. The four-star is listed as one of the top 100 prospects in the country, so the Spartans are no doubt getting a good one. For Ohio State, there simply wasn't room; even for someone who is close friends with Buckeye commit Austin Mack and is the nephew of former coach Stan Drayton.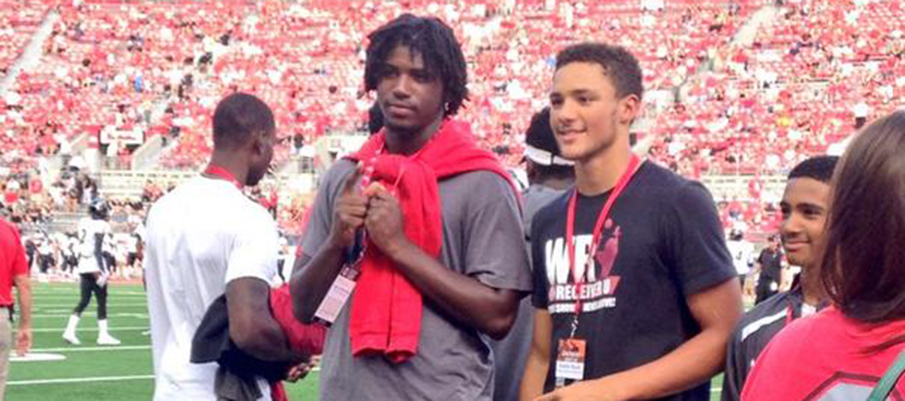 Robertson's recruitment primarily revolved around three familiar schools: Michigan State, Ohio State, and Notre Dame. After taking several trips to Columbus with Mack, the duo announced their decisions together at the June 7th RAS Camp in Fort Wayne.