There's no debating Urban Meyer isn't a stronger recruiter than the last iconic coach to roam the sidelines in the Horseshoe but it also can't be argued that Jim Tressel didn't have his fair share of success in attracting future stars to Columbus. 
This fall, the last of Tressel's recruiting classes, those that still remain from the 2011 crop anyway, enter their true-senior seasons looking to cement their place in Buckeye lore.
Yes, there are a handful of redshirts that will be around for another year (though the vast majority won't be legit contributors) and Ryan Shazier has already bolted for the NFL but true seniors Braxton Miller, Michael Bennett, Devin Smith, Jeff Heuerman, Curtis Grant, Doran Grant and a few others have their eyes on the ultimate prize which would go a long way toward strengthening the place in history for Tressel's last class. 
As we near the end of having a roster dotted with legit contributors from the Jim Tressel Era, it feels like a good time to revisit and rank each of his eleven classes from 2001-2011. 
Today, we'll take a look at the classes slotted 11th through 6th with the top five up for review tomorrow morning.
It's a lot of splitting hairs and variances in weighting of factors as I polled five other people with virtually zero consensus outside of the top and bottom slots so I expect plenty of healthy debate. I'm pretty sure I'd rank eight of nine of the classes differently if I tried this exercise a month from now. 
#11 - 2003 CLASS

Jim Tressel's third recruiting class comes in at the bottom of my wildly subjective rankings. The major recruiting services were also less than enamored with this class as Scout slotted the group 25th while Rivals had them 41st in their national rankings behind the likes of Minnesota, Pitt, Maryland, Purdue and Boston College just to name a few. 
A dropoff followed the stellar 2002 class but that's no excuse for what happened during this recruiting cycle. 
Of the 15 players in the class, nine of them were complete busts that didn't even finish their careers at Ohio State headlined by Louis Irizarry and Ira Guilford, the duo who teamed up to beat up and attempt to rob a man on campus. 
Sian Cotton, Marcel Frost, Dareus Hiley, Devin Jordan, Curt Lukens, Brandon Maupin and Reggie Smith were the seven others who failed to have any legit impact on Ohio State football for various reasons ranging from grades to injury to behavioral issues. 
The class also featured a handful of in-state misses headlined by DB Prescott Burgess and LB Shawn Crable, both of which took their talents to Ann Arbor. Brady Quinn was another in-stater that got away but that made sense with 2002 signee Justin Zwick already in-house and considered the quarterback of the future. Of course, that was of zero consequence as it was fellow '02 commit Troy Smith that would eventually lay claim to the position. 
With all the bad surrounding the class of 2003, there was a bit of good as Donte Whitner, Kirk Barton, Anthony Gonzalez, David Patterson, Anthony Schlegel and Ashton Youbouty all had great-to-productive years in Columbus. 
Still, with just six legit contributors out of 15 commits and 60% of them not even finishing their careers at Ohio State, the 2003 group feels like the worst of the Tressel Era. 
#10 - 2007 CLASS

The 15-man Ohio State recruiting class of 2007 was ranked in the mid-teens by the major services and headlined by DB Eugene Clifford out of Cincinnati Colerain. 
Unfortunately, Tressel's top recruit on paper couldn't stay out of the doghouse and was eventually given his walking papers after he allegedly punched two employees at a bar before threatening to retrieve some heat and return to the scene. 
The class was also saddled with James Scott, a corner out of Florida that appeared to be a coup at the time but after he was booted from Ohio State he transferred to Ole Miss and was eventually sent packing from there as well. 
Donnie Evege was a great guy but injuries limited his worth, Nate Oliver was meh, Solomon Thomas had a huge play in the Sugar Bowl win over Arkansas but was a ghost otherwise, Taurian Washington was a name only uttered during a few April's and local product Rocco Pentello made no sense from the get go. 
On the bright side, seven of the 15 signees went on to contribute at varying levels anchored by Cameron Heyward, Dane Sanzenbacher, Brian Rolle and Boom Herron. Brandon Saine, Devon Torrence and Jermale Hines also had their moments in scarlet and gray. 
A ranking of 10th might even feel a little low but the groupings are pretty tight.
#9 - 2009 CLASS

Despite a national ranking of 3rd by Rivals and 1st by Scout, the 2009 crop of 25 incoming Buckeyes was hit hard by early exits as eight signees were either booted or transferred with another forced to take medical hardship (Melvin Fellows) and one more (Adam Bellamy) voluntarily deciding to hang up his cleats. 
Jaamal Berry and Dominic Clarke were both dismissed from the program while Johnathan Newsome, Dorian Bell, Duron Carter, James Jackson, Jordan Whiting and Sam Longo are transferred for a myriad of reasons.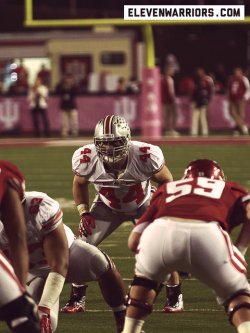 Eight players went on to play significant roles, two more saw the field albeit with lackluster results (Pitt Brown and Chris Fields) and another, Jordan Hall, saw the injury bug severely hamper his on-field worth. 
Of the eight players legit players, I'd argue none reached the superstar level though Urban Meyer would beg to differ about John Simon. Don't get me wrong, Simon was a warrior and a leader of epic proportions, I just happen to think his legend is a bit stretched. Zach Boren was also an outstanding leader and anchor of the class thanks in large part to his selfless and highly successful midseason (!) transition from fullback to linebacker when the Ohio State defense was hanging by a thread during the undefeated 2012 campaign. 
The class also anchored one of the most dominant offensive lines in history last year thanks to the exploits of Jack Mewhort, Corey Linsley and Marcus Hall. 
Kenny Guiton was also a throw-in player for the 2009 class and C.J. Barnett was a multi-year contributor. 
If this supersized class did have a true superstar or more importantly didn't have double-digit busts, I'd feel feel comfortable moving it a little higher in the rankings. I know the love affair we all have with the eight significant contributors but in a class of 25, having eight guys contribute at a legit level isn't breathtaking and I can't get over the 10 wasted scholarships. I'm expecting many of you to disagree. 
#8 - 2010 CLASS

Tressel's 2010 class wasn't highly regarded as Rivals tabbed them the 25th best group while Scout pegged them 20th.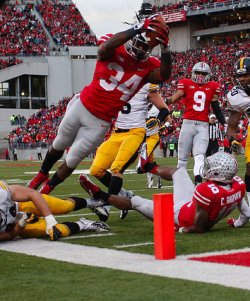 The class wasn't exceptionally large at 19 players and it did generate about eight highly unproductive players but of the roughly eight contributors, it boasted legit star power and production from Carlos Hyde, Bradley Roby and Johnathan Hankins. 
The "2nd tier" contributors included Philly Brown and two players under appreciated by many in Andrew Norwell and Christian Bryant (though that changed once he was injured). 
Rod Smith was one of the guys I tabbed as a bust though his story isn't fully written while transfers included Verlon Reed, David Durham, James Louis and Taylor Graham.
Even as I type this I'm debating a flip-flop with 2009 but I'll stick with my guns as this medium-sized class did feature a pretty solid top six. Hyde was the best overall back to come through Columbus since Eddie and though Roby didn't blow us away as a senior, I continue to wonder how much of that was due to the coverage scheme he was forced to play within. 
#7 - 2006 CLASS

The 2006 crop totaled 20 kids and was ranked 12th by Rivals. I like this group based on it's overall depth as 10 of 20 signees became solid contributors with many seeing the field early in their careers. 
The throwaway scholarships in this class belonged to Ray Small, Antonio Henton, Connor Smith, Andy Miller, Walter Dublin, Mark Johnson and Robert Rose. 
Beanie Wells was the runaway headliner of the class and when healthy, he was a sight to behold but the bulk of the value from this group was realized on defense. 
Ross Homan, Kurt Coleman and Chimdi Chekwa were three-year starters for the Bullets while Dex Larimore, Thaddeus Maximus and Tyler Moeller all had their moments. 
Back to offense, Bryant Browning was a three-year starter on the right side of the line. Jack Ballard wasn't targeted much but his hands were legit as evidenced by the grab that made you jump out of your seat in the Rose Bowl win over Oregon. 
#6 - 2001 CLASS

I might admittedly be giving The Vest's first ever recruiting class a few bonus points considering Tressel was hired just weeks before signing day and so many of the 15 kids had a hand in delivering the one and only national championship of my lifetime. 
Ranked 17th by Rivals, the pundits weren't exactly fawning over the class but in the end, 67% of the signees played significant minutes for the scarlet and gray which is right up there with the 2002, 2005 and 2008 classes as the most during Tressel's tenure.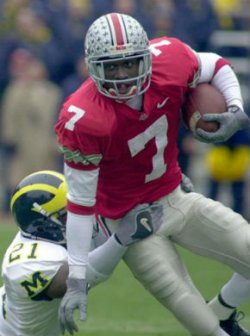 The depth of the class was anchored by the indispensable Chris Gamble who arrived at Ohio State out of Fort Lauderdale. His stats weren't gaudy but to watch him was to appreciate how a man could impact the game just by his presence as he played 38 games for the Buckeyes starting 18 on defense and 12 on offense. 
Often times a kicker isn't overly important to a recruiting class but Mike Nugent was different partly because he was a stone-cold and partly because a kicker on a Jim Tressel team takes on a much greater level of significance if backed by an elite defense. As such, Nugent was a two-time All-American and Lou Groza Award winner who broke or tied 22 school records. 
Dustin Fox, like most cornerbacks, took some flak from time to time but he was an incredibly smart player and integral part of the national championship squad. 
Other 2001 signees with key roles on the title team include Simon Fraser, Maurice Hall, Ryan Hamby, Lydell Ross, Marcus Green, Brandon Schnittker, and Chris Vance. 
So there's my shot at ranking the 11th through 6th recruiting classes of Jim Tressel's tenure. Again, I'm still debating the placement of most of these myself so I'm sure you'll have some takes. What say you? 
And be on the lookout for Part Two tomorrow as I continue with the top five classes brought in by The Vest.