Spring practice is in full-swing, the Buckeyes' departing class showed their stuff to the NFL yesterday and tomorrow we see the last home game in Aaron Craft's Buckeye career. Surely, this week has been one full of mixed-emotions but through it all there is one constant: Buckeye football recruiting. The beast never sleeps and is never satisfied, so we must do what we do: talk about the beast.
Today, we're going to discuss a bit more in-depth the goings on with a few potential Buckeyes inside of the state's borders. We'll talk prospects with offers, without offers and with offers bearing and asterisk. We'll talk all kinds, so let's chew the proverbial fat. 
NICK CONNER VISITS OHIO STATE...AGAIN

Nick Conner, the 6-foot-3, 225 pound linebacker from Dublin Scioto High School visited Ohio State again this week. Conner, who has yet to get an offer from Ohio State, continues to be patient and told me that the Buckeyes are staying in regular contact and are keeping him apprised of where things stand openly and honestly.
So, where do things stand?
It appears that Conner is the latest in a line of in-state stars that seem to be Buckeye caliber talents, but Ohio State wants to see him live, specifically at camp this summer. If you recall, Darron Lee from New Albany went through a similar process before showing up and blowing the Buckeyes' socks off. He's now in line to be a starting linebacker as a redshirt freshman. That's a good precedent for Nick if he decides to wait it out and camp, which he says he's going to do.
Perhaps the Buckeyes are breathing a bit easier about this approach because Conner is still waiting on other "top" offers regionally? Michigan State, Notre Dame, Penn State and Michigan have also not yet offered him, which gives the Buckeyes a bit more time to make that evaluation.
NEW LINEBACKERS TO WATCH?

It's a "down year" in Ohio by most accounts, but there's one positional group that is really beginning to stand out from the rest and that's the linebacker group. You know the names Jerome Baker, Justin Hilliard, and Conner, and those three lead the pack but there's another group just behind them making significant waves of their own. Columbus Walnut Ridge star Anthony McKee, Toledo Central Catholic's Chris Green and Youngstown Cardinal Mooney's Jordan Jones.
If you've read the site for a while then you know McKee. He made multiple visits to Ohio State last year and continues to be in steady contact with Luke Fickell and the Buckeyes' staff. He's uber-athletic but is a bit of a 'tweener, and despite a handful of impressive offers, he continues to wait for the Buckeyes to find room for him.
Green has seen offers this week from Indiana, Georgia Tech and Cincinnati, bringing his total to eleven, and he's recently had his first contact from the Buckeyes who have asked him to make time to come down and check out a spring practice. A true middle linebacker, Green is a bit undersized at 6-foot-tall, but he plays mean and smart. His story is an interesting one, and Green is still waiting to make sure he'll even be ruled eligible by OHSAA to play his senior season. He'll turn 19 in June, which would make him "too old" according to the governing body's rulebook.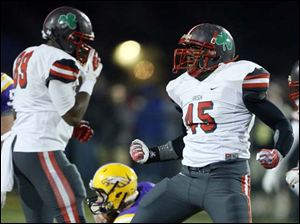 That bring us to Jordan Jones, a name you might not be familiar with, but one that could end up being the name requiring the most attention. Jones is a 6-foot-2, 205 pounder from one of the state's premiere football programs and he's picked up three offers so far, but each of them is from a BCS program.
Perhaps more importantly from the Buckeyes' perspective is that Jones has an offer from Michigan State, and that carries some weight with Ohio State's staff, as it should. The Spartans have shown a keen eye for talent and the Buckeyes take their interest in a prospect seriously. 
Ohio State has begun preliminary evaluations and has been in contact with Jones, and this one could move quickly as far as the Buckeyes making an offer, a lá Dre'Mont Jones. 
EGW TAKES IN PRACTICE AS WELL

When Eric Glover-Williams committed to Ohio State in late August of 2013 off of an explosive showing at Friday Night Lights, most people had him pegged as the "face of 2015" for the Buckeyes. With that title, it was assumed that Glover-Williams would be active in helping land a top class for the Buckeyes, but that has not yet happened. 
Rumors of legal issues dogged the Canton McKinley product in late 2013 and the departure of Mike Vrabel, who was the lead recruiter for EGW, caused a little disconnect between he and the Buckeyes. That disconnect has been taken care of, Ed Warinner is now in charge of Glover-Williams' recruitment and this week he made his first trip to Ohio State in a while. All's well on the EGW front, and the Buckeyes are hoping an improved relationship with him can serve as a positive reminder of what he's got in his future. 
He's also got "Under-Armour All-American" in his future, as was announced on Twitter this week.
GREAT SCOTT

We've had a pretty good discussion going on here about Larry (LJ) Scott from Hubbard, the state's top 2015 running back. Scott is a substantial talent; he's big, he's fast and he runs with a purpose. He's everything you want from a running back and in a year when Ohio State is likely to sign two running backs, he's a player that you'd expect at an almost 100-percent likelihood to be a Buckeye come next February. Those odds, if possible, would have gone up this week when the Buckeyes offered Scott a scholarship.
There is however, a fly in the ointment for Scott, and the Buckeyes are hoping it gets fleshed out soon enough. Scott's academic situation isn't clear and the Buckeyes' offer may very well be one of the conditional variety. If Scott continues to show improvement in the classroom (as has been reported) and Ohio State feels he'd clear NCAA standards, then he's got a spot. If not, they've at least made their intentions known to him and ultimately it falls on LJ if he chooses to go a different route.
The most likely different route at this point is Michigan State. As a football team on the rise and with less rigorous academic standards, perhaps Scott views the Spartans as a bird in the hand; the Buckeyes are the two in the proverbial bush? Scott's confident that the Michigan State staff, who can sell him early playing time as a back in the LeVeon Bell mold, has a plan for him. That's why I still think at this point, Michigan State is the team to beat for Scott.