Even all the way back when the Big Ten released the 2020-21 schedule in the offseason, Ohio State's end-of-season slate looked daunting. In the middle of it, it might be even more difficult than originally thought.
The Buckeyes lost by five to No. 3 Michigan on Sunday, happened to run into a surging Michigan State team on Thursday that – along with some calls Chris Holtmann didn't appreciate – led to a four-point loss, get Iowa and college basketball's second-most efficient offense this weekend, then finish the regular season six days later by taking on preseason favorite Illinois which is now the No. 5 team in the country. 
| Who | Where | When | TV |
| --- | --- | --- | --- |
| No. 9 Iowa (17-7, 11-6) | Columbus, Ohio (Schottenstein Center) | 4 p.m. | CBS |
"It's just going to test us in some ways," Holtmann said the day before the loss to the Spartans. "To be honest with you, I welcome it. I think it's good. Would I prefer to play four teams the caliber of teams we're playing in the final stretch? I don't know. I mean, part of me probably would prefer not. But there's also part of me as a coach that wants to embrace it and knows that it can help us if we handle it in the right way."
Ohio State's next chance to – in Holtmann's words – handle it the right way arrives on Sunday with the ninth-ranked Hawkeyes coming to town. The game will tip off at 4 p.m. inside the Schottenstein Center, and it'll be shown on CBS.
Much like the Buckeyes, Iowa recently went on a solid run before stumbling when up against Juwan Howard's Wolverines.
The Hawkeyes fell, 79-57, in Ann Arbor on Thursday, scoring their fewest points in nearly two years. Before then, they rode a four-game winning streak that featured victories against Rutgers (79-66), Michigan State (88-58), Wisconsin (77-62) and Penn State (74-68). Their offense-driven success this season has propelled them to a 17-7 overall record, an 11-6 mark in Big Ten play and a projected three-seed in March Madness.
Iowa picking up its 18th win would mean getting the better of an 18-6 Ohio State team eager to get back in the winning column after dropping consecutive games to Michigan and Michigan State. Already on Feb. 4, the Buckeyes beat the Hawkeyes, 89-85, and now they're looking for a regular-season sweep to further bolster their case for a No. 1 seed in the NCAA tournament and double-bye in the Big Ten tournament.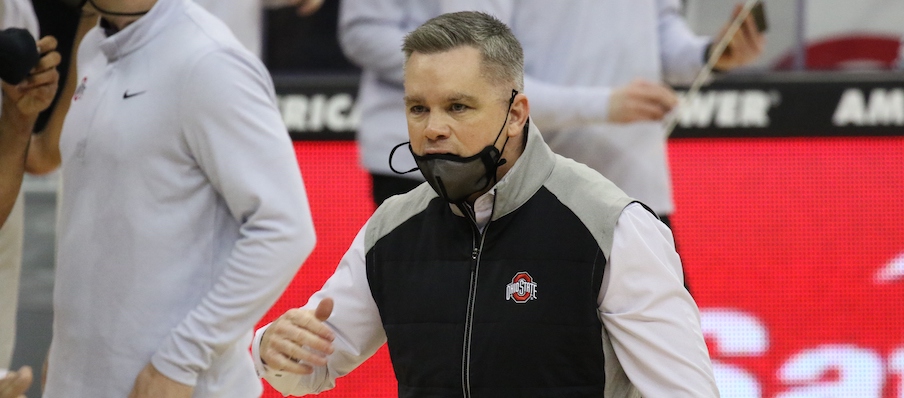 Three Things To Watch
Luke Garza Vs. Who?
There is no stopping Luka Garza. There's only containing him. 
And Ohio State did a really nice job in that regard in their first meeting. The big man tied what was at the time a season-low with 16 points that he supplemented with seven boards and five assists. Afterward, Holtmann pointed out two guys in particular who made offense challenging for Garza.
"I thought (Zed Key's) minutes were really critical, and then I thought (Kyle Young's) mobility against him and his fight was essential for us," he said following the four-point win.
The issue? It's unclear whether Ohio State will have one of those two guys at its disposal.
Young missed the loss to Michigan State with a concussion, and afterward Holtmann said he didn't have an update on the forward's status for the next game. If he can't go, Ohio State will lean heavily on Key – a true freshman averaging 5.9 points and 3.7 boards in 12.3 minutes per game – and E.J. Liddell to corral Garza. That's not an optimal situation for the Buckeyes who enjoyed having different looks and different types of bodies to throw at the center.
Either way, it'll be pertinent for Ohio State to attack him on the other end of the court. Garza's limitations as a defender and athlete make him ripe for the Buckeyes to create winnable matchups offensively. 
Battle Of Offensive Juggernauts
Things haven't changed since the last time these two met. They're the exact same types of teams. Both possess remarkably efficient offenses, and both leave a lot to be desired defensively. 
Interestingly, Ohio State and Iowa are each coming off among their worst offensive performances of the season. A good way for them to get back on track on that end of the court? These two defenses.
Based on the first game between these teams, along with the way their seasons have gone, it's fair to expect a boatload of points on Sunday.
Iowa is fourth in the nation with 85.2 points scored per game, doing so with a stud in Garza surrounded by a slew of complementary players who help the Hawkeyes rank third in college basketball with a 3-point percentage of 40.1 and second in turnover rate (13.6 percent). Ohio State, the third-most efficient offense in the country this season, has been helped recently by Liddell and Duane Washington Jr. expanding their games to turn into a pair of three-level scorers.
No Small Roles
When Ohio State beat Iowa in the first week of February, it did so because some of its role players made plays when called upon. Justin Ahrens hit a trio of 3s down the stretch. CJ Walker had nine assists with only one turnover. Meechie Johnson and Gene Brown both sank 3-pointers. Key took it to Garza, not shying away from the possible National Player of the Year in a physical battle in the paint. Justice Sueing had 12 points and 11 rebounds.
If the Buckeyes are to sweep the Hawkeyes, they'll need some of those complementary players to step up.
The players surrounding Garza will try to make that difficult. Junior forward Joe Wieskamp is one of college basketball's best shooters at 48.3 percent from deep. Jordan Bohannon provides clutch shot-making as a senior guard, and CJ Fredrick is as reliable as it gets – especially when considering his 3.6 percent turnover rate which ranks second among all players in college basketball.
Garza, Liddell and Washington are the big names in this one. But both teams have plenty of talent around them.
---
Prediction: Iowa 85, Ohio State 83