Two games. Seven days. That's all that remains for Ohio State.
Next up is a rematch on Sunday with Iowa, the offensive juggernaut ranked ninth in the country the Buckeyes beat, 89-85, in Iowa City on Feb. 4. Six days later, they'll take on No. 5 Illinois to wrap up the regular season with the Big Ten tournament tipping off just a few days afterward.
Of late, Ohio State hasn't gotten the results it has wanted. Not after winning 10 of 11 games in the middle of Big Ten play between early January and mid-February. But maintaining a degree of perspective about this season, even after Sunday's 92-87 loss to No. 3 Michigan and Thursday's 71-67 loss at Michigan State, is important.
Analysts still like this team enough to rank it No. 4 in the country. Bracketologists like ESPN's Joe Lunardi still view it as a No. 1 seed in the NCAA tournament. Metrics still have it sitting at No. 7 in the nation based on KenPom's ratings. The Buckeyes, now with an 18-6 overall record and 12-6 mark within the Big Ten, remain a national contender capable of beating top-flight competition.
With two regular-season games left, what's left to figure out? Here are five questions Ohio State has to answer with the postseason nearing.
How Healthy Can The Buckeyes Get?
This is as big as anything else.
During a year in which coronavirus added a new wrinkle into player availability and health, it has been injuries rather than the virus to ravage the Buckeyes' basketball program. As the postseason nears, it's more pertinent than ever for this group to collectively improve its health.
That, of course, starts with Kyle Young.
Nobody knows exactly what he would have done on the court on Thursday, but his physicality and activity as a 6-foot-8, 225-pound forward certainly would have helped against a Spartans team intent on winning in those two areas. Young missed the game due to a concussion. After the loss, head coach Chris Holtmann said he wasn't sure yet whether the senior would play on Sunday. 
Either way, the concussion isn't the only thing Young's dealing with. He also has battled constant lower-leg pain that hasn't kept him out of games but has forced him to miss numerous practices this season. Holtmann said he thought the wear and tear stemming from last week's win at Penn State could have affected his play versus the Wolverines.
Outside of Young, the Buckeyes have a few others dealing with injuries.
Seth Towns continues to battle knee issues. The hope by Ohio State is to get him back to full strength in the offseason, but until then, it's a day-by-day process of figuring out how he feels. Musa Jallow was back in the starting lineup on Thursday, playing 32 minutes, but he was a game-time decision with a sprained ankle. CJ Walker continues to play through torn ligaments in his right hand, wearing a splint with three fingers packaged together. Ibrahima Diallo (sprained MCL) has practiced for over a week and appears near returning to action, though it's unclear how much he'll factor into the team's plans. Jimmy Sotos is out for the season with a separated shoulder.
Will E.J. Liddell and Duane Washington Jr. Continue Playing Like Stars?
A common point made regarding this team is that it's been so successful yet does not have a stud. For the most part, that's been true. There's no Ayo Dosunmo, nor a Luke Garza. No National Player of the Year candidate or even somebody in contention to get selected in this year's NBA draft.
The more this season progresses, however, the more Liddell and Washington look like legitimate stars who deserve more widespread recognition from the college basketball community.
Liddell, who averages 16 points and 6.8 boards per game, has turned it up a notch of late by recording 20-plus points in six of his last 11 games. Incredibly, he has knocked down 15-of-32 3-pointers over that 11-game stretch, becoming a legitimate three-level scoring threat. As Holtmann said on Thursday, he has to be able to finish forcefully through contact at a high level to maximize his production, but he's making a legitimate case for first-team All-Big Ten honors.
Meanwhile, Washington is in the midst of a stretch that should have him up for first-team all-conference consideration, too. The junior guard with a sweet stroke from beyond the arc has added the ability to finish at the rim to his scoring package in the last month, averaging 20.5 points in the past six games. For the season, he has put up 15.6 points, 2.8 assists and 2.8 rebounds per game. Efficiency has always been the knock on the 40.2 percent shooter, but he's been above 40 percent in each of the last six games.
Their efforts recently have been a boon for the Buckeyes who'll be relying heavily on them in tournament season.
Will The Defense Make Necessary Improvements?
If you watched the late first half and early second half of Thursday's game where Michigan State made 1-of-14 shots from the field over a 10-minute stretch, you probably came away with some positivity about Ohio State's defense. If you saw the beginning of the game when the Spartans made seven of their first 10 shots or the end when they hit 10 of their last 13 shots, you would have leaned in the opposite direction.
"Middle part of the first and second half, I thought it was good," Holtmann said after the loss. "But I did not like how we finished the game. I did not like how we started the game defensively. That's my fault. We've got to fix that."
Defense has been an issue for a while now. It's nothing new. Ohio State has played well in spurts but rarely consistently. 
As of Saturday morning, the Buckeyes rank 85th in adjusted defensive efficiency, sandwiched between George Mason and North Carolina State. They're eighth when only looking at games in Big Ten play, just ahead of Nebraska (ninth) and Iowa (10th). 
Holtmann has said this team isn't built to have an elite defense, which is true. But it can – and will have to – perform better.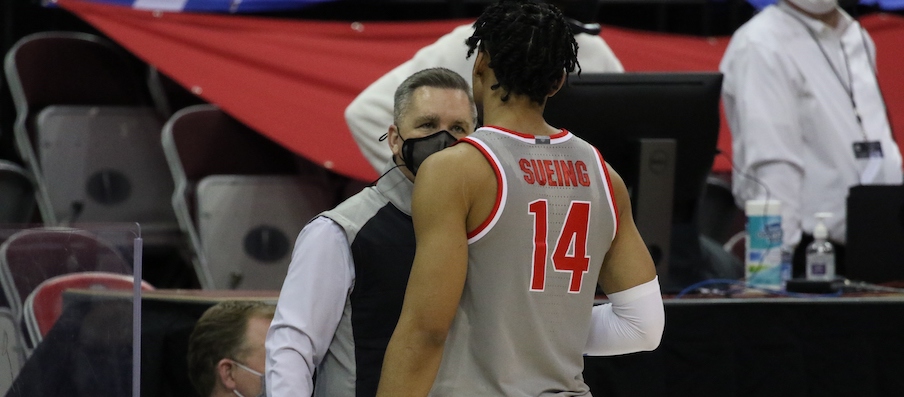 Is There A Way To Get Consistent Play Out Of Justice Sueing?
With the postseason nearing, Holtmann has looked to trim his rotation. Part of that means playing Justice Sueing big minutes. He tied a season-high with 35 minutes in the loss to Michigan, and he nearly matched that mark four days later with 34 minutes against Michigan State. The fourth-year forward reached 34 minutes on three other occasions in the past month and a half, with all three being in competitive games like those the Buckeyes will play when tournaments roll around.
Quite clearly, Sueing will factor into Ohio State's postseason plans in a big, big way. His play recently, though, has left something to be desired. And that's a theme.
Too often this season, and especially of late, Sueing's inconsistency across games has been evident. Within the last eight games, he has recorded three double-doubles, failed to score a single point once, scored at least 15 points twice, scored six points twice and committed a back-breaking turnover late in the Michigan game. He pulled down just three rebounds in each of the past two games, too, which is an area that should be a strong suit. Sueing's defense hasn't been great, either. Holtmann has cited fluctuating effort levels as an area that has to improve. 
When Sueing's good, he's damn good. Indiana head coach Archie Miller called him "underrated" just two weeks ago. But when he's not having his best game, it can really hurt Ohio State, especially now that he's playing all but a few minutes.
Sueing's not alone. You can also point to Justin Ahrens as somebody playing important minutes who hasn't been impactful, especially offensively, the past couple of games. Both Michigan and Michigan State held him scoreless. Ahrens, whom defenses have blanketed, only attempted two 3s across 35 minutes in those two games, missing them both. He also came up without a single point on two fast-break opportunities on Thursday. 
"He's getting a lot of attention," Holtmann said on Thursday. "I thought he created some things with the space. He had a couple transition baskets that he didn't make, but not concerned about him."
How Far Can This Offense Take Them?
Yes, the Buckeyes had several calls that didn't go their way on Thursday night that rightly upset Holtmann and led to his ejection. Yes, not having Young available affected how it played out. Yes, the offense still didn't perform well. All can be true.
Some Ohio State stats from Thursday's game:
The 67 points scored were the fewest since the Jan. 19 loss to Purdue.
The adjusted offensive efficiency (98) was the third-worst of the season behind the Dec. 16 loss to Purdue (90) and Jan. 3 loss to Minnesota (91.1).
The 2-point percentage (50) was tied for the lowest since the Jan. 19 loss to Purdue.
The 3-point percentage (28.6) was the lowest since the Jan. 3 loss to Minnesota.
The 3-point attempt rate (26.9 percent) was the lowest of the season.
Ohio State missed all eight shots from the field in the last four and a half minutes of the game.
For a team so reliant on its offense, those numbers – regardless of how the referees are calling the game – can't happen. 
Ohio State has won games with some truly poor defensive performances. It beat both Illinois and Iowa despite allowing 81 and 85 points, respectively, and it swept Penn State even though the Nittany Lions put up a combined 161 points across two games. Only once has it lost a game where its offense was humming, and it happened in a shootout with a Michigan team ranked No. 3 in the country with a 17-1 record.
The Buckeyes can beat just about anybody when their offense is clicking. But when it's not, they become vulnerable.