These days, fourth-year head coach Chris Holtmann says he didn't see the heights this Ohio State offense has reached coming. Sure, he imagined this team's strength might be on that end of the court, but he hadn't quite predicted an adjusted offensive efficiency putting the group third nationally behind only Iowa and Gonzaga. His Buckeyes have reached offensive heights neither he nor anybody else really forecasted.
However, Holtmann did anticipate an imperfect defense.
Several times in the lead-up to the season tipping off, he mentioned how Ohio State – which lost plus defenders in Kaleb Wesson, Andre Wesson and Luther Muhammad – needed to get better defensively. Sometimes, coaches hammer home defense because that's an important part of their philosophy. No, that's not what Holtmann was doing. He had legitimate questions about the team's defense.
"It's real. Yeah, it's real," Holtmann said two days ahead of the season opener. "We diagnosed that early on as something that we are going to be challenged with this year."
As it turns out, Holtmann's diagnosis was entirely correct.
Ohio State, despite its 18-5 overall record and 12-5 mark within Big Ten play that led Associated Press voters to vote it No. 4 in the country, sits at 83rd nationally in adjusted defensive efficiency after plummeting from the low-60s due to a 92-87 loss to Michigan on Sunday. Including both conference and out-of-conference games, it's 14th out of 14 Big Ten teams – yes, even lower-rated than Iowa (74th).
That specific statistic – adjusted defensive efficiency – is one college coaches, including at Ohio State, use all the time to evaluate teams. In his own performance review after last season, in fact, Holtmann specifically cited it. It matters, and it's a helpful tool to evaluate teams.
Where the Buckeyes currently sit in that metric is especially notable because although they're currently projected as a No. 1 seed in the NCAA tournament selection committee's eyes, only one team ranked 83rd or worse in the two decades KenPom has collected data has ever made a Final Four: 2002-03 Marquette, a team led by future Hall of Famer Dwyane Wade. In fact, only two other teams during that 20-year stretch – 2010-11 VCU (78th), a team many believed undeserving of even getting an at-large bid, and 2002-03 Texas (58th) led by TJ Ford – were outside of the top-50. None of those three teams made it to the national championship. All but one of the 72 teams that made the Final Four between 2002 and 2019 were ranked better than where Ohio State is right now in adjusted defensive efficiency.
For Holtmann, whose first three defenses at Ohio State ranked within the top-25 in adjusted efficiency, he's in new territory in Columbus with a top-flight offense propelling a defense that hasn't been close to up to snuff. How much he can figure out fixes for this team's defense could determine this team's fate by the time the postseason rolls around.
"We've got to continue to work toward playing our best, and that includes getting better defensively," Holtmann said last week on SiriusXM.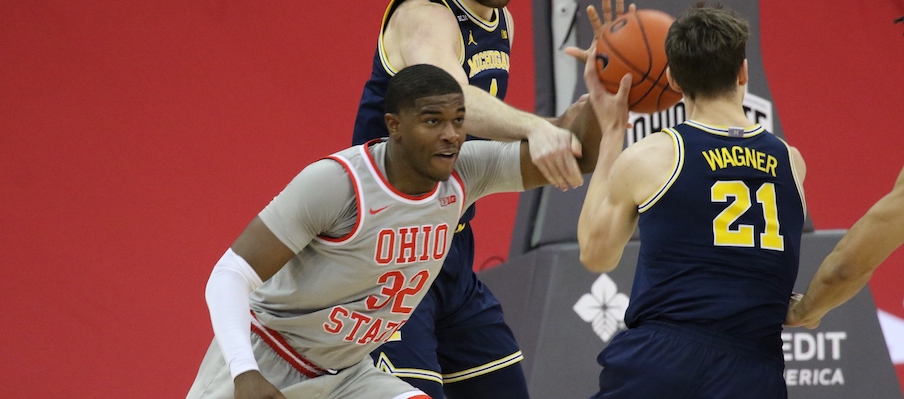 Up until Sunday, it has gotten better.
In fact, four of the Buckeyes' prior six games – against Wisconsin, Michigan State, Maryland and Indiana – featured better single-game adjusted defensive efficiency marks than in all games but those against putrid Nebraska and low-major Morehead State. That helped Ohio State's numbers in Big Ten play look much more palatable, with the seventh-best adjusted defensive efficiency when only looking at league-wide performances in conference games.
"I hope that says something about us trending in the right direction," Holtmann said last week.
In the same response, Holtmann also noted that he thought "some of it's schedule-related." In other words, he wondered whether the improvements were a factor of playing some of the less-dangerous Big Ten offenses. 
Based on Michigan recording the most points (92), most points per possession (1.37), highest 3-point percentage (47.8) and highest effective field-goal percentage (62.9) by an Ohio State opponent in a single game this season, Holtmann was right to feel apprehensive. Hunter Dickinson used his 7-foot-2 frame to cause problems for Ohio State inside. The Wolverines' outside shooters knocked down shots from 3-point range. Michigan scored on every single possession in the last two and a half minutes. 
What came in as one of the 10 best offenses in the country looked every bit the part. And so, too, did a defense that now sits in the Big Ten's basement.
"Our margin for error defensively: Small. It is very small," Holtmann said on Sunday. "So our attention to detail has to be really, really good."
One main reason for a small margin of error? Look at the players in the Buckeyes' lineup.
Ohio State starts Duane Washington Jr., Justin Ahrens, Justice Sueing, Kyle Young and E.J. Liddell. How many of them are plus defenders? At most, a couple. That's not a slight. It's just a reality. They have come together to create a nothing short of a deadly offense which nobody should discount that has taken down the likes of Illinois and Iowa and put the Buckeyes in position to compete for a No. 1 seed in the NCAA tournament, but they have their natural defensive shortcomings. 
CJ Walker, viewed as a "sixth starter" in the head coach's mind, is a solid defender of point guards. Musa Jallow, who was unavailable Sunday due to ankle swelling, is exceptional defensively but comes with limitations on offense. Zed Key has a big body that can be helpful down low, but he's not particularly agile and makes some mistakes that come with being a freshman. Seth Towns' defense has been an issue all season, stemming from the knee injury that hurts his mobility. Gene Brown and Meechie Johnson are just beginning their development as collegiate-level defenders.
Put all those guys together and it becomes clear there's no easy fix. No one button Holtmann can press to improve this defense.
But if Ohio State is going to get to the heights it wants to reach in the postseason, the fourth-year head coach will have to figure out some way to improve his team defensively, even if it won't suddenly become dominant. As the Buckeyes have shown, they can beat really good teams with the roster constructed the way it is right now. But the lack of Final Four teams with a defense performing this poorly shows it's hard to win so many consecutive games in the postseason without a better defense.
"I think we've been ringing that bell for a few weeks right now with some of our numbers," Holtmann said on Sunday. "We'll see if we can make improvements in those areas. That's on us as coaches and players. I don't think this team necessarily has the potential to be elite defensively. I do think we need to get better."