Ohio State has won three Big Ten games in a row, and to extend the streak to four it'll have to take down a take that it already lost to, 61-57, at home a month ago.
"They just keep coming at you," Chris Holtmann said of the Big Ten.
| Who | Where | When | TV |
| --- | --- | --- | --- |
| Wisconsin (13-10, 6-6) | Madison, Wisconsin | 1 p.m. | CBS |
Wisconsin will welcome the Buckeyes into Madison for a rematch of two teams seemingly heading in opposite directions. 
After losing six of seven games between late December and late January, Ohio State has righted itself somewhat, putting together a three-game winning streak by consecutively beating Northwestern, Indiana and Michigan. Wisconsin, conversely, has dropped three of the past four games – though it topped Michigan State last weekend – and has recently had Kobe King announce his transfer and the strength and conditioning coach resign after his use of a racial slur while re-telling a story came to light.
A win on Sunday would put Ohio State back to .500 in the Big Ten after reaching a 2-6 in-conference record a few weeks ago.
"Really good Wisconsin team," Holtmann said. "Obviously we saw what they did last weekend at home versus Michigan State. So a good team, disciplined, older, talented, well coached. We'll need to play well."
Three Important Badgers
Nate Reuvers
With King having decided to transfer, Reuvers is the only Wisconsin player who consistently scores in double figures. He's averaging 13.8 points, 4.9 rebounds and two blocks in 27 minutes per game. He hits 45.9 percent of his shots from the field and 33.8 percent of his 3-pointers. In January, he had 17 points and nine rebounds versus Ohio State, getting most of his offense from his 10 made free throws.
Micah Potter
A former Buckeye, Potter is currently Wisconsin's third-leading scorer, averaging 9.2 points and 6.1 rebounds in 15.8 minutes per game. He's only played more than 20 minutes in two games thus far, but he's a capable scorer down low. Kaleb Wesson will likely get matched up against him when Potter is in the game.
D'Mitrik Trice
King's midseason transfer puts more pressure on Wisconsin's other guards to continue to produce consistently. Trice has been the Badger's most productive player in the backcourt, with 9.7 points, 4.4 rebounds and 3.7 assists in 31 minutes per game. He has, however, been a relatively inconsistent scorer, hitting 37.9 percent of his shots from the field.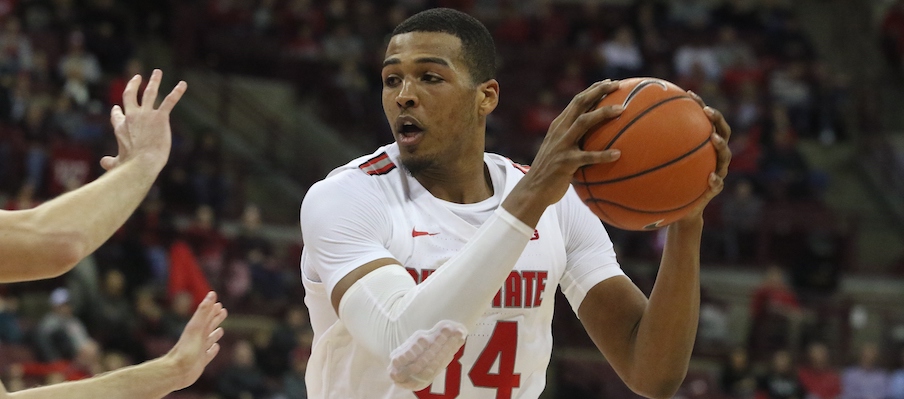 Three Important Buckeyes
Kaleb Wesson
Wesson recently has shown notable development in his marriage of the low-post style of play that he became known for early in his college career with the abilities he now has at a lower weight. He's defending, rebounding and shooting with range better while playing with greater stamina. He also has finished around the rim with improved efficiency in the past couple games, which was an area of concern early on.
Against Wisconsin, Wesson has a chance to maintain his momentum.
Duane Washington Jr.
With DJ Carton remaining away from the team and Luther Muhammad dealing with a shoulder issue that won't keep him out of Sunday's game but has forced him to sit out practices, Washington has a key role on this Ohio State team. He'll again serve as the backup point guard and one of the two shooting guards. Washington will try to make up for his 6-for-19 performance against Wisconsin in the first meeting.
"He's your prototypical kind of combo guard that can play either position but requires some adapting and learning playing both of those positions," Holtmann said.
Justin Ahrens
The first time Ohio State faced Wisconsin this season, Ahrens played just two minutes, missing a 3-pointer, grabbing a rebound and turning the ball over. In Sunday's rematch, it's fair to expect him to have a larger role. The Badgers don't have the athletic, scoring wings who would take advantage of Ahrens' defensive flaws, and he might be able to find a rhythm from beyond the arc against a sub-par 3-point defense. He has played at least 12 minutes in each of the past five games, hitting nine triples in them.
Three Numbers To Know
Pace Of Play
There's playing slowly, and then there's whatever Wisconsin does.
Greg Gard's team likes to drag games out, slowing down opponents as much as possible. Ohio State doesn't play quickly, as evidenced with its No. 271 ranking in adjusted tempo, but the Badgers take it to a new level. They have the slowest adjusted tempo in the Big Ten and the sixth-slowest adjusted tempo among the nation's Division-I 353 teams. Naturally, Wisconsin also has the country's eighth-longest average possession time of 20.1 seconds.
"I think that's typically how they force you to play," Holtmann said.
Turnover Percentage
Along with turning the game into a slog, Wisconsin doesn't make many careless mistakes with the ball on offense. It ranks second in the Big Ten and 19th in the country with a 16 percent turnover rate. The Badgers don't have particularly high shooting percentages (49 percent from 2, 33 percent from 3), but they also won't beat themselves on offense.
Defensive 3-Point Percentage
In its 11 Big Ten games, Ohio State ranks first in the conference with a 38.2 3-point percentage. Kaleb Wesson, Andre Wesson and Justin Ahrens have each shot better than 40 percent from beyond the arc against conference opponents. 
Against Wisconsin, the Buckeyes will have a chance to fill it up from deep. The Badgers rank last in the Big Ten and 212th in the country in defensive 3-point percentage, allowing teams to knock down 34 percent of their shots. Ohio State only hit 6-of-20 3-pointers in the first meeting. It'll have a chance for an uptick on Sunday.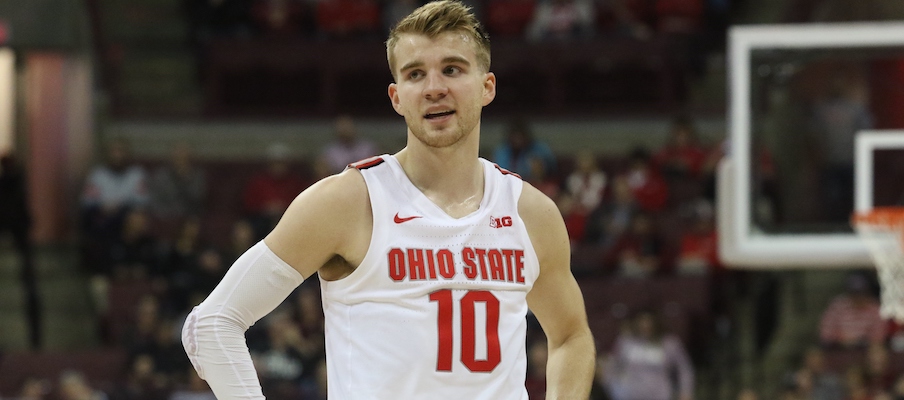 Other Notes
Holtmann on Luther Muhammad, who is dealing with a shoulder injury: "We had to give him a couple days off here because of the heavy schedule next week with three games. He's been rehabbing every day. He's expected to play, but it'll be something we'll have to monitor. His injury is something we're going to have to monitor the whole year."
Holtmann noted the Big Ten has 12 teams in the top-50 of the NET rankings: "Based on the numbers on the preseason and now the conference, it's the best and deepest league in the country."
Holtmann said DJ Carton can take classes at home during his leave of absence: "We've had conversations regarding all that. We've kind of leaned on our medical personnel here to kind of guide us through that, the best way to go about that. But yeah, there's opportunity to do that from where he's at, for sure."
On whether he wants players to keep in regular contact with Carton or leave him alone: "I think it's good for him to kind of have some time. I think there's probably a fine line and a balance there. That's stuff we ask our medical people given the fact that we treat it like an injury. But it's uncharted territory in terms of specific situation where a young man is away from your team. We've really relied on our medical staff for that."
How It Plays Out
Wisconsin already topped Ohio State and it beat Michigan State eight days ago, yet based on how the Buckeyes have played recently, we're going with the road team on Sunday. To win, Kaleb Wesson needs to continue his strong play, they need to figure out how to shoot a better percentage from beyond the arc and they can't afford to frequently turn the ball over. 
Prediction: Ohio State 65, Wisconsin 61