Chris Holtmann doesn't remember a specific moment from his childhood that a Kentucky loss caused tears, but he didn't rule out that it happened.
Growing up, Holtmann had no choice other than to root for the Wildcats. As a native of Nicholasville, Kentucky, he lived less than a half-hour drive from Rupp Arena, the home of the team now coached by John Calipari. Even now, he says, he might find a Rex Chapman poster still hanging on the wall of his childhood bedroom.
"You grow up in Lexington, Kentucky, you've got no choice. It's a part of your blood," Holtmann said on Thursday. "It's like being in Columbus, here, football's a part of your blood. Basketball's a part of your blood there. It just is. It's front-page news. It's front-page news in the offseason. That's just the way it is."
| Who | Where | When | TV |
| --- | --- | --- | --- |
| No. 6 Kentucky (8-2) | Las Vegas (T-Mobile Arena) | 5:15 p.m. | CBS |
The front-page news that Holtmann wants in newspapers throughout Kentucky on Sunday? A Wildcats loss.
As part of the CBS Sports Classic, No. 5 Ohio State will have its third top-10 test of the season when it takes on No. 6 Kentucky in Las Vegas on Saturday. The game will tip off at 5:15 p.m. at the T-Mobile Arena.
The Buckeyes have twice beat teams ranked in the top 10 at the time by 25 points, topping both Villanova at home and North Carolina on the road. Since those games, Jay Wright's Wildcats have fallen to No. 18 and Roy Williams' Tar Heels have dropped out of the top 25.
Kentucky, having lost to Utah on Wednesday, is in danger of losing two games in a row for the first time since February 2018. In order for that to become a reality, Holtmann's group will have to take down a team led and recruited by Calipari in their first-ever matchup.
"If God were to draw up the perfect Kentucky basketball coach, I think John's right there just in so many ways," Holtmann said. "He's innovative, smart, embraces all that that job entails, heck of a coach, elite recruiter, all the things that job needs."
Opponent Preview
At the time, a season-opening win against a Michigan State team ranked No. 1 in the country seemed to portend a potentially special season. A week later, though, Kentucky lost to Evansville, halting all of the momentum it gained by beating the Spartans. 
Since then, the Wildcats won five consecutive "buy games" at home, then beat Georgia Tech before losing to the Utes earlier this week.
"I know they lost last night, but at the end of the day going to be one of the better teams in the country," Holtmann said on Thursday.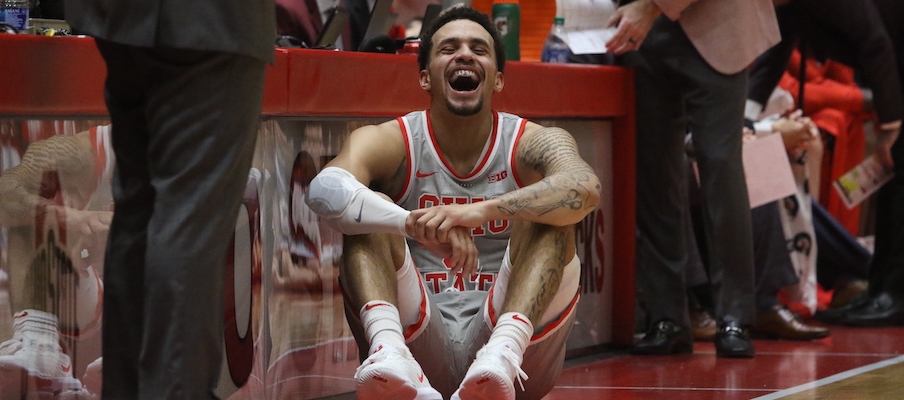 Ashton Hagans, a 6-foot-3, 198-pound sophomore guard, leads the Wildcats with 14.2 points in 31.4 minutes per game. He also managed 7.6 assists and 4.3 rebounds per game while shooting 49.4 percent from the field.
The one-time five-star prospect makes a considerable impact on the other end of the court, too, with a 6-foot-6 wingspan. Hagans averages 2.1 steals per game, a rate three times higher than anybody else on his team.
"He's so disruptive," Holtmann said. "We've seen obviously good defensive players, but he's so disruptive with the ball and his ability to get hands on balls and make plays. I don't know that we'll see a guy like him all year with how impactful he is on that end."
Along with Hagans in the backcourt, Tyrese Maxey will pose a stiff challenge for Ohio State's guards. The potential top-10 NBA draft pick in the spring puts up 11.4 points per game. Jamaican-born Nick Richards is the main post presence at 6-foot-11 and 247 pounds. The big man averages 13.6 points and eight rebounds per game.
Together, the Wildcats have a defense that Holtmann said is one of the best he has seen since arriving at Ohio State. They're No. 36 in adjusted defensive efficiency, per Bart Torvik.
"I think Kentucky has always been extremely well-coached defensively. Extremely well-coached," Holtmann said. "They're disciplined, and then they use their length and their athleticism both to be disruptive and to affect your field-goal percentage."
Despite a team loaded with former five-star prospects, though, Kentucky has a clear weakness: shooting from the outside.
The Wildcats have hit a remarkably low 25.5 percent of their 3-point attempts, which ranks 327th in the nation. Naturally, they've strayed away from the outside with a 3-point rate of 27 percent, ranking No. 342. Nobody on the team shoots better than 33.3 percent from the perimeter.
Ohio State Preview
Ohio State's second-leading scorer, Duane Washington Jr., has missed the past two games with a rib injury, hurting the team's spacing on offense. However, he's expected to play in Saturday's game, provided he completed a Friday practice without any pain. 
Even if Washington returns, though, he will likely play limited minutes due to his lack of practice time the past two weeks. Offensively, the Buckeyes need Kaleb Wesson to continue to be a weapon from beyond the arc, and other potential outside threats – including Andre Wesson, Luther Muhammad and Justin Ahrens – have to knock down shots.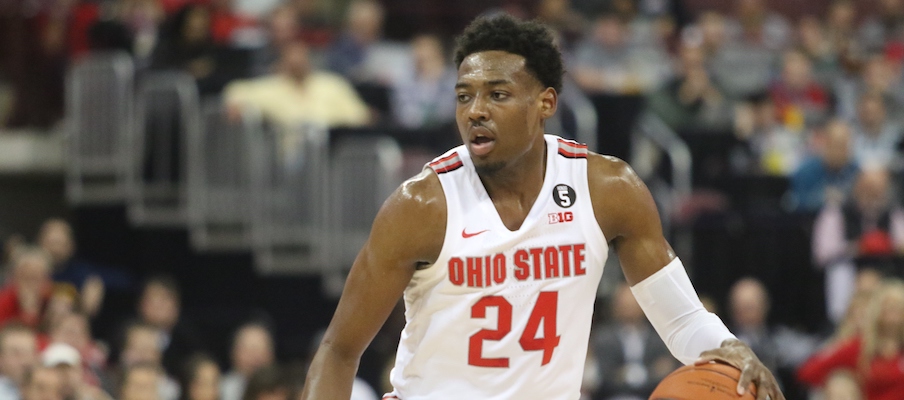 Against Kentucky's lanky, active defense, Ohio State collectively also has to figure out how to control the ball with greater consistency. The Buckeyes had 14 turnovers in their loss to Minnesota and 21 turnovers last game against Southeast Missouri State.
"We're definitely more cautious of it now. We know these last two games turnovers have definitely been a problem," Andre Wesson said. "Just cleaning things back up during practice and looking at film, seeing where we can make better decisions with the ball, that's the main thing we're trying to do right now."
Facing Kentucky's offense, the Buckeyes won't have to defend much beyond the 3-point line. But due to the size and athleticism of some of the Wildcats' top scorers, they'll still have to figure out a way to keep them out of the paint.
Other Notes
Holtmann describing Kentucky: "It's basketball and horse farms and bourbon, I guess."
Andre Wesson has come off the bench in all but three games this season. How does he feel about that? "It's my last year, so the most thing I'm worried about is winning. If that's me coming off the bench, not playing, whatever it is, as long as we're winning I'm cool with it."
Andre Wesson on another top-10 matchup: ""We want to play games like this. To be the best, you've got to beat the best, and over the years Kentucky's been one of the best programs. Just going in there with a lot of confidence and just playing the best that we can, that's the only things we can control."
E.J. Liddell has 11 blocks thus far. Andre Wesson on the freshman's ability to swat shots: "Just his timing is great, one of the best since I've been here. Like I would shoot a shot, I don't think there's no way he'll get it and he'll get it. He's been working and he's done that since he's stepped on campus."
Holtmann says he think it'll be a road atmosphere in Las Vegas for Ohio State.
Holtmann on Alonzo Gaffney, who played 12 minutes last game: "As much as anything, I just think it's important for us to try to get him playing and in minutes and in game stuff where we can talk him through some stuff. And he's practiced pretty well. So that went hand in hand. I thought two and a half, three weeks was pretty consistent with his practice habits.
When watching Kentucky-Utah, Holtmann got a dose of Bill Walton as a color commentator. What're his thoughts? "Love Bill. I don't know if I could handle him. He might overwhelm me if I were to watch him more than one game per week. but I love Bill."
How It Plays Out
Opponents have a 40.1 effective field-goal percentage against Ohio State this season, and though Kentucky has plenty of talent, the lack of shooting could prove to be a major detriment once again this year for Calipari's team. Without that dimension of the offense, the Wildcats could easily find themselves in trouble.
Provided Washington plays, we're predicting the Buckeyes' offense has the necessary diversity to pull out the win.
Prediction: Ohio State 65, Kentucky 61