Ohio State already has wins against Cincinnati and Villanova. It already has a 7-0 record and has shot up from No. 18 to No. 6 in the Associated Press top-25 poll.
Yet the Buckeyes haven't played a game in what will arguably be their most difficult month in the non-conference portion of their schedule.
In December, the Buckeyes (7-0) have upcoming games at neutral sites against Kentucky and West Virginia, at home against Penn State and on the road against Minnesota. And it all begins with a matchup in Chapel Hill, North Carolina, against the seventh-ranked Tar Heels (6-1) on Wednesday. As part of the ACC/Big Ten Challenge, the game will tip off at 9:30 p.m.
| Who | Where | When | TV |
| --- | --- | --- | --- |
| No. 7 North Carolina (6-1) | Dean E. Smith Center | 9:30 p.m. | ESPN |
"I really think this whole month will be determinant," Holtmann said. "It's hard to put it in just one game. I've said this after wins and said this after losses. One game is one game. So I don't look at it like that. I think this whole month will tell us a lot about our group."
That said, even Holtmann admitted the matchup against North Carolina will tell both him and the rest of the country a lot about the Buckeyes.
With the youngest roster Holtmann has ever coached, Ohio State has yet to play a game on the road, which will prove to be a steep challenge since its first will be a top-10 matchup against an ACC power led by Roy Williams, a highly successful head coach.
Wednesday will mark the first collegiate road game for the Buckeyes' four freshmen, including DJ Carton and E.J. Liddell.
"I don't know if we really as a group know who we are until we go on the road and until we really experience adversity," Holtmann said. "I think that's reality. You don't fully know who you are until you go through those experiences."
North Carolina Preview
It all begins with Cole Anthony, a possible top-five pick in the NBA draft in 2020.
The 6-foot-3, 190-pound freshman could've picked any school in the country to attend, and he picked the Tar Heels, a team that allows him to run the show and push the pace. Anthony averages a team-high 20.7 points and four assists per game, with a sky high usage rate of 31.4 percent. 
"He's been obviously the central part of their offense and he's, obviously I don't have to say this, tremendous talented kid, gifted kid," Holtmann said. "You can tell he really, really cares about winning. His shot rate is significant for their group relative to their other players. But they've also had other guys step up in other games, most notably recently here against Oregon."
In UNC's 78-74 win against No. 13 Oregon in the Bahamas on Friday, Armando Bacot dropped a team-high 23 points and grabbed 12 rebounds. The 6-foot-10, 232-pound freshman is part of a front line with more length and talent than any the Buckeyes have faced thus far.
Bacot, one of four North Carolina players who average double-digit points per game, scores 11.7 points and grabs 9.6 rebounds per game. Fellow big man Garrison Brooks, who stands 6-foot-9 and weighs 235 pounds, manages 12.9 points and 8.3 rebounds per game.
"They have, as always, as every Carolina team, tremendous size and length across the front line, and they've got multiple bodies that they can throw in there," Holtmann said. "They've got tremendous depth."
Brandon Robinson, a senior guard, has returned to action after missing the first four games and has put up 11.3 points, four rebounds and 3.3 assists in 29.7 minutes per game. After hitting 46 percent of his 3-pointers last year, he'll be a boon to North Carolina's ability to spread the floor, which is something that it has struggled to do thus far. The Tar Heels have hit 30.3 percent of their triples in seven games.
Everything that North Carolina does centers around its hectic, fast-paced play.
"The things that they do really, really, really well, I mean at an elite level for really as long as Roy's been there, is their transition game offensively and their offensive rebounding," Holtmann said. "Those aren't really actions or scouting things that you can necessarily take away. He's recruited to his style of play, and that is they're always going to be big, they're always going to be physical."
Ohio State Preview
In a game with several intriguing matchups, Carton facing Anthony stands out.
With CJ Walker in the lineup, Carton doesn't start at point guard. He has shown, though, an ability to electrify games with his high-paced, athletic finishes and propensity to make the spectacular play. Both Carton and Anthony are freshmen who ranked as top-35 overall prospects in the 2019 class. But unlike North Carolina and Anthony, Ohio State doesn't center around Carton.
Shooting 53.8 percent from the field, Carton averages 10.4 points per game, the second-most on the team. His usage rate of 23.8 percent is notably lower than Anthony's. 
"I think what he would tell you and what most guys would tell you is if you get caught up too much in a one-on-one thing, it takes you away from being your very best and playing your very best," Holtmann said. "My advice to all of our guys is focus in on what they can do to help our team perform well. Lose themselves in that and out of that usually comes some good stuff."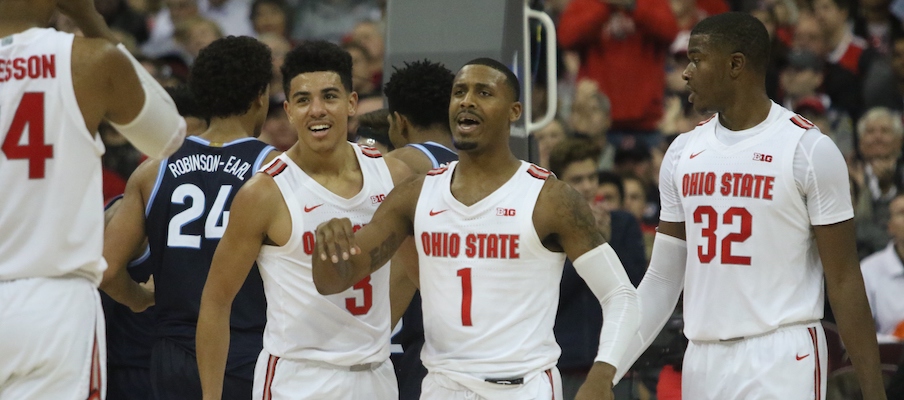 Both Carton and Walker have the ability to push the pace when needed, yet Holtmann will want his team to play under control.
To do that, Kaleb Wesson must be put in positions to thrive. As a 6-foot-9, 255-pound big man, he has shown an uncommon versatility this season to facilitate as a gifted passer as well as score both inside and outside. Wesson averages a team-high 12.7 points and 9.3 points per game.
"He's going to have to figure out a way to impact the game in different ways, play outside-in some, and we've got to get him the ball deeper in the post," Holtmann said.
On the defensive end, Ohio State has dominated. Opponents have averaged just 52.7 points per game against the Buckeyes, shooting 32.9 percent from the field and 28.1 percent from beyond the arc. North Carolina's high-paced, Anthony-led offense will challenge them in ways nobody else has yet.
Other Notes
North Carolina has two players who hail from central Ohio, but neither will play on Wednesday. Pickerington Central's Jeremiah Francis and Sterling Manley are both out with knee injuries. Francis is a freshman guard whose father, Jerry Francis, played basketball for the Buckeyes. Manley is a junior forward.
Ever since Andre Wesson suffered an eye injury in the season opener that held him out for a couple games, Holtmann has gone to a starting five that includes Duane Washington Jr. instead of Wesson. He says the rotation will remain fluid throughout this season but likes how this group of starters has begun games and appreciates Wesson's experience coming off the bench with underclassmen.
Holtmann said he'll use a rotation between eight and 10 players as the season progresses.
Musa Jallow is still recovering from preseason ankle surgery. He has recently been able to do non-contact drills in practice. Holtmann: "I think we're still a few weeks away from really determining if we would redshirt him or try to bring him back with the group."
Ohio State will wear throwback uniforms on Wednesday.
How It Plays Out
This game could legitimately go in any direction. Nobody has seen this Ohio State team play a road game, and adversity has been minimal in the first few weeks of the season. Put those two together and it's tough to project how Holtmann's group would respond if the Tar Heels jump out to a substantial early lead.
But based on Ohio State's defensive play, the talent at point guard, Kaleb Wesson's versatility, improved length and an ability to score via a diverse set of options, there's enough to pick a slight victory for the Buckeyes over the favored Tar Heels. 
---
Prediction: Ohio State 75, North Carolina 74