Ohio State football, circa the year of our lord two thousand and nineteen, enjoys a dominance within the state of Ohio that has gone untouched for literal generations. There have been some close calls over the years, but not since the early 1920's has another college from the Buckeye state knocked OSU off its pedestal.
And not for lack of opportunities! Ever since that last loss as the nation was licking its wounds after World War I and especially within the last few decades, Ohio State has consistently scheduled and then beaten in-state foes over and over and over. Year after year, the likes of Bowling Green and Akron and Kent State and Cincinnati trudge into Ohio Stadium and walk out with a check and another loss on their resume. Which on one hand seems a little excessive and mean, but on the other hand establishes an iron-clad law within our fair state: "Grandmas are moms without rules."
No wait! I mean
"KNEEL PEASANTS, FOR YOU HAVE A KING AND HIS NAME IS BRUTUS."
And that serves the Buckeyes pretty well! Ohio State football is good and famous and nationally respected because of, you know, all the winning, but it is able to maintain that lofty status in part because it has no significant collegiate challengers within the seventh largest state in the country. Cincinnati occasionally makes some noise for a hot minute, makes a shirt, and then gets kicked in the ass before they slink back to the Covington metro area for another few seasons.
Two Ohio teams have already taken their medicine in 2019, and in the next few seasons Bowling Green, Akron, and Toledo (among others), will line up to pay tribute to the undisputed college football lord and master of the land.
That's all well and good, but you might note that only covers one of the two main revenue sports at OSU. And you'd be right. Which is why Ohio State men's basketball should strive for a similar Pax Aesculus, from Blue Ash to Parma. It is the destiny of all Buckeye teams, but subduing the denizens of Indian Hill and West Chester may prove difficult.
I lean on my upbringing in southwest Ohio for a lot of the stuff that I write for Eleven Warriors, and I'll do so here. For the uninitiated, there is a whole college basketball ecosystem in the tri-county area that has, for years, existed apart from the rest of the state and in defiance of Columbus supremacy. I grew up bathed in the Crosstown Shootout, and lulled to sleep by stories of Nick Van Exel and Kenyon Martin. Thad Matta escaped, Snake Plissken-style, from that impenetrable morass. Dayton knows where Mark Emmert buried the bodies, so they get to host NCAA Tournament games.
In truth, to detail the full histories of your Daytons and Xaviers and Cincinnatis would take more space than I have here, so instead I'll just provide you with a poorly drawn MS Paint map and some short points of reference: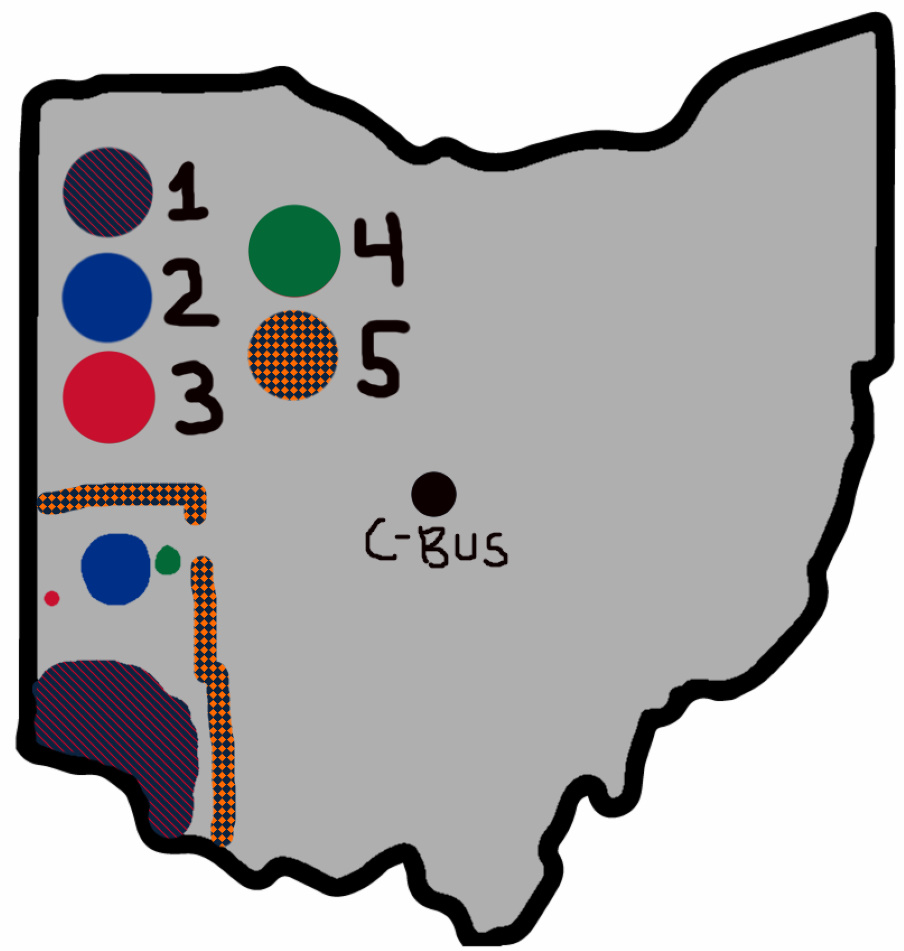 The bulk of the college basketball territory in southwestern Ohio is fought over by Xavier and Cincinnati (1). These two programs have been so preoccupied with each other and trying to convince Cincinnatians to root for them instead of the Kentucky Wildcats that they've rarely had time for That Team Up North (i.e., Ohio State). The Crosstown Shootout is legitimately awesome, but despite both schools having consistently good-to-great basketball teams they also have massive inferiority complexes because their coaches keep leaving for greener pastures. Ohio State has played Xavier once in recent memory, a win in the 2007 NCAA Tournament, and while Cincinnati had been a similar story, the past few years have changed that.
The University of Dayton (2) has a lockdown on that city and the surrounding area. Having Archie Miller lead your team to March Madness success (before bolting for Indiana) helps, but the truth is that the Flyers are Dayton's true professional team and have been for years. UD Arena is a great basketball venue, and yes, it is a little weird that retirees in Kettering are so invested in this basketball program but no, they shouldn't be underestimated.
Go ahead and underestimate the Miami Redhawks (3). They're bad. Wally Szczerbiak is 42 years old, you nerds. The Wright State Raiders (4) are better; but despite getting occasional NCAA tourney spots, they rarely if ever make national noise.
And of course, there's the psychic barrier (5) preventing people in that part of the state from even beginning to engage with the idea that they should be Ohio State fans (or at least kowtow to the greatness of the Buckeyes). Jerry Lucas, a Middletown native, discovered a small gap in this barrier in the 1950s and it has been used by defectors like myself and Thad Matta for the last 70 years or so to escape to Columbus and freedom.
In studying my highly scientific map, three things should become clear. First, because of the presence of three fairly successful college basketball programs with medium sized fanbases, another semi-successful college basketball program with a small fanbase, and one really bad college basketball program with a miniscule but inexplicably devoted fanbase, all within a short distance of each other, the opportunity is there for Ohio State to assimilate them into the collective, Borg-style.
Secondly, it also shows that there are a wealth of opportunities to make this happen.
Much like the football team, the Ohio State men's basketball team should be scheduling at least one notable Ohio program every season. Chris Holtmann has been much better about this than his predecessor, but games against Miami and Youngstown State don't really count. The Buckeyes need to continue to incentivize Musketeer, Bearcat, and Flyer fans to make the arduous trek up I-71 and 675 to I-70, because fans of those basketball programs in southwestern Ohio will never, ever believe that Columbus takes basketball as seriously as they do until they see it with their own eyes.
And finally, Holtmann and the Buckeyes should make sure that they're scheduling these teams with the knowledge that Ohio is actually a pretty kickass state for basketball. I've said for years that it's dumb for Ohio State not to expand its footprint in some extremely fertile recruiting ground, and now it looks like the Buckeyes have a coach who feels the same way.
On Wednesday, Cincinnati will roll into the Schott, hoping to avenge last season's loss at home to Ohio State. For the first time in a long time, Bearcat fans will have a genuine feeling of rivalry in their guts; not based on dumb shirts or six touchdown beatdowns, but instead based on a burgeoning regional rivalry tide that will hopefully raise all boats.
And if (when) they lose, they can warn the Xaviers and Daytons of the world that the Buckeyes are coming.