More than four months remain until Ohio State opens the 2019-20 season at home against Cincinnati.
But the freshmen have arrived on campus to begin full-team offseason workouts that have already begun.
As the Buckeyes prepare for a year in which they'll face their highest preseason expectations yet in Holtmann's tenure, they have a number of questions to answer, and we delved into 10 of them.
How will Chris Holtmann maneuver the point guard situation with DJ Carton and CJ Walker?
A year ago, Ohio State relied on C.J. Jackson and Keyshawn Woods to run the offense, with Jackson spending most of the season as the primary ball-handler before Woods took over point guard duties near the end. Both, now, are gone.
Four-star DJ Carton and Florida State transfer CJ Walker will take over as the two point guards this season.
Ohio State beat Indiana and Michigan in a hard-fought battle for Carton, the No. 33 overall prospect and fourth-ranked point guard in his class. The lefty has impressive athleticism for his 6-foot-1, 190-pound frame, can finish on drives and plays with relentless force of will.
Walker chose to transfer to Ohio State after two years at Florida State. He averaged eight points and 2.4 assists as a sophomore in 2017-18. Multiple teammates have described him as a "bulldog" with natural leadership qualities.
Both Carton and Walker will undoubtedly play sizable roles for the Buckeyes, and they could even play some minutes on the court at the same time – though Holtmann has said he doesn't want Carton learning more than one position right now. But how Holtmann plans to deploy them remains uncertain.
Can they find a way to overcome youth?
Ohio State has just one senior – Andre Wesson – compared to seven underclassmen, including four freshmen.
To fans, that means this team has tantalizing potential. To Holtmann, that's worrisome.
"Old wins in college basketball," Holtmann said a month ago. "We know that. Look at the teams that advance and the teams that have won the Big Ten. I would challenge you to tell me how many of those teams have been really young teams in the last five or 10 years. We need to get old. That will take some time. We aren't there yet. That's kind of how we planned it, too. We knew there would be a process to getting old."
As Holtmann has mentioned, the trio of sophomores – Luther Muhammad, Duane Washington Jr. and Justin Ahrens – played plenty of minutes as freshmen and experienced wins in both the NCAA and Big Ten tournaments, which should aid them this season. Still, they each went through rough stretches that, though not uncommon for freshmen, can't happen this season.
Ohio State could turn to two freshmen – Carton and E.J. Liddell – as starters, too, which would make Holtmann anxious. 
Who will step up as the consistent secondary scorers the team lacked last year?
Two players – Kaleb Wesson and Jackson – averaged double-digit points last season, but the offense typically revolved heavily around Wesson. When Wesson exited the game or struggled to put in points, as amplified during his late-season suspension, the Buckeyes struggled to score points. 
With the offseason additions of a few quality scorers, Ohio State hopes that issue won't cap the ceiling of the 2019-20 squad.
The Buckeyes will count on Carton, Liddell and Walker to provide scoring boosts. A few returners – Muhammad, Washington and Andre Wesson – will step into larger offensive roles, too. Ahrens would add shooting, but his defense needs to improve before Holtmann consistently relies on him. It's unlikely Jallow or Young become consistent scorers this season.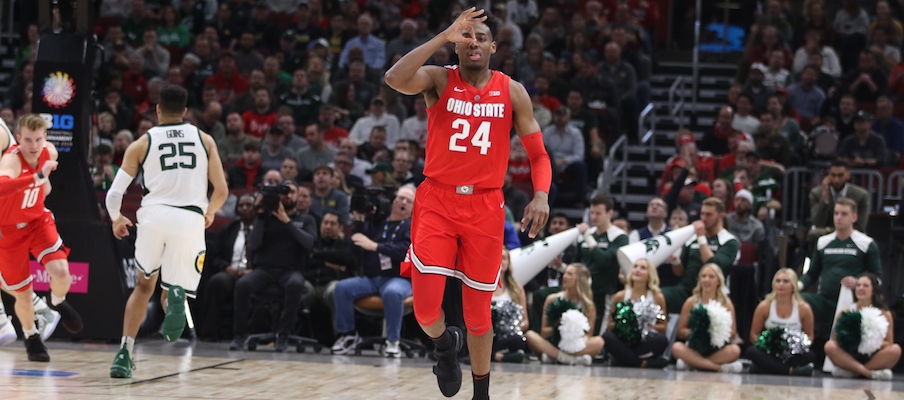 Will the weight of expectations crush the team?
Nobody expected Ohio State to challenge for the Big Ten title, let alone make the NCAA tournament in 2017-18, and many people didn't pick the team to make the NCAA tournament in 2018-19. Holtmann's teams surprised their doubters both years, though.
Leading up to the 2019-20 season, Ohio State won't have as many nonbelievers.
Holtmann signed his best recruiting class of all-time, which also happened to be the top-rated 2019 class in the Big Ten, and he will combine those four freshmen with Walker, Andre Wesson, three rising sophomores, Jallow, Young and Kaleb Wesson, one of the top big men in the Big Ten. The team has depth, high-end recruits and a coach who has proved he can maximize talent.
No longer will making the NCAA tournament be a bonus. It's now a baseline expectation.
How does the frontcourt shape up with E.J. Liddell likely to push for a starting spot?
Here's a quick reminder of Ohio State's frontcourt situation.
Small forward: Andre Wesson, Justin Ahrens, Musa Jallow (also a shooting guard), Alonzo Gaffney
Power forward: Kyle Young, E.J. Liddell
Center: Kaleb Wesson, Ibrahima Diallo
The Wesson brothers will start at small forward and center. Young, the other returning starting forward, doesn't have his spot locked up. Not with Liddell on the team.
Listed at 6-foot-6, 220 pounds in high school, Liddell lacks the typical height of power forwards, but he makes up for it with long arms, timing on his jumps and effort. The No. 42 overall prospect is a high-ceiling freshman who should be able to impact games on both ends of the floor from Day 1.
In order to maintain his starting spot, Young needs to add to his offensive game this offseason. He's a high-energy hustler and rebounder, but he hasn't offered much diversity as a scorer.
Can someone be the vocal leader after a year where that lacked?
A year ago, Ohio State's coaches and players mentioned leadership as something they were looking for. But they arguably never found it, at least to the level the coaches hoped. 
Once again, ahead of this season, the Buckeyes are looking for vocal leaders. 
"Kaleb definitely is (a vocal leader)," Andre Wesson said. "CJ Walker is too. With them two and my leadership style, I think that we should definitely be OK."
Walker has often been mentioned as a someone with leadership qualities, so he's one to look out for. Beyond him, though, it's worth watching to see who emerges as the player whose teammates follow behind, because it's not yet clear who will take that role.
Just how good can Kaleb Wesson become as a junior?
Kaleb Wesson returned to Ohio State, in large part, to build his draft stock and become a more enticing NBA prospect.
"People were telling me overseas that I have a buzz over there," Wesson told Eleven Warriors. "I mean, I can go over there and make money, but there's millions of dollars on the table and I have still have time to make that money at the biggest spotlight I can, so why not do that?"
So, what's next for the big man? How can he further expand his game?
NBA teams, he said, mentioned ball-screen defense and interior finishing as areas they want to see him improve. Holtmann also said they mentioned rebounding, turnovers and fitness. 
Wesson will enter the 2019-20 season as one of the top big men in the Big Ten, and he hopes to become one of the top bigs in the nation. Now that he has heard what NBA teams want from him, he'll have a chance to make those necessary improvements, which could take him to another level as a player.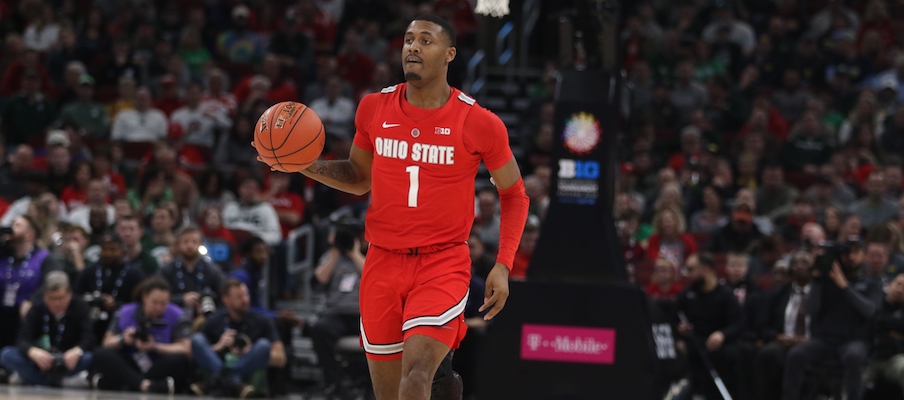 Can Luther Muhammad play like he did during the first half of his freshman year?
Muhammad started from Day 1, putting up 11 points in the opening game of his freshman season. It appeared to be a shrewd decision from Holtmann.
Muhammad responded with his ever-intense defense, which he complemented with a surprisingly proficient shooting touch. As the year wore on and he exited the non-conference portion of his season, however, his quality of play steadily dropped.
Here are his splits by month. All statistics are per game.
November: seven games, 27.9 minutes, 8.9 points, 2.9 rebounds, 2.7 assists, 49 percent shooting, 37.5 percent 3-point shooting
December: five games, 29.8 minutes, 9.8 points, 2.8 rebounds, 1.4 assists, 47.2 shooting, 50 percent 3-point shooting
January: seven games, 31.1 minutes, 10.1 points, 3.0 rebounds, 1.6 assists, 37.9 percent shooting, 40.9 percent 3-point shooting
February: eight games, 26.6 minutes, 6.2 points, 2.4 rebounds, 1.9 assists, 25 percent shooting, 31 percent 3-point shooting
March: seven games, 18.7 minutes, 3.7 points, 2.5 rebounds, 1.0 assists, 26.1 percent shooting, 33.3 percent 3-point shooting
By the end of the season, Muhammad was an offensive sieve. He wasn't hitting as many 3-pointers as he had been earlier in the season, and his decision-making and shot selection inside the 3-point arc fell off a cliff. He often looked out of control with the ball, and his minutes steeply decreased. 
He evidently hit the proverbial freshman wall.
Ohio State cannot afford to have the second-half version of Muhammad at the two-guard position in the 2019-20 season. He's a key cog, likely to start at shooting guard again. As arguably the most talented perimeter defender on the team, he needs to have better shot selection and consistent offensive production as a sophomore.
How much of a role will Alonzo Gaffney and Ibrahima Diallo play as freshmen?
Carton and Liddell might find themselves in the starting lineup on the opening day of the season. Gaffney and Diallo, though, might need more time to adjust to the college game.
Gaffney, the No. 48 overall prospect in his class, has a bundle of potential. At 6-foot-9, 190 pounds, he possesses a rare bundle of skill and length at the forward position, but he's not a finished product. 
Diallo, a 7-foot center, is raw, which will hinder his ability to get on the court as a freshman. Still, the Buckeyes need minutes at backup center, so he could enter games on an inconsistent, situational basis.
Can the coaching staff figure out a rotation?
Here's the big question, and it's one that likely won't be answered until the Buckeyes start playing games.
If you analyze the roster, one thing becomes readily apparent: Ohio State has a lot of players who expect to play.
Walker and Carton will split time at point guard, and there's a chance both spend time on the court together. Washington and Muhammad will split time at shooting guard, and Jallow will take some of those minutes, too. Jallow also plays small forward, where Andre Wesson, Ahrens and Gaffney play. Gaffney and Wesson could play power forward, the position manned by Young and Liddell. Kaleb Wesson will play center, and Diallo backs him up.
Holtmann's rotation will not go 12 deep, and he'll begin to get an idea of who to rely on this offseason. 
Other Questions
Can Andre Wesson become a reliable 3-point shooter?
Will Ohio State be able to get to the free-throw line more often than last year?
After sitting out last year, is CJ Walker ready to take the reins of the team?
Can Duane Washington turn into a more consistent offensive spark off the bench?
Who will back up Kaleb Wesson?
Will Justin Ahrens develop other aspects of his game to complement his shooting touch?
Can Musa Jallow expand his role beyond an athletic, defense-first wing?
Will Kyle Young be able to expand his offensive game?