There he worked.
Before any of his Ohio State teammates got on the court at the Schottenstein Center, CJ Walker put shots up. Scoonie Penn, a former Buckeyes guard who is now the team's director of recruiting and player development, worked with him, seemingly putting on the final touches as he prepared for a game. But Walker didn't play that day, Nov. 1, and he hasn't played since.
Those pregame moments, preceding the team's exhibition game against UNC Pembroke, were as close to live, on-the-court action as Walker got during game days at the arena during the 2018-19 season. After transferring from Florida State, he had to sit out every single game, spanning from November to March.
"I don't think I've ever missed a whole year of basketball, not playing from when I first started," Walker told Eleven Warriors on March 23 as Ohio State prepared for its second-round NCAA tournament game. "I've never been this long without playing in an actual game, so it's been kind of hard."
Walker took a moment to say how much he appreciated the ability to take his time to prepare both mentally and physically before returning to explaining what he truly missed most.
"It's had its downs, you know, being able to not be able to be on the floor with them playing, especially going through practices, hard days, going through losses and things like that," Walker said. "It just makes it a lot harder, but it's also motivating as well."
Most games, Walker sat on the bench, often wearing an Ohio State-themed polo shirt. He traveled to the NCAA tournament and watched from behind the bench in his gray Buckeyes hoodie. He practiced on the scout team and watched film.
But never could he play.
"People might've forgotten about him," Holtmann said. "We certainly didn't."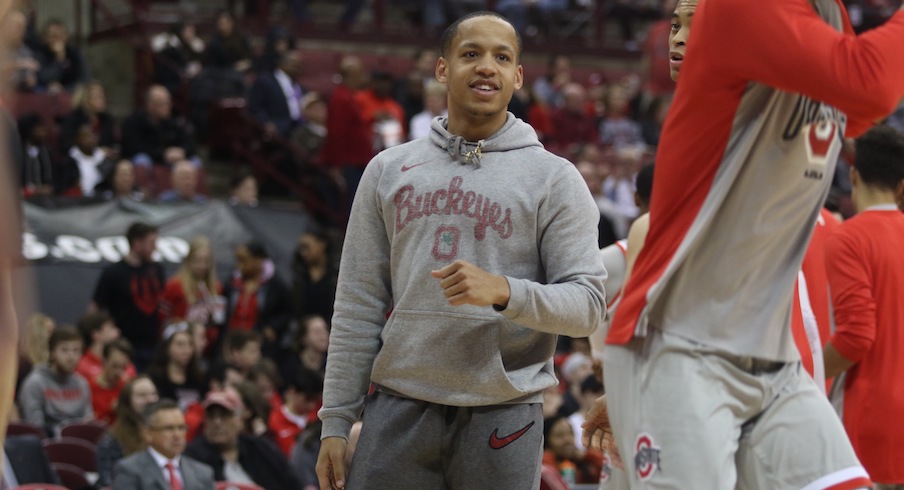 Holtmann admitted he "absolutely" wished he could have had Walker eligible to play last season, and it's easy to understand why.
Neither C.J. Jackson nor Keyshawn Woods were pure point guards. Jackson served as the team's primary ball-handler for most of the season, but Woods ran the offense down the stretch. Had Walker been eligible, he might've taken over that role.
At 6-foot-1, 195 pounds, Walker has the size of a point guard but enough shooting ability to play off the ball. As a sophomore starter for the Seminoles during the 2017-18 season, he averaged eight points, 2.5 rebounds and 2.4 assists per game while shooting 41.2 percent from the field and 35.5 percent from 3-point range.
Kaleb Wesson called Walker a "bulldog" long before the 2018-19 season even began, and Holtmann used the same word to describe him two weeks ago.
"He's tough. He's competitive," Holtmann said. "He's got natural intangible leadership ability, I believe. He's certainly a point guard, but he's also a guy where you can play kind of two point guards together, as well. He's going to be a really solid addition."
At one point nearly a half-decade ago, Walker might have imagined himself playing for Chris Holtmann, but that was long before he and his staff moved to Ohio State.
"I'm just ready to play for next season, just be able to show everybody what the Buckeyes are getting."– CJ Walker
Walker considered Butler out of high school. Holtmann and assistant coach Terry Johnson offered the Indianapolis native a scholarship after his sophomore year and sold him on a "family environment." It didn't work. Walker initially committed to Purdue before decommitting and choosing Florida State over Butler, one of his finalists.
Nearly three years after his commitment to the Seminoles, Holtmann and Johnson got a second chance with their sales pitch. Walker wanted to move on from Florida State after two seasons, and Johnson gave him a call.
"Once I knew I was transferring and I came on my visit, I just kind of felt the family environment and we just left off where we started at," Walker said. "I feel like we still have that connection, still have that friendship. So it kind of made it a lot easier for me."
The pitch was mostly the same. Holtmann and Johnson once again sold him on the family atmosphere, and it worked. Walker committed to Ohio State last April with two seasons of eligibility remaining.
The Buckeyes also showed him the opportunity he could have after sitting out. Jackson and Woods would graduate after the season, opening a spot in the backcourt that Walker thought he could fill.
"Once you break down the roster, see C.J.'s a senior, Keyshawn's a fifth-year and me being able to come in and be able to take on a leadership role here at Ohio State," Walker said. "And just knowing coach Holt's background with point guards and how hard he pushes them, how much he wants them to succeed. So that was kind of a big thing for me, as well. And seeing that we've got a really young team, that we've got (four) recruits coming in as well as freshmen. So I have a really good team that I'll be able to bond with a play with."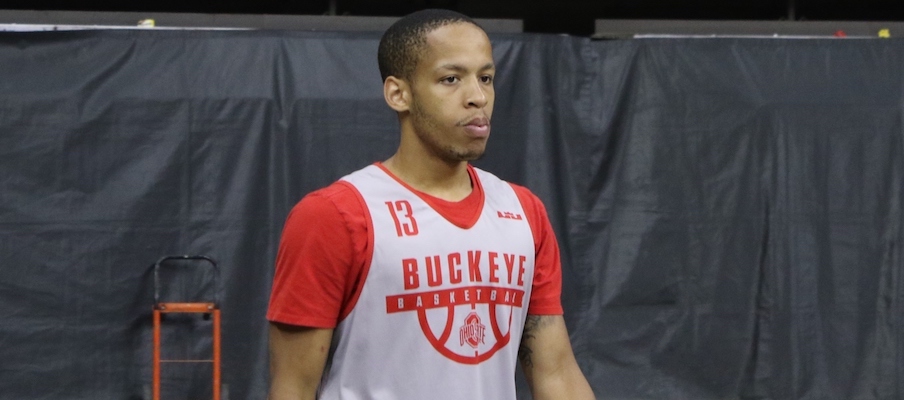 Walker and incoming recruit DJ Carton will serve as Ohio State's point guards for the 2019-20 season, giving the team a pair of viable options to lead the offense.
Carton will enter the program with a hefty amount of hype and expectation, but he might not start over Walker, and they'll likely spend time on the floor playing together.
"I feel like that will be a really good combo, me and him being in the backcourt, whether I'm playing the one or the two and him vice-versa," Walker said in February. "I feel like he'll bring a different type of energy to the team."
Whether Walker starts or comes off the bench, he'll at least have a sizable role on the team, and that's more than he could say last season.
Rather than play in games in the 2018-19 season, he had a pregame workout with strength and conditioning coach Quadrian Banks akin to what players do during the summer. He followed that up with a half-hour of skill training and shooting practice with Johnson.
"Rest and chill until game time, and then I'm the biggest supporter on the bench," Walker said.
Walker fancies himself as a "vocal leader," a role he'll occupy next season. He admitted it was difficult at times to lead when practicing was the closest he got to in-game action, but he found ways to help.
Before the NCAA tournament, without any prompting, Walker pulled aside some of the first-year and second-year players to explain what it takes to advance in the Big Dance. Walker made the Elite Eight with the Seminoles one year earlier, and he wanted to share what he had learned.
"Don't nobody have to force me to say anything," Walker said. "I just feel like that's on me and my character. So I just feel like it's just me saying how I feel. I feel like that's what my teammates respect about me is just not holding back. Give them advice and take advice at the same time."
The past year, Walker found as many ways as he could to contribute, but he missed playing in games more than anything.
Though Ohio State's next game remains more than six months away, he'll finally be eligible to don a jersey and check in.
"I'm just ready to play for next season, just be able to show everybody what the Buckeyes are getting," Walker said.