The 11W Community Interview is truly of the people, by the people and for the people. You submit the questions and then we pass them on to the biggest names in the world of Ohio State athletics.
Joey Lane began his Ohio State career as a walk-on and ended it by getting a bigger ovation on senior day than Greg Oden. Not a bad trajectory.
His college career finally came to an end a few weeks ago, and he's set to graduate from the university on May 5. 
Eleven Warriors caught up with Lane on Thursday, after his final class at Ohio State ended, for a wide-ranging interview featuring questions asked by members of this community.
---
First up, thank you for being a Buckeye and congratulations on your transfer (editor's note: the faux transfer was an April Fool's joke). What are your post basketball plans, assuming you don't play professionally? - BuckeyeChief
JL: "Well first of all, I thank that guy for believing me. I wanted to do something for April Fool's, and I thought that that was just the most harmless but also most realistic thing I could do. But anyway, so I'm a business major at Ohio State with a specialization in marketing. This summer, I'm working as a marketing intern for Nike in Chicago. So I'm hoping that come August when that internship ends, they'll want me to stick around a little bit longer. But something in the business world where I can still be involved in sports and use my degree, obviously."
Off court, what is your favorite memory of your time in Columbus? - BuckeyeChief
JL: "The easy answer would be just hanging out with my teammates and stuff. More specifically, when we went to Spain as a team this past summer and there wasn't a lot of basketball being played, it was more of, like, we went on a catamaran and we went to the beach with the coaches, and we got to just all hang out, get really close way beyond basketball. That was really fun. And we're such a close group of guys, and I think a lot of that is because of that Spain trip, spending like 11 days together. It was way beyond basketball. We played three games, and that was the only time we really played basketball. So I think that was probably one of if not the best moments off the court. I know it's not in Columbus, but that was super fun."
What is the difference in coaching style from Coach Matta and Coach Holtmann? - Ohiowhitesnake
JL: "I think that they're really similar in terms of, well, they both came from Butler. They've both got Butler roots. They both have a huge emphasis on defense while also giving freedom to their guys on offense. But I think the biggest difference is, well, coach Matta wanted to have a calm demeanor, but he sometimes couldn't have it with the teams that I was a part of the first two years. But in terms of just the family atmosphere that coach Holtmann had, it was a little bit different than what coach Matta had. But then you see all the old players, they had that with coach Matta with those tight-knit groups.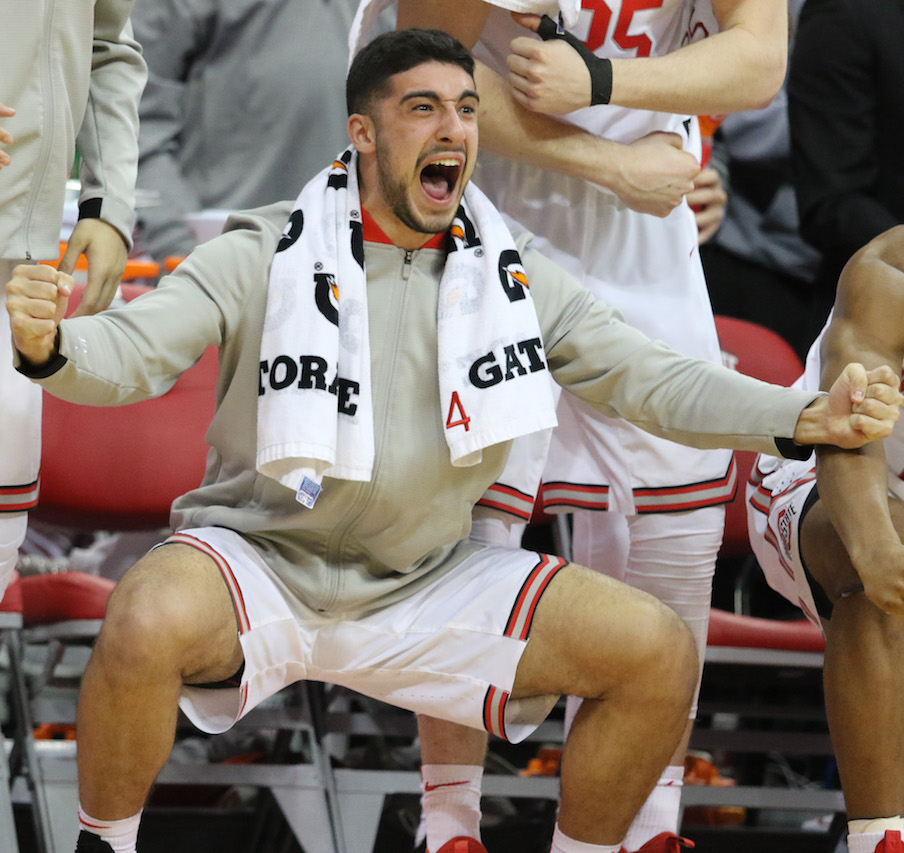 "It's crazy because you think two coaches, two different staffs – but, like, the staffs were so similar too because we had an offensive guy and a defensive guy on both staffs. That's a tough question to answer. Just because I was older, I was more involved with basketball with coach Holtmann, whereas with coach Matta, our relationship was purely off the court, pretty much. And I was a lot more involved in recruiting with coach Holtmann, but not really with coach Matta. So I got to see a little bit more of the recruiting side of coach Holtmann. I guess that's the best answer I can give."
What Big Ten teams had the best and worst visiting team locker rooms? - Tyler_Red_51
JL: "Northwestern's is really, really small, but it was brand new, obviously, but it was really small. And that was a game that we kind of had to win and we lost, so not a lot of good memories from that one. That's not a great one. Iowa's is not a great one. It's really small and kind of old, also. Michigan's is the old women's locker room, so it's really nice and right off the court, which is nice. But I don't ever want to say anything good about them, so not them.
"But the best, I'd say the best is probably Nebraska. It's a new stadium, everyone's got their own personal locker like you would I feel like in an NBA arena. I know our visiting locker room's really nice, too. But I would say the worst overall is Iowa. Best is Nebraska."
How bad would Mark Titus beat you in a game of 1-on-1? - Bucknut1994
JL: "I think Titus is really washed up, and I don't think it would be very close. In his prime, I bet it would be a little bit of a closer game, but I still would beat him. But right now, I mean, I was with him in Minneapolis at the Final Four, and he just doesn't stand a chance."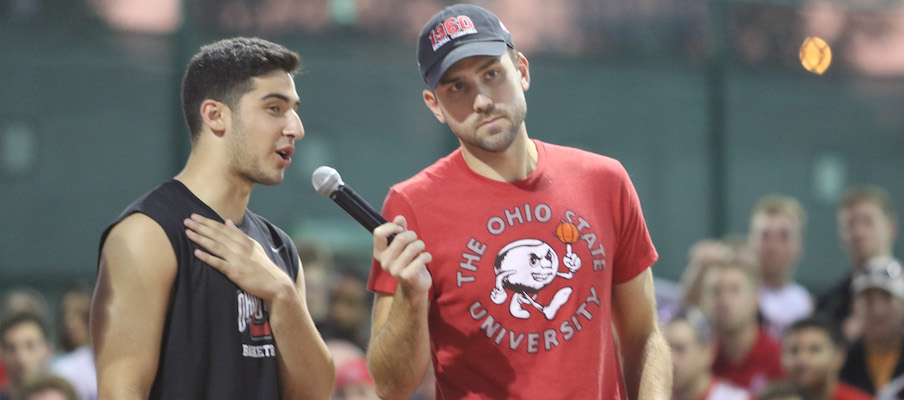 During your time at Ohio State did you ever consider transferring to a team for increased playing time? - HotSauceCommittee
JL: "Yeah. I would be lying if I said it didn't cross my mind. Like, especially when the coaching staff left or they got fired. That and also before this season were the two times where I thought, you know, I could go somewhere else because maybe the coaching staff, they bring in their own walk-ons, like now I'm just a forgotten guy. Like, I don't want to be a part of that. I also didn't know, like, obviously the coaching staff is unbelievable, but I didn't know how great they were going to be and if I'd even want to be there after one year.
"I definitely thought about transferring to be closer to home so my family could see me play more. Maybe got to a D-III school – even though I'd have to pay, I'd be able to play and be kind of a superstar there and stuff like I had imagined out of high school. But last year, especially when Andrew Dakich came, me and him talked a lot about me sitting out my senior year and going and transferring somewhere else. I know I would've had opportunities to play other places, even Division I schools.
"But at the end of the day, I couldn't leave this place. I wanted to graduate from here so bad. I wanted sort of a farewell tour my senior year. I wanted to end at Ohio State. Especially with this coaching staff, I owed them a lot. I wanted to contribute on the court, too, which I kind of had a chance to in some meaningful times. I knew that sitting out I would lose out on opportunities to really play for my dream school in a meaningful capacity. But also, I couldn't ever, if there was any possibility of playing against Ohio State, I couldn't do that."
Who was the hardest guy to guard on any of the OSU teams your were a part of? - HotSauceCommittee
JL: "For some reason, I was matched up with Keita (Bates-Diop) my freshman year my whole season, his sophomore year. He was really hard to guard. The best pickup player in Ohio State history was Kam Williams. The entire summer, he never missed a shot like ever. With the other coaching staff, we had a gray team and a scarlet team that stayed virtually the same through my two years because we had pretty much similar teams. Me and Kam were always on the gray team together because the red team was the starters. Kam would single-handedly beat the starters with guys like me, Jake Lorbach and two managers sometimes. We would play a five-minute game, and Kam would score 20 points. It was just ridiculous. He was probably one of if not the hardest guy to guard. He and Keita, for sure.
"That's such a hard question to answer because, like, I could easily also say Kaleb (Wesson). Like, I can't guard Kaleb. Or (Jae'Sean Tate). Like, I couldn't guard J.T. If he wanted to score, he's going to score. But overall, I'd say Kam when he got hot and then Keita."
Who was a player who you knew could always deliver in the clutch and take over a game on any of the teams you were on? - John-A-Tron
JL: "I'm going to go with C.J. Jackson. It was unbelievable because he could shoot twice in a game and they could both be air balls, but I still want him taking the last shot because he's going to make it, and you saw that. The game that sticks out to me is obviously there's the Indiana games. He made big shots in those games clearly. But against Creighton earlier in the year, he made a 3 in the corner by our bench where he kind of hesitated and made it, and that was like the first basket he made the entire game, and it was the biggest one. And he comes down the next play and makes huge floater to really take our lead up. He made some big, big-time shots in his junior and senior year. Like, just cold-blooded."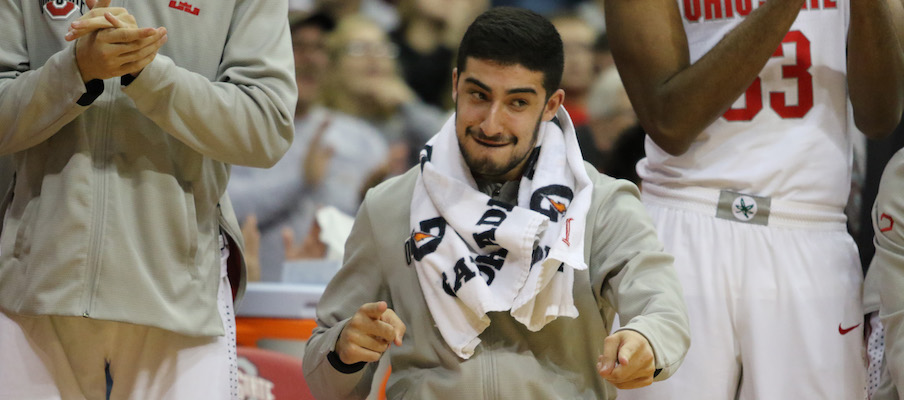 Who has the smoother stroke, you or Duane Washington? - John-A-Tron
JL: "I taught Duane everything he knows about shooting. He knows that. He knows that."
Which pizza place on campus is best? - SoulPatrol32
JL: "I'm going to go with Catfish Biff's because I lived across the street from there my freshman and sophomore years, so I ate that a lot. My mom, who is an Ohio State alum, she might have something else to say. But I'm a big Catfish guy."
What do you think about the future of the program under Holtmann? - Hovenaut
JL: "To say I'm excited would be an understatement. I feel like, first of all, I'm so unbelievably close with this staff. But on top of that, I was the host for all the freshmen coming in and all the young guys that are on the team now, so I feel like I'm super invested in the team. And I'm so excited because not only are they top-tier basketball talents, all these guys we have on the team now, but they're also unbelievable people, from the coaching staff to the players to the managers. I mean, Ohio State basketball is in great hands.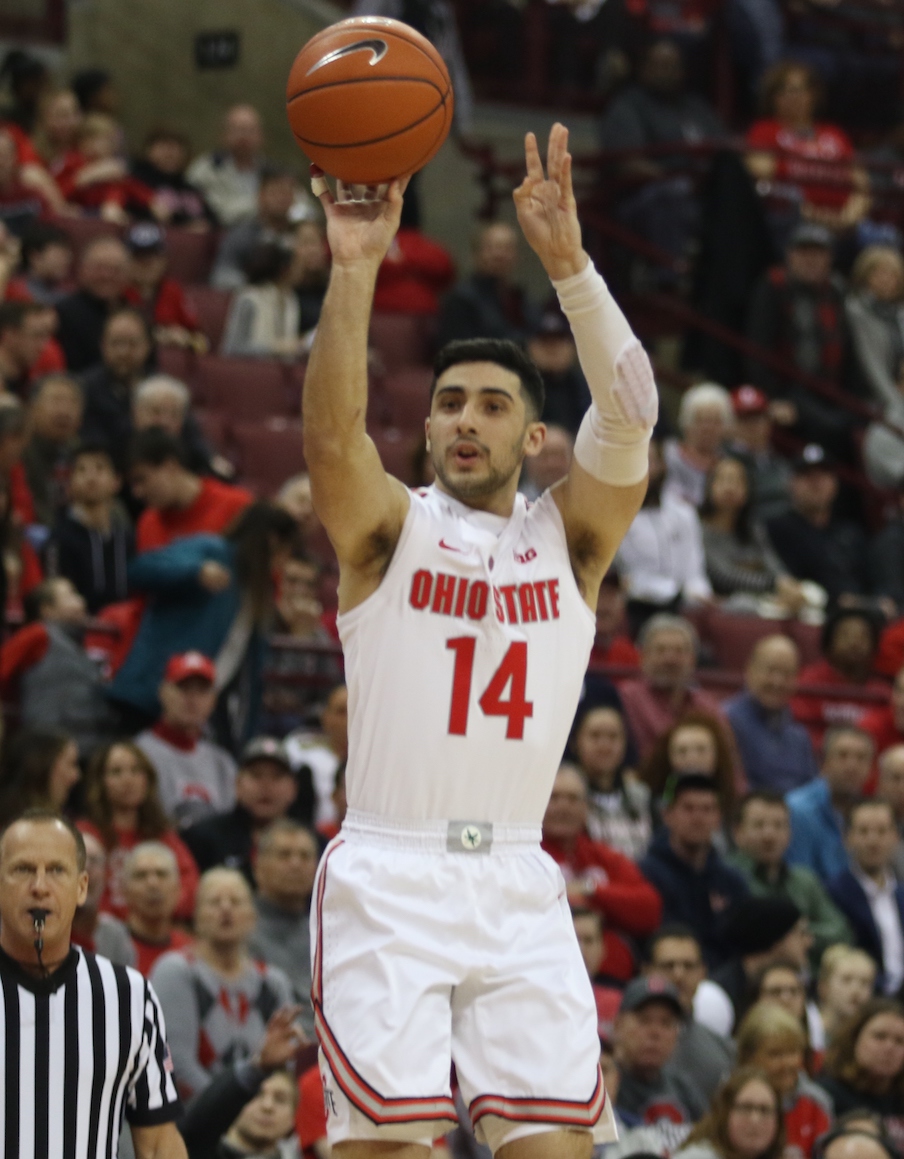 "It's going to be fun to be a fan for once – or, I should say be a fan again. I'm so excited about the future. It's only going to go up from here. It's going to be exciting to have some expectations on a team. And yeah, I mean, coach Holt, I can't say enough good things about him. And then bringing Jake Diebler back, that was my guy. Super excited about that, too."
Who is the funniest player on the current team? The most serious one (if one exists)? - Bsk33
JL: "Keyshawn (Woods is) probably the most serious, but that doesn't mean he's not funny. He's hilarious, too. But he's probably the most serious just because he's the oldest. But Danny Hummer's pretty serious, too, but also hilarious. When you get super close with these guys, they come out of their shells. Keyshawn and Danny at first were pretty serious dudes, but now they've come out of their shell a little bit.
"But in terms of just funny guys, all these freshmen – Duane, Justin (Ahrens) – they're just goofballs. I mean, it's unbelievable. I would say Luther's humor is just out there. Duane's my pick for the funniest guy just consistently. He's just got all this energy all the time, and he's a funny guy. And he was also my locker mate, so we had some good gags together."
What's the future hold for Joey Lane?  Whats the next step?  Where will you be in 5-10 years?  - Toad1204
JL: "The future, I can tell you just these next three months. Who knows, hopefully some other companies come a-knocking, and we'll play that by ear. But five to 10 years? Oh, man. Hopefully I'm just retired and just going to Ohio State basketball and football games. But no, I see myself in five to 10 years being in Chicago. It's close to my family. That's where I want to be. That's where eventually I want to raise my kids, in the suburbs of Chicago like I was raised.
"But I will always be coming back to Columbus for football Saturdays during the basketball season. Five to 10 years, I can't tell you what I'm doing, who I'm doing it for, but hopefully it's in Chicago near my family. You could tell me five different scenarios, and I'd believe all five of them about where I'd be in five to 10 years. Who knows."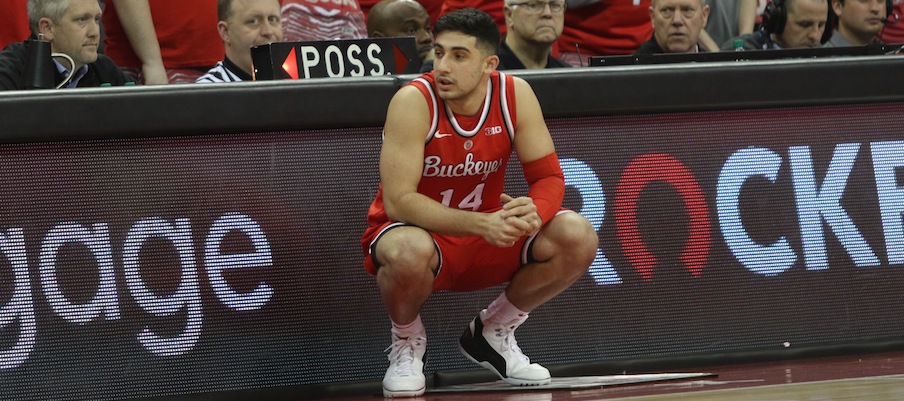 I would imagine that with 300+ teams in college basketball, there are teams all over the spectrum in terms of analytics usage.  I don't want you to give away any (Ohio) state secrets, but could you tell us a little bit about where OSU stands in this age of data? - Rosenbuck
JL: "I would say we're above average. We're not going crazy with the numbers that we're finding and getting, but we do care about them from whether it's plus-minus to offensive and defensive efficiency. And that matters. We would have meetings where Holt would tell us whatever numbers and say, 'Guys, if we want to make the tournament, we have to raise this number, lower this number, so on and so forth.' So we kept track of that for sure.
"But at the end of the day, I think that our whole coaching staff and definitely the players, you'd go on look and feel most of the time. Gut reactions, eye test, stuff like that. That took precedent, I think. At the end of the day, Holtmann's not going to put me in the game over Kaleb because my plus-minus is plus-80 on the year. They matter, and we take them into account, which is why I think we're above average and definitely ahead of some other schools, maybe. But at the same time, we don't end it with that."
Anecdotes. About everyone. All of them. (Editor's note: I asked him for one of his best stories no one has ever heard) - BuckeyeEddie27
JL: "I'll say this story because it relates to me and it's a good story because Diebler's coming back. So, my freshman year, it was the fall preseason workouts. Like it might even have been one of the first practices of the year. We were running 22's, which is down and back twice in 22 seconds, and we were running I couldn't even tell you how many. We had ran like five or six of them already, and I ran over to the trash can to throw up because I was in terrible shape my freshman year.
"I can't even believe how bad of shape I was in. First of all, I had no idea what was coming just in terms of the workouts and stuff. But I just wasn't in the best shape, period. Conditioning was never my strongest suit. Jake comes over to me, Jake and Kyle Davis, and goes like, 'Look, Joey, just get out of here. Go hang out in the locker room. Just take off because you're embarrassing yourself right now.' I'm like, OK, I just got kicked out of practice for working myself so hard that I threw up, but OK.
"I go downstairs, I get downstairs, I get a call from Kyle Davis and Jake Diebler. He goes, 'Hey, we only have like 12 guys on the team. Coach Matta asked where you were. You've got to come back up here.' So I went downstairs, was packed up ready to go, and I felt like dog poop obviously. They're like, 'Nah, yeah, you've got to come back up. We've still got two hours left.' So I was like, 'Yeah, I'm coming back.'
"There's a million stories I could say. I should save it and write a book probably and follow in Titus' footsteps. So make sure people stay on the lookout for the book I'll be writing about all the good stories."