Ibrahima Diallo knew. He didn't publicize his feelings, but he knew.
Two weeks ago, Diallo told himself he would commit to Ohio State. But he took his time, passing the end of March, which he planned to commit by, because he felt he needed more days to ensure his "big decision" would be the correct choice. Not until Sunday did he announce his commitment, calling the coaches to let Chris Holtmann and the rest of the staff know he will become a Buckeye.
"They were so excited," Diallo told Eleven Warriors on Tuesday. "Screaming, everything. The coaches were so excited."
Diallo also let his family know his decision, making a cross-continent call.
He moved from Senegal, his native country in Africa, to the United States in 2016, enrolling in Victory Rock Prep in Florida. Prior to his senior year of high school, he transferred to Prolific Prep in Napa, California. Diallo doesn't have any family members in the country.
"They were so excited for the next step in my life too," Diallo said. "They was happy. They was proud of me. It was an exciting moment."
Diallo, a 7-foot three-star center, became the fourth member of Ohio State's 2019 recruiting class when he chose the Buckeyes over Pittsburgh, his other finalist. DJ Carton, Alonzo Gaffney, E.J. Liddell and Diallo combine to make up the No. 9 overall class in the country and the top class in the Big Ten.
Diallo attributed his relationships with the coaching staff as the main reason why he ultimately selected Ohio State, noting his trust in Chris Holtmann, who visited him in California shortly after the Buckeyes' season ended with a loss to Houston in the second round of the NCAA tournament.
"He came here, we talked a lot. That meant a lot for me," Diallo said. "The head coach comes to see you. And that time it was like four days after they lost the game. So, yeah, that meant a lot."
Mike Schrage was Ohio State's lead recruiter of Diallo. But on April 5, he accepted a job as Elon's head coach. Diallo said he understood the decision since it's every assistant coach's dream to become a head coach, and it didn't affect his recruitment because he was talking to other coaches on the staff.
This weekend, assistant coach Ryan Pedon took a flight to the west coast to check on Diallo, who committed days later.
"He was just making sure I'm good," Diallo said. "Just reminding me the opportunity they're giving to me right now at Ohio State."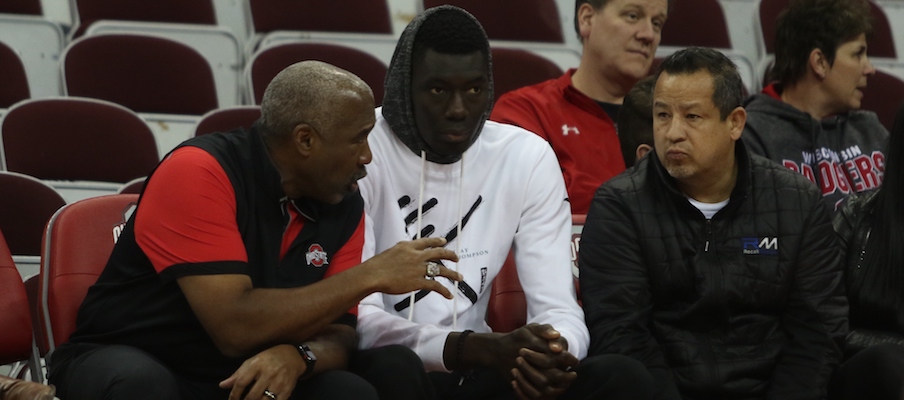 Carton, Gaffney, Liddell and a few of the younger players on the Buckeyes also did their best to entice the 7-footer to join them in Columbus.
Diallo heard from the trio of incoming freshmen constantly, talking often and building relationships with them. In every conversation, the message Carton, Gaffney and Liddell sent Diallo had a common theme: "Bro, come on now. Why are you waiting, bro? Come on. Let's do it."
"I'm like, 'All right, bro. I've got you,'" Diallo said.
During his visit to Columbus in March, Diallo had a chance to spend time with Gaffney. The two incoming first-year players sat together in the student section in the lower bowl of the Schottenstein Center and watched the final regular season game of the year.
Ohio State fell behind Wisconsin by 23 points but came back to tie it up and send the game into overtime. The Buckeyes couldn't pull off a victory, though, and lost 73-67.  
Prior to the game tipping off, shortly after walking into the arena, Diallo sat on the bench and watch the Buckeyes warm up with Gene Smith and Greg Oden, a helpful recruiter when Ohio State tries to lure 7-foot centers to join its program.
"We were just talking about basketball and business stuff," Diallo said. "I look up to Greg Oden. That's so exciting to have him there at Ohio State, meet him, talk to him about basketball. That's a guy who can help me a lot. That was cool."
In mid-June, Diallo will enroll at Ohio State and begin taking summer classes while working out with the basketball team.
Diallo said he doesn't know what his role will be, leaving it the hands of the coaches. But unless Kaleb Wesson shocks both those inside and outside the program and opts to remain in the NBA draft, Diallo will back up Wesson, giving opponents a different, defense-first look than Wesson offers.
"People say we don't have the same game, we don't play the same," Diallo said. "So that's going to be good for me to learn from Kaleb."
Wesson will surely teach Diallo the physicality of the post. At 6-foot-9, 270 pounds, he's three inches shorter than the incoming freshman but has a nearly 45-pound advantage on the 226-pound 7-footer.
For the next two months, before hopping on his flight to Columbus, Diallo said he's aiming to put on muscle.
"Right now, getting stronger. More physical," Diallo said. "Because the Big Ten, you know, you have to be strong, physical. That's what I'm working on right now. I'm still working on everything, but I focus a lot about those stuff. Getting to the weight room."
Diallo will need patience in order to maximize his potential, for he remains raw, especially on offense.
But he's certainly thrilled to finally know he'll continue his basketball career at the next level at Ohio State.
"That's finna be lit," Diallo said.