Finding the right fit for your college basketball program isn't just about what happens on the court, but off it as well. Today, Ohio State added a key piece. How will that commitment impact the Buckeyes?
Ohio State landed a commitment on Sunday from Ibrahima Diallo, a 7-foot, 226-pound center who attends Prolific Prep in California. He chose the Buckeyes over Pittsburgh, his other finalist.
A native of Senegal, Diallo moved the United States in 2015 to pursue his dream of playing in the NBA. Becoming a Buckeye was the latest step in his journey.
Diallo will likely back up Kaleb Wesson, the returning starter at center.
Pos
SENIORS
JUNIORS
SOPHOMORES
FRESHMEN
C
–
KALEB WESSON
–
IBRAHIMA DIALLO
PF
–
KYLE YOUNG
–
E.J. LIDDELL
SF
ANDRE WESSON
–
JUSTIN AHRENS
ALONZO GAFFNEY
SG
–
MUSA JALLOW
LUTHER MUHAMMAD
DUANE WASHINGTON
–
PG
–
CJ WALKER
–
D.J. CARTON
Diallo combines with DJ Carton, E.J. Liddell and Alonzo Gaffney to make up the top-ranked 2019 recruiting class in the Big Ten. He was a late addition to a class that seemed wrapped up after Liddell committed in the fall.
Let's take a look at how Diallo will impact the Buckeyes this season and in the future.
ON THE COURT
As a 7-foot center with a 7-foot-9 wingspan, Diallo's early on-court contributions will come on defense. He remains a developmental prospect, but his sheer size and length should allow him to protect the rim.
"Offensively, he's still a work in progress, but he's 6-foot-11, he's got a 7-foot-8 1/2 wingspan, and he's just a total difference-maker on the defensive end," McKnight said. "He blocks shots, he changes shots, he rebounds everything. He runs really well, he moves well. So it's one of those things where he just has a huge effect on the game if he doesn't score a point the whole game."
Diallo has been called raw by those who evaluate high-school prospects, and McKnight doesn't shy away from that label.
Having spent so much time around Diallo, McKnight understands the big man is a work in progress, but he wants to differentiate where he is as a player on each end of the court.
"Normally what people are looking at when they look at (rawness) is offensively," McKnight said. "Yeah, OK, he might be raw offensively, but defensively he's anything but. So it's kind of one of those things where I guess it depends on what side of the ball you're looking at. Clint Capela with the Houston Rockets, he never does anything except screens and roll and dunk. Is he raw? Well, maybe. But he also understands what he's got to be good at."
Diallo averaged 11.3 points, 10.8 rebounds and 3.5 blocks per game in 10 games on the prep circuit. He moves impressively well for someone of his stature and produces most of his offense with movement rather than posting up.
McKnight, who designed an offense similar to the one Gregg Popovich's San Antonio Spurs run, doesn't dump the ball into the post and tells his big men to go to work. So Diallo got the majority of his points at Prolific Prep, McKnight said, on alley oops, offensive-rebounds put-backs and pick-and-roll situations. 
"You look at like how the game has gone of years of late, and they've basically gone away from throwing the ball in the low post anyway for the most part, and it's a more big man-on-the-perimeter oriented game, setting picks and rolling hard to the rim and dunking the ball off that. And those are all things he does really well," McKnight said. "He sets really good screens, rolls well. He finishes around the rim. As I said, he's so long, it's difficult to stop him down there. But where he really affects the game is on the defensive side of the floor."
Ohio State certainly needed a post defender, even if Diallo isn't a polished product.
Last week, Holtmann said the Buckeyes were looking for an "interior backup guy for Kaleb," and landing Diallo filled that need.
"I think like more like a defensive player," Diallo said in February. "I've got skill on the low post. I am athletic. I'm a shot blocker. I can shoot around a 15 footer."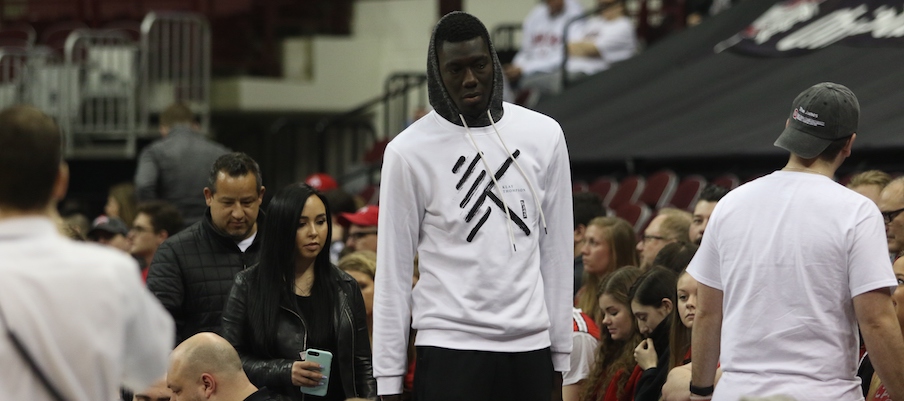 IN THE CLASS
When Liddell committed to Ohio State on Oct. 1, the Buckeyes appeared to have their 2019 class wrapped up with Carton and Gaffney also in the fold. But in the following months, both Micah Potter and Jaedon LeDee transferred out of the program, necessitating the Buckeyes add a center.
Diallo is a true center who views himself as such, unlike both Potter and LeDee who imagined themselves as forwards at the college level. Since Wesson has two more years of eligibility, Diallo will back up the two-year starter until he either leaves school early for the NBA or graduates after the 2020-21 season. 
With the addition of Diallo, the Buckeyes have now filled 12 of their 13 scholarships for the 2019-20 season. However, even though they still have an opening, they likely will not add another player who will be eligible to play immediately next season due to the inability to get everyone on the court enough.
"You might add a guy who's going to sit out or whatever, but nine or 10 that think they're going to play," Holtmann said. "Because what happens when you get into the guts of the Big Ten season, you're talking about eight to nine, sometimes 10-man rotation, but usually eight to nine in a lot of cases. So why would you have 13 guys on your roster that all expect to play and think to play? It's foolish. It creates a team dynamic that's not always healthy."
Though the addition of a 13th eligible player appears unlikely, Ohio State might pursue a transfer who will sit out the 2019-20 season before becoming eligible. Last week, Holtmann said that's a possibility and something the program will look to do as often as possible. 
THE INTANGIBLES
Just a few years ago, Diallo resided in Senegal with the rest of his friends and family. But in 2016, he moved across the Atlantic Ocean to pursue basketball and his ultimate dream of playing in the NBA.
Without any family members on the continent, Diallo spent much of his first month in the United States in tears. 
"Everything changed here. Life is not, like, same," Diallo said in February. "The language changed, too. The foods. Everything changed. I just feel like that's a new life. It's just like they send you, like, to a new life. So I can say everything changed. The basketball, too, changed. Because I realized in the United States, they play more physical."
Diallo has experienced tremendous obstacles for someone still in high school, and he has taken a remarkable path to get from Africa to basketball at the Big Ten level in just a few years. For more on his background, Eleven Warriors went in depth with him a couple months ago.