Jake Diebler is returning to his native state.
After growing up in Ohio and previously spending a few years on Ohio State's men's basketball staff in a support role, Diebler will fill the assistant coach job vacated by Mike Schrage, a source told Eleven Warriors on Wednesday.
Jake Diebler as a Coach

| Year | Team | Duty |
| --- | --- | --- |
| 2009-10 | Valparaiso | Student Assistant |
| 2010-11 | Valparaiso | Director of Operations |
| 2011-13 | Valparaiso | Assistant Coach |
| 2013-16 | Ohio State | Video Coordinator |
| 2016-19 | Vanderbilt | Assistant Coach |
| 2019-Present | Ohio State | Assistant Coach |
Diebler began his coaching career as a student assistant at Valparaiso after wrapping up his playing career with the team. As a 6-foot-3 guard, he started his final three seasons and ended his career with 5.1 points and 2.5 rebounds per game while shooting 36.5 percent from the field and 35.3 percent from beyond the arc.
In four seasons at Valparaiso, Diebler rose from a student assistant to director of operations to an on-the-floor assistant coach. He then took a job as the video coordinator at Ohio State, where he learned under Thad Matta.
After his three-year stint in Columbus, Diebler once again became an assistant coach when Vanderbilt's Bryce Drew hired him in 2016. In Diebler's first year, the Commodores made the NCAA tournament, but they didn't play in the postseason the past two years, finishing 12-20 in 2017-18 and 9-23 in 2018-19. Vanderbilt moved on from Drew and his staff after this past season.
Diebler has both of the qualities Chris Holtmann targeted in a potential assistant coach – experience as a coach and success as a recruiter – and will join Ryan Pedon and Terry Johnson on Ohio State's staff for the 2019-20 season.
Ohio Roots
Diebler was born in Ohio, raised in Ohio, broke high school basketball records in Ohio, spent three years at Ohio State working his way up the coaching ladder and now returns as an assistant coach at the flagship university of his home state.
His ties to Ohio surely intrigued Holtmann, who now has two assistants coaching in their home state. Diebler went to school at Upper Sandusky, and Pedon is from Bexley. Diebler's father, Keith, has over 40 years of coaching experience in Ohio.
When Diebler began his career at Vanderbilt, he held the state of Ohio's all-time high school records for most assists and steals.
Recruiting Experience
Diebler made a notable impact as a recruiter for Vanderbilt, which is not often regarded as a basketball powerhouse.
He served the lead recruiter for Darius Garland, a five-star guard who had offers from countless powerhouses and picked the Commodores over Kentucky, Indiana and UCLA. As the No. 14 player in the class of 2018, Garland is rated higher than any prospect that Holtmann has ever signed. The star guard played just five games at Vanderbilt, though, after a meniscus injury. He declared for the 2019 NBA Draft and is widely projected as a lottery pick.
Scotty Pippen Jr., a three-star guard and the son of NBA legend Scottie Pippen, also chose Vanderbilt, which had Diebler recruiting him. Pippen attributed the Commodores' coaches, including Diebler, as the main reason why he committed.
"I would probably say the coaches and how they trusted me and the relationship I have with coach (Bryce) Drew and coach (Jake) Diebler," Pippen Jr. told USA TODAY.
Pippen attends Sierra Canyon High School in California, the school Duane Washington Jr. attended for his senior year. 
As a former player, Diebler will be expected to connect with high-level recruits. He already has connections with 2020, 2021 and 2022 prospects.
Holtmann's staff reeled in the top 2019 class in the Big Ten, and he has harped on the importance of stacking together solid recruiting classes. Diebler will be key to ensuring that happens.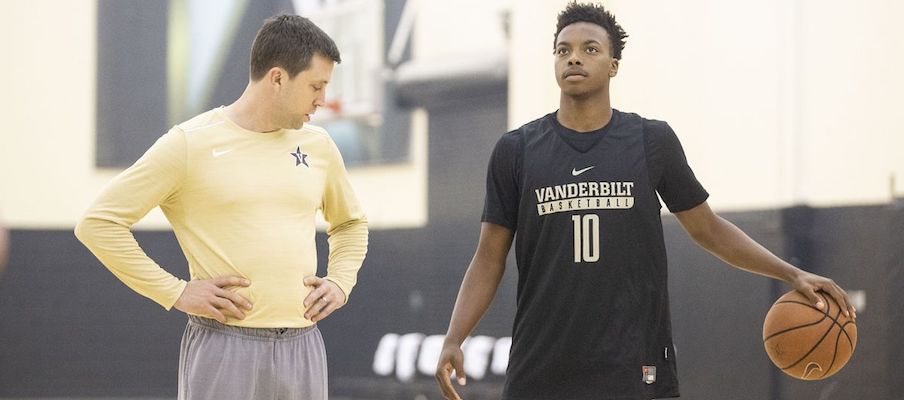 Half-Decade as an Assistant
Though he has progressed steadily upward in the industry, Diebler doesn't have bundles of experience as an assistant coach.
He worked for two years on the bench at Valparaiso in his mid-20s, then became an assistant coach again for three years at Vanderbilt. Holtmann could have targeted someone with more experience, but he felt comfortable with Diebler's track record in a short timeframe. 
Diebler is a coaching disciple of the Drew family. At Valparaiso, he played for Homer Drew who hired him as a student assistant and director of operations. Homer's son, Bryce, then promoted him as an assistant coach for Valparaiso when he took over in 2011, eventually hiring him again at Vanderbilt five years later.
Ties to Ohio State
Diebler shot 35 percent from beyond the arc and was sixth in the Horizon League as a senior with 1.8 made 3-pointers per game, but he wasn't the best shooter in his family.
Jon Diebler, Jake's younger brother, played four seasons at Ohio State and became one of the best shooters in program history, ending his career shooting 41.6 percent from beyond the arc. As Jon continues his professional career in Europe, Jake has returned to his brother's alma mater.
"I'm feel very blessed to be here," Diebler said in July 2013 after being hired by Ohio State as video coordinator. "I've been fortunate to see my brother come through, and I know what this place means to him, and in the back of my mind I always thought it would be great to be part of that. I'm just honored to be here and excited coming home, being around family and doing whatever I can to help this traditioned program."
Fit on the Staff
The past two years, Pedon was in charge of the offense, and Johnson ran the defense. Schrage had a major hand in scouting and putting together gameplans. With both Pedon and Johnson returning, it would make sense for Diebler to slide into Schrage's former role on the staff. However, Holtmann could choose to shuffle some responsibilities, if he desires.
Arguably Diebler's most important job will be to land high-level recruits. He has done so in the past, and he's replacing someone who reeled in some of the highest rated prospects of the Holtmann era. Schrage was the lead recruiter for four-star guards DJ Carton and Luther Muhammad. Diebler must not allow for any drop-off on the recruiting trail in order for the Buckeyes to continue their upward trajectory.