We're still over a month away from Ohio State opening up fall camp. The Eleven Warriors offseason mailbag is here in the meantime to help bridge that gap, answering your burning football questions.
Which TE will see the most snaps this season? — Weave77
Luke Farrell.
Rashod Berry is a senior, and multiple coaches have talked about the need to get Jeremy Ruckert more involved in the passing game, but Farrell's well-rounded game gives Kevin Wilson a versatile tight end who's a reliable blocker and can be an asset in the passing game. He had 20 catches for 205 yards and a touchdown last season, and I think he could be a slightly bigger factor through the air this season – though it's a crowded position. 
Related: I'm the sucker this year. I honestly believe the tight ends will have a larger role in the offense than they have in recent seasons. To be clear, I don't expect them to have substantially increased catch totals, but I even expect that to increase a bit with Ruckert taking more snaps. The Buckeyes have three tight ends they should feel comfortable using at any point during games this fall, which will allow Wilson and Day to get creative. 
That said, you should definitely make sure to remind me in December that I wrote this when the tight ends combine for seven catches the entire season.
By the end of the season, who do you anticipate will be the 3 best receivers on the team? — Weave77
Let's start with the obvious answer: K.J. Hill. It would be a shock if he doesn't lead the team in catches. He'll set the program record for career receptions at some point this season, too.
The other two are much, much harder. To me, there are more than a couple options: Austin Mack, Binjimen Victor, Chris Olave, Garrett Wilson and Jaelen Gill.
All of them have intriguing cases, but I'll eliminate Victor and Gill from consideration. Victor has showcased an ability to make game-changing plays, but he hasn't shown enough consistency for me to believe he'll end up as one of Justin Fields' top three receivers. The presence of Hill and C.J. Saunders will shrink Gill's possible touches, which naturally moves him down the list, too.
That leaves Mack, Olave and Wilson.
Many pegged Mack, the former roommate of Dwayne Haskins, as a possible breakout candidate last year. But he battled drops early in the 2018 season before suffering a season-ending foot injury. He has just one more year remaining at Ohio State, and he's expected to start this fall. Olave's stock rose immensely at the end of his freshman season, and Wilson walked onto campus as the most highly regarded freshman wideout in years. Much is expected of both of them.
My picks? Wilson and Olave.
I have to go with Wilson, even though he's just a freshman. He has unbelievable polish for someone who hasn't taken a single snap, and he'll have a sizable role, even as a first-year player. Olave made an unexpected impact at the end of the 2018 season, and he flashed this spring. He's in line for a major uptick in production. 
Will Gunnar Hoak get an opportunity if Justin Fields struggles early? — KBonay
No.
Ryan Day and Mike Yurcich can't – and won't – put Fields in a position where he feels like Hoak will take his job if he falters early. It'll be his job, unless after a prolonged period of time, it becomes clear he's not ready to be Ohio State's starting quarterback. And I neither anticipate that happening nor think the coaches would turn to Hoak before the midpoint of the season if he does struggle.
Day went all in on Fields when he landed the Georgia transfer, and I fully expect him to stick with him throughout any possible struggles.
The addition of Hoak gives Ohio State a safety valve, but it's important to remember he didn't go through spring practice with the Buckeyes. He arrived in campus less than a month ago with the rest of the summer enrollees. So while he's older than Fields, he needs time to adjust to the offense.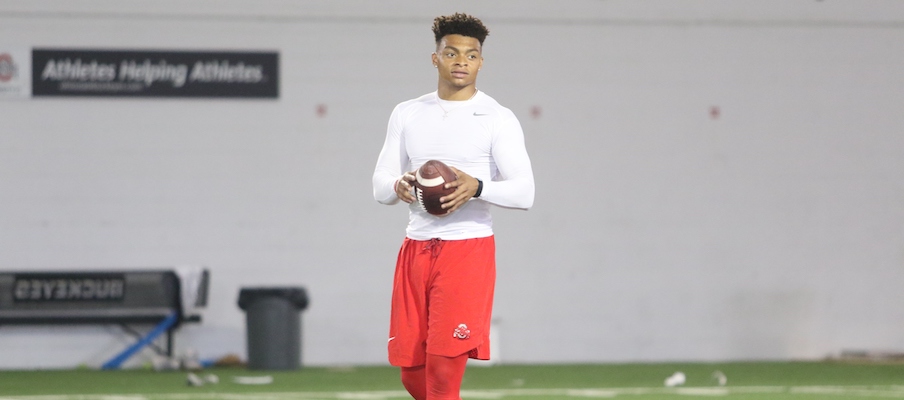 So far, OSU has avoided the attendance drop-off that other blue bloods, such as Florida, have experienced. So what are your thoughts on the Athletic Department offering mini plans this season, as well as allowing the general public to more easily purchase season tickets?  — JTFor President2016
Winning helps. Winning really, really helps. If Ohio State goes 8-4 in three consecutive seasons, that attendance issue will certainly pop up.
The implementation of these mini plans sends a signal that Ohio State has taken notice and feels it must take preventative measures. 
There's a new coach, too, and the best non-conference game is Cincinnati, not Oregon, Notre Dame, Texas or any other future power conference opponent that would be a hot commodity. Doug Lesmerises of Cleveland.com did a nice job explaining some of those factors soon after the packages were announced.
Bottom line: college football attendance is declining, and even though it hasn't hurt Ohio State as much as other schools, it's not getting overlooked in Columbus. 
I can't find my offseason freakout kit. Should I be concerned at this point? — Hovenaut
I'm sure you'll be able to find it wherever you grabbed it from on July 23, 2018.
In all seriousness, the answer is no. You and everyone else saw the worst of the worst last offseason. May and June have been relatively quiet for both the football and basketball teams, and as we now know, that's not a bad thing.
The worst thing happening at the moment? Ohio State got only two commitments during a major recruiting weekend. No reason to lose your mind about that. Darrion Henry, a Buckeyes lean, will commit on Saturday. Ohio State is in a good spot for others, including Cam Martinez, Kourt Williams, Lathan Ransom, Joe Royer and Cam Large. Take your time to see what happens on the recruiting trail in the coming weeks instead of freaking out now.
The biggest concern, at the moment, is figuring out which running back(s) the Buckeyes will land in their 2020 class. I believe they need either a five-star back – Bijan Robinson or Kendall Milton. And with Milton seeming to trend toward Georgia, the pressure is on for Tony Alford and company to reel in Robinson. 
You have to spend the rest of your life on a deserted island... Which current player on the OSU basketball roster do you take with you? Don't say why — LilTrautie
Harrison Hookfin.
Is Justin Hilliard going to go for a medical year, maybe try the portal? — Lamplighter
Given what he said a couple weeks ago, Hilliard doesn't seem to be focused on either of those routes. He's aiming to get back on the field for Ohio State this fall, which would be his final collegiate season.
The Achilles injury this spring was just the latest devastating injury blow to Hilliard, who by all accounts is a quality teammate, hard worker and leader on special teams. Few players have had such unfortunate injury luck as Hilliard.
I doubt he tries to take a medical redshirt and return for a sixth year. A transfer is possible since it's highly unlikely he gets substantial defensive snaps even if he returns to full health quickly, but I think the most likely outcome is he sticks at Ohio State for the 2019 season then moves on. Dante Booker made a similar choice last year.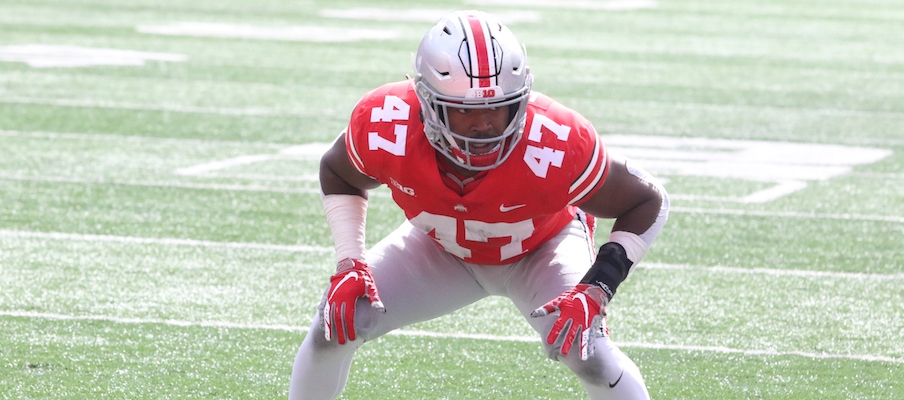 Would like to hear something, good, bad, or indifferent on Tyreke Johnson. Big time 5 star recruit. I know he battled with an injury and don't think he's big on social media, but have heard nothing on his progress heading into year two. — Knarcisi
The reason you haven't heard much is pretty simple. We haven't seen much of him in games – he only played two defensive snaps last season. His teammates and coaches haven't mentioned him much in interviews. He hasn't spoken to the media since arriving on campus as an early enrollee. And like you said, he's not outspoken on social media.
There just hasn't been much to write about, yet. 
It's worth keeping an eye on him this fall because Ohio State could lose anywhere from one to three cornerbacks after the 2019 season, which would give him an opening to potentially enter the rotation in 2020. The Buckeyes need a couple of their backup cornerbacks, from the group of Sevyn Banks, Marcus Williamson, Cameron Brown and Johnson, to position themselves as possible starters by the time next spring begins. So we'll be watching to see whether Johnson can stand out among that group.
Will the B1G actually get a team (preferably the Bucks) into the CF Playoff this season? And what would that take? An undefeated season? — GrandTheftHarley
I'm not planning to pick Ohio State to make the College Football Playoff, but that's not due to this team's lack of potential. The Buckeyes have the necessary parts to make the final four. But with a first-year starting quarterback, first-time head coach and five new assistant coaches, there's too much uncertainty to make that prediction.
On the second part of the question: an undefeated Big Ten champion is an automatic playoff team, and a one-loss Big Ten champion is in a good spot. Just make sure that loss doesn't come in a blowout to a middle-of-the-road conference opponent.
What is most likely group of starting LBs in week one?  Assume they have 3 of them trot out for 1st down...because with the bullet, I think we're obviously going to see a lot more 2 LB packages. — JohnnyKozmo
Malik Harrison at weakside linebacker. Tuf Borland at middle linebacker. Pete Werner at strongside linebacker.
My confidence level? Medium to low.
Harrison will start. That's a certainty. I'd be surprised if Werner didn't take the first-team strongside linebacker snaps, too. Unless Al Washington unexpectedly moves Baron Browning from middle linebacker to strongside linebacker, it's Werner's job.
Middle linebacker remains the biggest question. 
Can Browning or Teradja Mitchell take the starting spot from Tuf Borland? If not, will they play situationally? I predict Borland to start to open the season, but it's difficult for me to see Mitchell not having a role in some capacity. Borland missed the entirety of spring practice with an injury, so Washington hasn't even coached him yet. We'll learn more during fall camp, of course.
When is it going to stop raining? — Brutus360
Hopefully by Aug. 31.