As Chris Holtmann told the story on April 10, he spoke with the same incredulity he felt in the moment.
In the fall of 2017, he went to a Barnes & Noble bookstore to grab a coffee, and naturally he stopped by the sports magazine rack to take a peek at the college basketball preseason editions of Athlon Sports, Lindy's Sports and whatever else was on sale. Pointing his index finger at the podium with each word, Holtmann said he was "in Columbus, in my neighborhood."
But he didn't see any of his players looking back at him. Not Keita Bates-Diop. Not Jae'Sean Tate. Not C.J. Jackson, Kam Williams or Kaleb Wesson. No Ohio State players. Instead, he said, the magazine plopped a photo of a player from another Big Ten team not picked to finish in the top four or five of the conference on the cover.
"I thought, to me, that was a significant statement about how relevant our program was at the time," Holtmann said a few weeks ago. "And it's not by any stretch and indictment on anything other than that was the current state. And obviously no one had this program more relevant than Thad (Matta) for a number of years. But that's where it was."
The Buckeyes entered that season picked to finish at the bottom of the conference. They ended it tied for second place in the Big Ten. In Holtmann's second year, Ohio State was regarded as a middle-of-the-road team, frequently projected to finish between eighth and 10th in the conference. It tied for eighth place in the regular season, beat Indiana in the Big Ten tournament to clinch a berth into the NCAA tournament and pulled off an upset of Iowa State in the first round.
Back-to-back successful seasons.
"I didn't get into coaching at the highest level of college basketball to be fearful of expectations."– Chris Holtmann
But if Ohio State matches last season's 20-15 overall record or 8-12 mark in the Big Ten in any future season, Holtmann will not meet his or his program's expectations.
"There were some things we went through this year that I hope we never go through again. 8-12 in the Big Ten's not good enough," Holtmann said a few weeks ago. "It's not good enough."
See, the moment the 2018-19 season ended, expectations began to ramp up in a major way.
Holtmann always called the second season of a head coach's tenure the most difficult one. And now that he cleared that mark, surpassing what most people thought the team would accomplish for the second straight year, expectations will never be that low again.
When a coach's team reaches new heights, fan bases can begin to envision possibilities. By going 25-9 overall and 15-3 in the Big Ten in his first year, Holtmann showed what he could do with recruits that weren't even his.
Given Ohio State's key losses of Bates-Diop and Tate, along with what they had just witnessed, fans gave him room for a temporary step back in 2018-19, but that was a one-year reprieve.
Thad Matta finished below .500 in the Big Ten one time and had a worse overall record than Ohio State's last season just once in his 13-year run as head coach. It resulted in him getting fired.
Holtmann was allowed to have a single season where simply earning an at-large berth into the NCAA tournament was viewed as a success. Moving forward, that's simply a baseline expectation.
"I didn't get into coaching at the highest level of college basketball to be fearful of expectations," Holtmann said.
That had better be the case, because here they come.
Almost every set of rankings released soon after the national championship game ended had the Buckeyes among the top-25 teams. ESPN's Jeff Borzello and Sports Illustrated's Jeremy Woo had them in the top 10.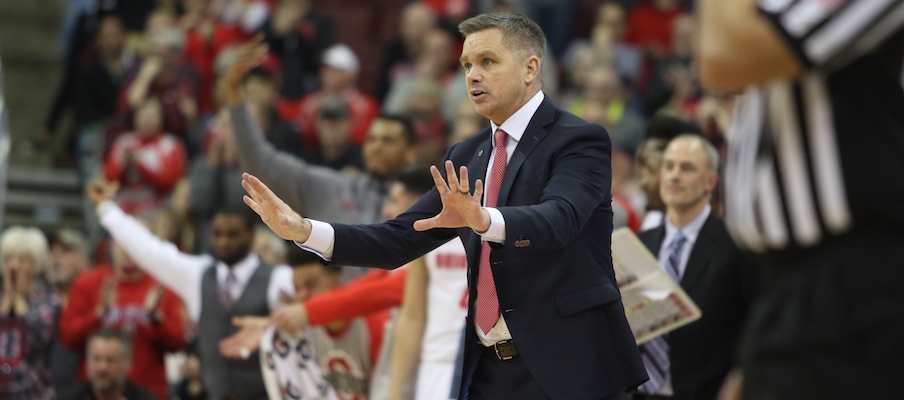 Holtmann called the "way-too-early" rankings "meaningless," noting they're mostly released simply because people want to click on them. But they also unintentionally set expectations.
A certain level of increased belief of the Buckeyes isn't unreasonable whatsoever when considering the offseason additions and next season's roster construction.
Jackson headed out the door with Keyshawn Woods and Joey Lane. In comes Florida State transfer CJ Walker, four-star point guard DJ Carton, four-star power forward E.J. Liddell, four-star forward Alonzo Gaffney and three-star center Ibrahima Diallo. All of a sudden, the Buckeyes' backcourt consists of an intriguing quartet: Carton, Walker, Luther Muhammad and Duane Washington Jr.
Kaleb Wesson is expected to return to man the center position. He'll be joined in the frontcourt by a pair of returning starters who will be upperclassmen – Andre Wesson and Kyle Young – along with Gaffney and Liddell, both of whom have a chance to make early impacts. Musa Jallow, who excelled defensively and on the glass in stretches during postseason play, and Justin Ahrens, who showed off a deft shooting touch, will contribute, too.
Ohio State is primed to take a step forward next season. How much of a step? That's the question that will be bandied about the next few months.
But regardless of just how much of a leap the Buckeyes take, from a long-term perspective, Holtmann doesn't just believe his program is on track, but he said he thinks it's ahead of schedule.
"I wasn't sure this quickly we would be in a position to where we would have guys that have had early tournament success, both getting there and then competing. I think that's just a reality," Holtmann said. "Now, I also know that we have a lot of work ahead of us. I think significant question marks about how we're going to be in certain areas and the improvement we need to make in certain areas given the year we just went through in the Big Ten.
"But I feel like our program is very healthy now. And I think having had tournament experience, it gives your guys a taste that I think is important as you continue to talk about getting to that point and then hopefully moving forward."
He won't have to worry about whether his players will or will not appear on preseason magazines this offseason.
Last fall, he went back to the bookstore and saw C.J. Jackson representing Ohio State on the cover of the Athlon preview magazine. This fall, one or both Wesson brothers might make an appearance. Or maybe Muhammad or the four freshmen.
There's no doubt, one way or another, Holtmann will pass the magazine test, just like Matta did for more than a decade. He increased the program's success and relevancy, and it's up to him, his players and his staff to maintain that.