TULSA, Okla. – Just getting to the NCAA tournament was an accomplishment for Chris Holtmann's Ohio State team after the losses of Keita Bates-Diop, Jae'Sean Tate and others.
| Who | Where | When | TV |
| --- | --- | --- | --- |
| Iowa State (23-11, 9-9) | BOK Center (Tulsa) | 9:50 p.m. | TNT |
Now that March Madness has begun, though, the 11th-seeded Buckeyes hope to surprise onlookers and make a run, beginning with their matchup against sixth-seeded Iowa State at 9:50 p.m. Friday in Tulsa. 
Ohio State, a 6.5-point underdog, had a similar end to the regular season as its first-round opponent then went through a drastically different conference tournament experience.
The Buckeyes won just two of their final seven games entering the Big Ten tournament, losing all three of their last games to end the regular season needing a win to secure their spot in the field of 68. They finally picked up the much-needed victory against Indiana, but proceeded to lose to Michigan State in the following round.
Iowa State also lost its final three games of the regular season, including a 15-point defeat to West Virginia, and fell in six of its final eight games. However, the Cyclones responded by beating Baylor, Kansas State and Kansas to capture the Big 12 title. 
"I do think the reality is they're playing as good as a handful of teams in the country, they are," Chris Holtmann said on Thursday. "And we know the environment is going to be very much a road environment and we expect that, given how well they travel and the location. We'll need to be good, we'll need to be good from the start."
Opponent Preview
Iowa State only has six players who average more than 12 points per game, but all six players have notable strengths, beginning with Marial Shayok.
A Virginia transfer playing in his first season as a Cyclone, Shayok has excelled. The 6-foot-6, 198-pound wing averages a team-high 18.6 points, hitting 49.4 percent of his shots from the field and 38.9 percent of his 3-point attempts.
Three other players – Lindell Wigginton, Talen Horton-Tucker and Michael Jacobson – averaged double-digit points per game. Iowa State is 10th in the nation in adjusted offensive efficiency, plays at a high pace and averages 77 points per game.
"They're a great offensive team," Woods said. "They play real, real fast. They have every piece that you can have on a basketball team. But for us, we just got to bring our defense on the road, and our defense is going to lead us to a win – to win this game. As long as we do, live up to our defensive principles and stick to those, we'll be fine."
Iowa State typically rolls with four guards on the court at a time, but that doesn't immediately mean the team is abnormally small. It has ample length with all five starters standing at least 6-foot-4. Ohio State usually starts two guards who are shorter than 6-foot-4. 
Wigginton, the Cyclones' second-leading scorer, could trouble the Buckeyes. At just 6-foot-2, he's the shortest player in the tight rotation, but he's the Big 12 sixth man of the year after starting the majority of his freshman season. Wigginton averages 13.5 points, hitting 41.2 percent of his shots from the field and shooting 38.1 percent from beyond the arc.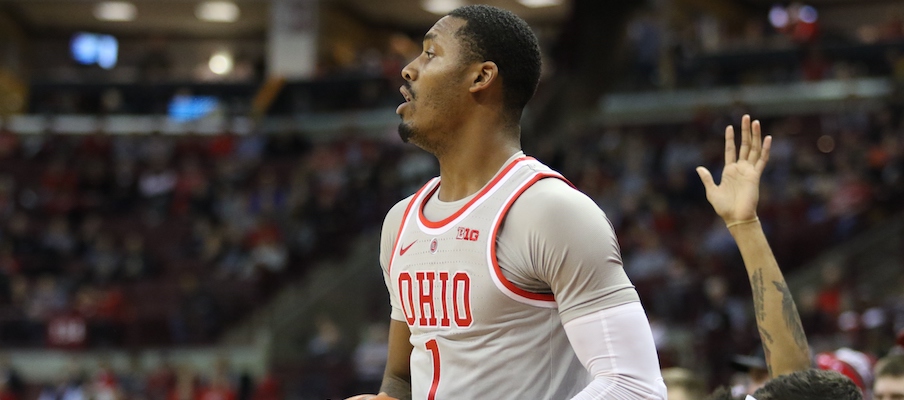 Iowa State will spread the Buckeyes' defense out. It shoots 36.5 percent from beyond the arc, and five of its six key rotation players shoot at least 34 percent from 3-point range. Tyrese Haliburton isn't the Cyclones' primary 3-point shooter, but he hits the deep shots at a team-best 44.1 percent clip.
"They're very much a spread-and-go transition team," Holtmann said on Monday's Chris Holtmann Show on 97.1. "They're very fast, and they're very versatile. Like I said, when they're making shots, they're good."
Ohio State Preview
As has been the case for much of the season, everything begins with Kaleb Wesson.
If Wesson gets into foul trouble, especially early in the first half, the Buckeyes will be in trouble. But if he's able to avoid the calls that have doomed him and his team at times this season, Ohio State won't go away easily.
The Cyclones have length at guard, but they don't have a big frontcourt. Jacobsen (6-foot-9) is the only starter who stands taller than 6-foot-6. He hits 34 percent of his 3-pointers and will try to pull Wesson away from the paint on offense, but he'll follow Wesson wherever he goes on the other end of the court.
Wesson has taken over some games this season, and the pressure will be on him to lead the offense once again.
Beyond their big man producing at a high level, the Buckeyes need contributions from their roles players, most of whom have been off and on this season.
Musa Jallow doesn't offer much offensively, but given Iowa State's offensive prowess on the wing, he'll be key to minimizing scoring opportunities. Luther Muhammad hasn't scored in double figures in about a month and a half, but he hit three 3-pointers in the Big Ten tournament, hinting he might have relocated his shooting stroke, which would be a massive boost. Duane Washington Jr. or Justin Ahrens heating up from beyond the arc would help.
Both Keyshawn Woods and C.J. Jackson – a pair of seniors – have had up-and-down season, but they'll be counted on to provide offensive production and defensive stability.
Woods impressed in the Big Ten tournament, scoring 18 and 16 points in the two games.
"I think there's been tremendous value in just that what you said, him being a guy who is one of our better players, who his goal from day one has been how do I get to the tournament, and that's been his focus and that's been his mindset," Holtmann said. "He understands that what happens next in terms of his future, he'll continue to play. But really his focus has been, 'How do I get our team to the tournament.' And he's been successful in doing that. Obviously he wants to stay here as long as possible."
How It Plays Out
Ohio State can win, but it needs a few things to go its way, and without them happening, Iowa State simply has too much firepower to overcome.
Wesson cannot afford to find himself in foul trouble at any point, and he must dominate the paint on both ends of the court. Perimeter defense on the Cyclones' guards and wings must be stellar. Shots from some combination of Woods, Muhammad, Andre Wesson, Ahrens and Washington must fall. Jackson has to control the ball and not turn it over. 
That's a lot to rely on happening, though, which is why I'm picking the Cyclones to win the round-one matchup. Iowa State's offense will be difficult to deal with, and there's a lot that needs to go right on offense for Ohio State to keep up.
Prediction: Iowa State 73, Ohio State 64