CHICAGO – Kaleb Wesson didn't mean to commit an offensive foul, and nor did he intend to flagrantly foul anyone. But that's exactly what happened.
With Ohio State's game against Michigan State on Friday tied at 40 points, he turned right with the ball in his hands and delivered a nasty elbow to the side of Matt McQuaid's head, sending him reeling backward.
"If you watch me play, every time I make a spin move, my elbows are up," Wesson said after Friday's game. "So, I mean, a shorter guy like that, he kind of got under me, and he just got caught."
After the play, which was Wesson's third foul, the Spartans went on a 7-0 run to take a seven-point lead.
"That was a tough sequence," Chris Holtmann said. "It was a little deflating but we've got to be tougher-minded than that. But I think it was a little bit deflating because we had a foul and the ball and then they have two shots and the ball. But that stuff happens."
Wesson picked up his fourth foul with 12:27 remaining and Michigan State slowly taking control of the game. He subbed out but returned to the court with 9:57 remaining and the Spartans leading by 10 points. Wesson lasted 15 seconds before picking up his fifth foul, leaving the Buckeyes without their top scorer and rebounder as they fruitlessly attempted to come back.
Foul trouble isn't an isolated issue for Wesson. He averaged 3.2 personal fouls per game, has fouled out six times this season and has picked up four fouls in eight games.
"It's something that you just have to adjust in games, not really something you can work on besides, like, footwork and stuff like that," Wesson said. "It's a lot of just in-game stuff, adjustments during the game, having them call it soft and call it physical."
In the five prior games to Friday's against Michigan State, he didn't have more than three fouls in a game and had two or fewer in four of them.
"Leading up to this game, I was doing pretty well. I was in games with two, one foul," Wesson said. "I guess today I was just, I guess I was out of control."
"I Did Hit A Wall"
Luther Muhammad took the infamous freshman wall to the next level.
The first-year guard appeared college-ready immediately, starting his first game of the season and only coming off the bench only four times. Muhammad scored in double figures 12 times in his first 20 games, but he hasn't cracked double-digit points since dropping 20 points against Penn State on Feb. 7.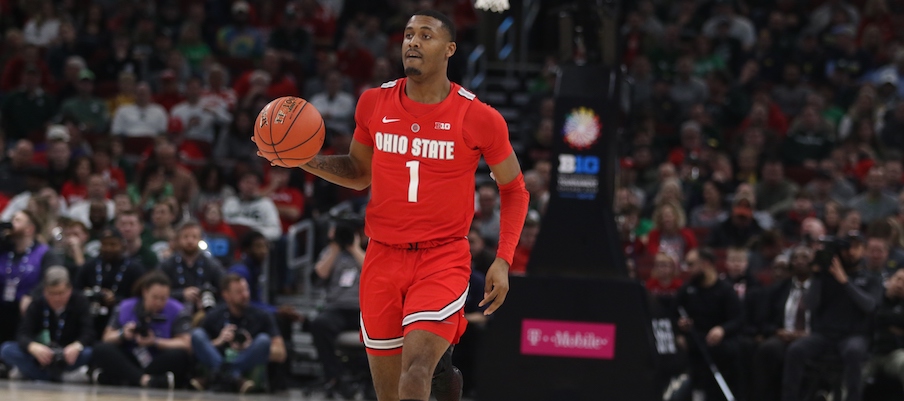 He maxed out at nine points in a game during his final 11 games, only scoring more than four points in three of the games. During that stretch, he hit just 10-of-57 shots from the field and 7-of-32 3-point attempts. Muhammad's time on the court diminished, too. He played more than 24 minutes in all of his first 20 games of the season but was on the court fewer than 20 minutes five times in the past 11 games. He came off the bench in both games in the Big Ten tournament.
Both Muhammad's coaches and teammates have continually given him the same advice.
"Just keep shooting," Muhammad said after Friday's game. "Keep playing hard. I'm in the gym a lot. Coaches know that. My teammates are always telling me just keep shooting. They're going to start falling. That's it. Just keep working, keep shooting and don't lose confidence."
That simple?
"Just shoot," he said. "That's all they tell me. Just shoot, don't lose confidence."
Muhammad is well aware of his struggles despite never going through them at the college level before. But even though he readily admitted to hitting the freshman wall, he didn't appear overwhelmed by dealing with it.
"As far as a wall, I feel like offensively I was scoring less so I feel like as far as offense, I did hit a wall," Muhammad said. "But during that wall, it's how you respond, it's how you act. Like, you can't just get down just because you're not scoring as much as you like. Everyone has bad games, everyone hits a wall. Look at the NBA. A lot of great players hit walls, a lot of great players have bad games. But what makes them special is they stay at it, they keep working and look at it like next game keep working, try to come back and keep the same confidence, and it shows."
Always Learning
A few weeks ago, Chris Holtmann espoused praise for Duane Washington Jr., saying Ohio State would not have beat Penn State on Feb. 7 without his contributions.
At times, the freshman guard has been a lynchpin on the Buckeyes' gameplans, and during other points in his first collegiate season, Washington was simply a support player off the bench. 
"It's definitely a learning experience," Washington said after Thursday's game. "I've been learning since I stepped foot on a college campus here at Ohio State. I love it. I love the differences that it makes. I love the energy. I love the people around me. It's been great. Playing for coach Holtmann and these guys, it's amazing. Being in this situation right now, it's what you live for, being in the Big Ten tournament and hopefully being in the NCAA tournament."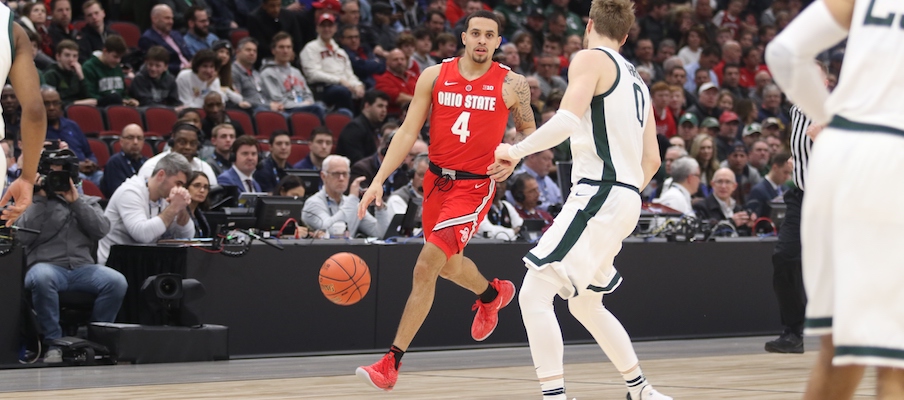 Washington, along with Muhammad, Justin Ahrens and Jaedon LeDee, make up the first full recruiting class at Ohio State from Holtmann, who has consistently praised the foursome. But in their first full offseason with the team, the head coach hopes to see the group make collective strides. 
"Decision making, strength, understanding what wins and loses at this level," Holtmann said. "I think those are things that need to improve, but there's also some physical improvements that need to be made with this group in terms of just physical strength and those kind of things. I'm excited because they're a great group."
Continuing Rehab
Until the season ends, Kyle Young won't begin to fully heal. 
He returned quicker than expected from a stress fracture in his leg in January and has also dealt with minor injuries during the course of the season. Holtmann has held Young out of the majority of practices since returning from his leg injury, yet the forward hasn't completely recovered. Young needs to rest, but he won't be afforded that until the offseason.
"Getting there," Young said after Thursday's game. "Just a little sore. It's just a lingering thing. Really important to keep up with rehab right now, especially with these close games."
The time between Friday's game and when the Buckeyes begin postseason play in what will likely be the NCAA tournament allows Young some time to rehab.
"A lot of icing, a lot of rest," Young said. "I try to do some massages on the area, something called Game Ready, it's like an icing pressure machine. But other than that, it's just really just trying to rest it, to be honest."