In order to secure a spot in the NCAA tournament, most bracketologists believe Ohio State must pull off an upset or two against a ranked opponent down the stretch. 
| Who | Where | When | TV |
| --- | --- | --- | --- |
| Iowa (21-6, 10-6) | Schottenstein Center | 7 p.m. | BTN |
Given the Buckeyes' final four games feature three matchups versus top-25 teams, observers could view the end to the regular season in one of two ways. Either they have a few good chances to make an impact in front of the NCAA tournament selection committee, or they've got a tough road to earn an at-large bid.
Chis Holtmann, whose Ohio State team tips off at 7 p.m. Tuesday against No. 22 Iowa at the Schottenstein Center, chooses the former perspective.
"Man, that's the exciting thing is you have an opportunity here, and you have an opportunity that not a lot of college teams have right now," Holtmann said. "This is kind of the time where teams realize, hey, they don't have those opportunities, they're not playing for as much or they are. That's an exciting thing for our group. It's fun, stressful, however you want to look at it. We choose to say it's fun. And we'll see. We'll get what we earn. We will get what we earn."
The Buckeyes, who are in seventh place with a 7-9 record in the Big Ten, haven't won any of the seven games against a team with a better conference record, which includes a 72-62 loss to the Hawkeyes on Jan. 12 in Iowa City, Iowa.
Despite the recent struggles against NCAA tournament-worthy teams, Ohio State enters Tuesday as a three-point betting favorite versus Iowa.
Opponent Preview
In Fran McCaffrey's ninth season, Iowa is putting together one of its best seasons during his tenure. The Hawkeyes are ranked, have essentially clinched a spot in the NCAA tournament and will finish better than .500 in the Big Ten for the fourth time in the past five years.
Recently, Iowa has continued to win at an impressive rate, even as the deficits have diminished in the past couple weeks. The Hawkeyes have won five of their past six games with a single loss coming against Maryland, but they have won the past four games by 14 combined points, not winning by more than six points in any game. The first of those five wins came in a 15-point victory against Michigan.
The Hawkeyes have the second-best adjusted offensive efficiency and the worst adjusted defensive efficiency in the Big Ten, per barttorvik.com. 
In the season's first matchup between Ohio State and Iowa, McCaffrey's squad showed no signs of being a lowly rated defensive team, holding the Buckeyes to 37.3 percent shooting, forcing 21 turnovers and putting together its second-best adjusted defensive efficiency rating. Kaleb Wesson, who relinquished control of the ball five times, attributed many of the turnovers to unforced errors by Ohio State.
Luka Garza (6-foot-11, 245 pounds) and Tyler Cook (6-foot-9, 250 pounds) led Iowa with 16 and 15 points, respectively, against the Buckeyes in January, and they'll once again challenge Wesson, Kyle Young and Andre Wesson.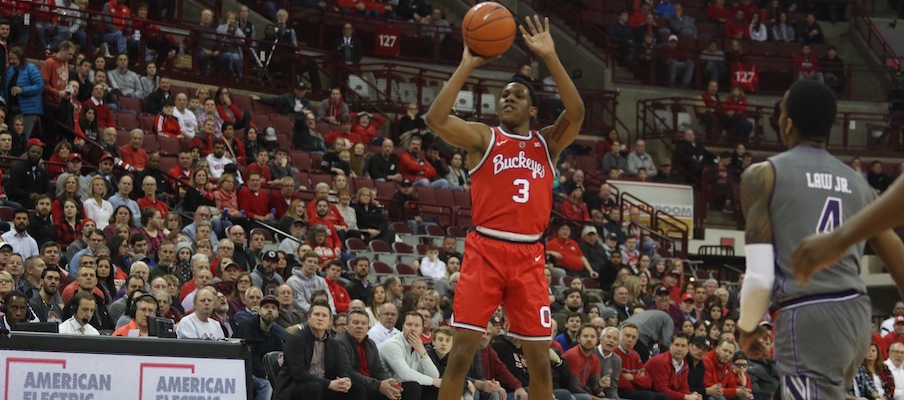 Cook averages 16 points and eight rebounds, shooting 55.6 percent from the field. Garza puts up 13.3 points, hitting 51.3 percent of his shots.
"They're just big, physical, strong," Holtmann said. "We have a lot of athletic guys, frontline guys in our league when you think about it. We just played a really athletic frontline guy. But (Cook's) up there in terms of his fast-twitch and his ability to be explosive around the rim. We saw that up close there. I think they're a load because they have really good shooting around them, and in Garza's case, he can step out and shoot it. But they have really good shooting around them, which puts a priority on covering them."
Jordan Bohannon has developed into a dangerous offensive threat by becoming one of the best shooters in the conference from beyond the arc. He has scored at least 14 points in the past five games, hitting 18-of-35 3-pointers during the stretch. Bohannon had six points and eight assists versus the Buckeyes in January.
Ohio State Preview
Justin Ahrens played a career-high 27 minutes in Ohio State's loss to Maryland on Saturday and scored nine points, draining a career-high three triples.
Holtmann said he wasn't sure whether Ahrens will start, calling the small forward position fluid, but he undoubtedly will be in the rotation against Iowa.
"Just the energy he brings," Andre Wesson said. "Like coach Holt said, the energy he brought on the bench and then just every day in practice, the energy that he brings just brings us to another level. And obviously his ability to shoot the 3, that always helps us as a team."
On Monday afternoon, Holtmann said he expected C.J. Jackson to play in Tuesday's game barring anything unexpected. But in his radio show after the day's practice, he sounded less optimistic, calling it "up in the air" whether he plays against the Hawkeyes.
Whether Jackson plays or not, the Buckeyes need improved offense from Luther Muhammad who is engulfed in a rough five-game stretch during which he has hit just 5-of-37 shots. He has eight turnovers in those games, as well.
"Not happy with all of shots," Holtmann said. "He's had some really good ones. He's had some good ones that he will make. I am completely confident he will make them. He came out and sat the last game because he was turning it over. He's a tremendous kid and he has had a real impact on this team. I'm confident as long as he keeps working and takes good shots, good things will happen."
How Its Plays Out
In order for Ohio State to defeat Iowa, it needs to control its turnovers and put together an all-around improved offensive performance. If it repeats the 37.3 shooting percentage and 21 turnovers, even a 40 percent 3-point percentage can't make up those deficiencies, as the team learned in January.
Bohannon has gone off in a few games recently and can change the tide, posing another threat on the perimeter away from Cook and Garza. This is absolutely a win-able game for the Buckeyes. But given how they've looked the past couple months, I'm picking the Hawkeyes by a slight margin.
Prediction: Iowa 69, Ohio State 67