For the first half of Sunday's matchup between Ohio State and No. 11 Michigan State, the Buckeyes seemed more than capable of pulling off an upset. Having led for the majority of the season's first game against the Spartans before suffering a defeat, they once again held a halftime lead, this time maintaining a six-point advantage.
But as the second half began, Michigan State quickly evened up the score. With 7:40 remaining, C.J. Jackson hit a 3-pointer to tie the game at 42 points apiece. That was the last field goal the Buckeyes hit. The Spartans proceeded to go on a 20-2 run and pull ahead for a 62-44 win.
Consider Ohio State's upset opportunity squandered. Still, the team's long-term goals remain in tact.
Despite the program's lowest point total in nearly a decade and the worst offensive efficiency rating since KenPom.com was created 18 years ago, the Buckeyes still have a solid shot to become an NCAA tournament team. They're squarely on the bubble, and on the right side of it for now.
That doesn't mean Chris Holtmann will discuss the possibility of making the field with his team, though.
"We won't talk about it," Holtmann said after Ohio State's loss to Illinois on Thursday. "We'll talk about getting better. A lot of teams would like to be in the bubble picture, including the one we played tonight. I think for us, right now, our focus is not on bubble or anything like that. Our focus is on getting better and improving and growing. That's our focus as coaches."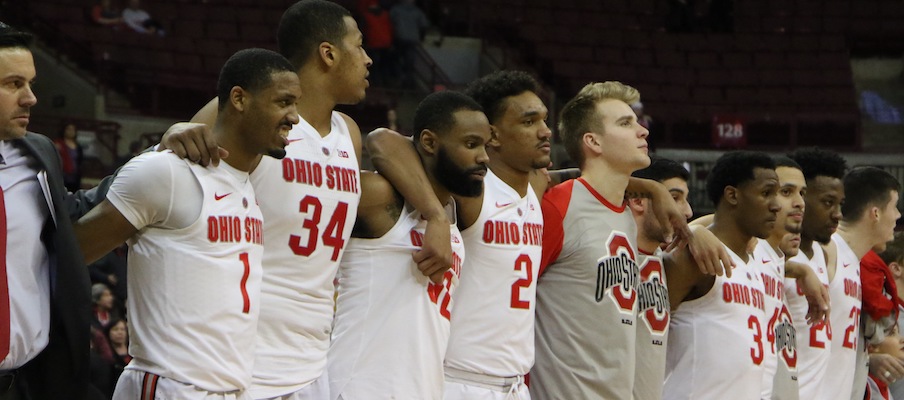 During his weekly radio show on Monday, Holtmann said he will "spend some time taking a look at" tournament projections in a week or two if the Buckeyes are in position. Following the loss to the Illini, he admitted that entering the season he hoped his team would be where it is, so chatter of it being on the bubble doesn't bother him.
A win against Michigan State or Illinois certainly would've helped – each for different reasons – Ohio State's tournament positioning but the Buckeyes can't do anything to change those results. So let's get into where they are right now and what has to happen for them to break into the field.
Where They Stand
Most projections have Ohio State seeded ninth, 10th or 11th in the field of 68. Bracket Matrix, which aggregates 119 brackets, has the Buckeyes as the lowest-ranked ninth seed, averaging a 9.39 seed across all brackets. Only one of the 119 brackets collected by Bracket Matrix has them out of the NCAA tournament.
Though the Buckeyes have certainly made their path to the tournament more challenging by dropping a game at home to Illinois and missing on what for a half looked like a possible upset chance, they're positioned to possibly earn an at-large bid.
Ohio State has a 16-9 overall record and a 6-8 record in the Big Ten, which places the team eighth in the conference. It had a 12-1 non-conference record, allowing for a bit of wiggle room with in-conference losses. 
The Buckeyes are no longer No. 1 in NET ranking, as they were when its first-ever ratings came out in the fall, but they're still valued well by the metric that replaced the RPI. They're No. 44 in NET rankings, No. 38 in KenPom, No. 35 in Sagarin ratings and No. 44 in KPI rankings, which are all in placements that the selection committee take into consideration. 
Until the loss to Illinois, all of Ohio State's losses came in either Quadrant 1 or 2. 
Quadrant 1: 4-6 record with wins against Cincinnati, Nebraska, Indiana and Creighton and losses to Michigan State (two times), Michigan, Purdue, Iowa and Maryland
Quadrant 2: 3-2 record with wins against Minnesota, Illinois and Penn State and losses to Syracuse and Rutgers.
Quadrant 3: 4-1 record with wins against Rutgers, UCLA, Samford and Bucknell and a loss to Illinois.
Quadrant 4: 5-0 record with wins against Purdue Fort Wayne, High Point, Youngstown State, Cleveland State and South Carolina State
Though Ohio State's non-conference schedule looked fairly strong to begin the season, it proved to be relatively weak. The out-of-conference portion of the schedule ranks just 129th in the nation, and the overall strength of schedule is No. 47, boosted due to the strength of the Big Ten.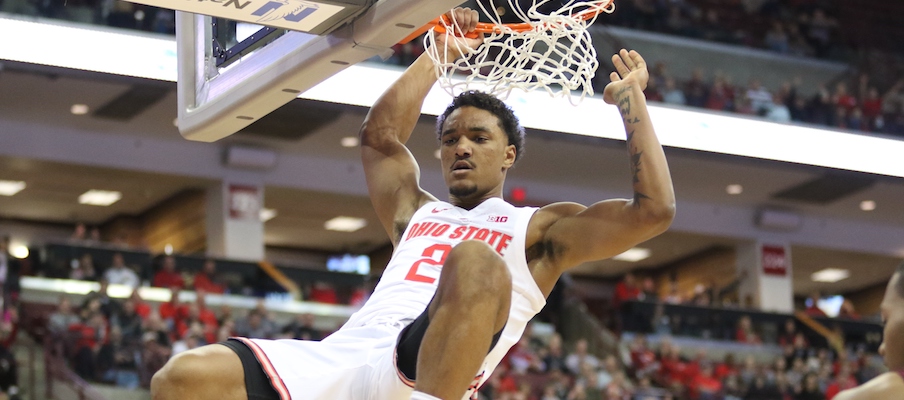 Still, the season-opening non-conference win against the Bearcats is the team's best victory this season. 
Recently, the Buckeyes have gone significant stretches both within games and within weeks in the season during which they haven't looked like an NCAA tournament team. They went 1-6 in January and have lost back-to-back games after a three-game winning streak. That could hurt them in the eyes of the selection committee, which is why they must end the season strong.
What's Left
The remainder of Ohio State's can be viewed one of two ways. Either it's full of tough-to-win matchups against ranked teams, or it has multiple opportunities for major resume boosters. Regardless, the final stretch will ultimately determine the end result of the team's season and whether or not it can reach the NCAA tournament.
The Buckeyes have four games against top-25 teams remaining, along with a home-and-home series with Northwestern, which is second-to-last in the Big Ten.
Feb. 20 vs. Northwestern (12-13, 3-11 Big Ten)
Feb. 23 at No. 24 Maryland (19-7, 10-5 Big Ten)
Feb. 26 vs. No. 21 Iowa (20-5, 9-5 Big Ten)
March 2 at No. 15 Purdue (18-7, 11-3 Big Ten)
March 6 at Northwestern (12-13, 3-11 Big Ten)
March 10 vs. No. 22 Wisconsin (18-8, 10-5 Big Ten)
Could Ohio State get in without sweeping both games against the Wildcats? Maybe. But there's no reason to find out the hard way. Both of those can be considered must-win games due to the level of difficulty of the other four opponents.
Facing Northwestern on the road is a Quadrant-2 matchup, and going against the Wildcats at home is a Quadrant-3 game. The Buckeyes just suffered a Quadrant-3 loss to Illinois and can't afford another. Games against each of the other four teams will be Quadrant-1 matchups, and a win against any of them but the Hawkeyes would supplant the victory against Cincinnati as Ohio State's best this season.
The Buckeyes are already two games under .500 in the Big Ten. In order to have a shot at the NCAA tournament, they likely need to beat Northwestern twice and win either one or two more regular-season games.
Two victories versus the Wildcats and two wins against a pair of other upcoming opponents would allow Ohio State to finish with a 20-11 overall record and a 10-10 record in the conference. If the Buckeyes beat Northwestern both chances and go 1-3 in the other games, they'd finish 19-12 with a 9-11 Big Ten record. It wouldn't outright eliminate them but would weaken their case, likely necessitating at least two wins in the Big Ten tournament.
As a team on the bubble, there's part of the puzzle that's simply not knowable for Ohio State. But in order to strengthen the tournament case, the Buckeyes have to finish the season better than they've played recently, for they should be hunting for upsets and can't risk falling victim to Northwestern beating them.