CLEVELAND – D'Angelo Russell only spent one season in Columbus, but he developed undeniably strong bonds with Thad Matta and the rest of Ohio State's coaching staff.
So when Gene Smith opted to let go of Matta following the 2016-17 season, Russell said he saw "no point" to visit Columbus since both his former head coach and almost all his former teammates were no longer on the team.
"Them firing him or whatever you want to call it, I don't think I'll ever go back now," Russell said on Adrian Wojnarowski's podcast on July 26, 2017. "It just – it messed me up completely."
But just two months after Russell's comments, he wore an Ohio State hat at Brooklyn Nets media day, and two days later, Jae'Sean Tate said Russell "would love" to return to Ohio State.
When Chris Holtmann was hired to replace Matta in the summer of 2017, he made reconnecting with former Ohio State players a priority, and that included Russell, who attended a Buckeyes basketball game at Rutgers on Jan. 14, 2018.
"I think coach is doing a great job getting talent in there and keeping it going, especially with the tradition at Ohio State. It only can go up from there."– D'Angelo Russell on Chris Holtmann
After his 36-point performance in the Brooklyn Nets' 148-139 win against the Cleveland Cavaliers on Wednesday, Russell admitted Matta's firing "definitely hurt," but threw his support behind Holtmann.
"You want to go back to your university and still have the same coaches there and keep that home camaraderie around there," Russell told Eleven Warriors on Wednesday. "But I think coach Holt's done a great job with this coaching staff, and they've reached out to multiple times and I still go up there and talk to those guys like he was my coach.
"With Thad, I didn't understand the situation. I understand it was for the better. It hurt me just because I didn't know the situation. Right after I left, I couldn't wait to just come back to campus and talk shit with coach. We still keep in touch. I keep in touch with all the coaches. That's been great."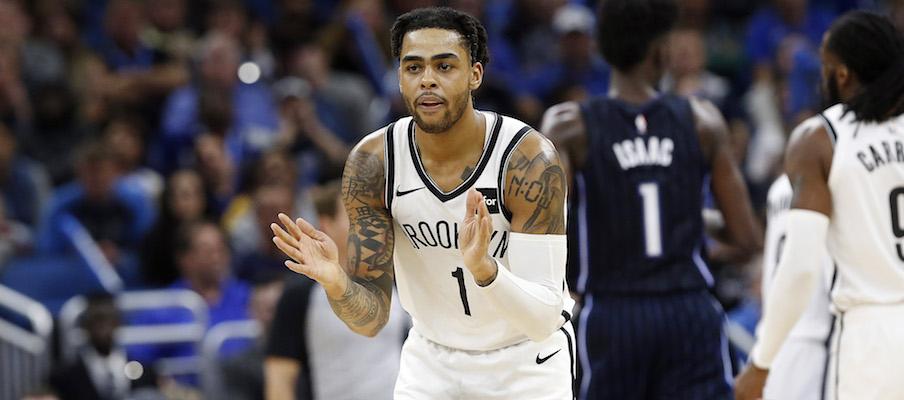 Russell said he talks to former Ohio State assistant coach and current Stony Brook head coach Jeff Boals "almost every other day."
"I go watch his team play. That's my guy, Jeff Boals," Russell said. "Greg Paulus was there. I talk to Thad all the time as well. We keep it going."
Russell went to Ohio State's football game against the Nittany Lions in University Park, Pennsylvania, this fall because his agent attended Penn State, and he said he tunes in to watch as many Buckeyes games as possible.
Still, Russell doesn't know anyone currently on the team, so he admitted it's difficult to maintain awareness of Ohio State at times.
"I mean, it's hard because I would've graduated last year," Russell said. "It's hard to keep up with younger guys like that, especially at the college level. It's hard to watch those games. But I think coach is doing a great job getting talent in there and keeping it going, especially with the tradition at Ohio State. It only can go up from there."
Holtmann has tried to stay in contact with Russell.
So when the fourth-year NBA guard became the first former Buckeye to earn a spot on the NBA All-Star team since Michael Redd, Holtmann sent him a congratulatory text and began his postgame press conference after Ohio State's win against Rutgers by noting his accomplishment.
"We were just talking in the coaches' room about it wasn't too long ago when D'Angelo was here, just a few years ago, when he was here playing for coach Matta," Holtmann said on Feb. 2. "To now, I think four, five years, to be an All-Star is such a special and cool thing for him. I know Buckeye Nation is proud of him. And when you think about how hard that is, we should really be proud of him because that's a really special thing."