Projecting Ohio State before the season, losses to Michigan State, Iowa and Maryland would not have been completely shocking. But after a 12-1 opening to the season, back-to-back-to-back-to-back losses to the Spartans, Hawkeyes, Terrapins and Rutgers have been quite the glass of cold water to throw on what seemed to be a surprising Big Ten contender.
| Who | Where | When | TV |
| --- | --- | --- | --- |
| Purdue (12-6, 5-2) | Schottenstein Center | 7 p.m. | BTN |
Chris Holtmann had not lost three games in a row at Ohio State. The program hadn't lost more than four games since the 1997-98 season. Purdue hopes to extend that losing streak to five games.
Mired in in a losing streak that stretches four games and more than three weeks, Ohio State hopes it can get its first win in 2019 when it faces the Boilermakers at 7 p.m. Wednesday at the Schottenstein Center.
"They are extremely well coached," Holtmann said on Tuesday. "I think they have a great understanding of what they're trying to do on every possession. They are extremely well connected as a group. They've obviously got very gifted players. All of us know of the effectiveness of Carsen Edwards and how dynamic he is."
A win against Purdue would do more than end the losing streak. It could steady Ohio State's odds of making the NCAA tournament, which have precipitately dropped in the past few weeks. What at one point looked like a solid non-conference schedule is now ranked in the mid-200s in terms of its strength. The Buckeyes must begin to knock off Purdue-level teams in order to lock up a spot among the 68 teams in March.
Purdue Preview
Everything starts with Carsen Edwards.
The 6-foot-1, 200-pound guard averaged 10.3 points as a freshman and 18.5 points as a sophomore. This season, the national player of the year candidate has upped his output to 24.6 points per game, doubling the average points of Purdue's second-most productive scorer, Ryan Cline. Edwards and Cline are the only two players on the team who put up more than 7.7 points per game.
Edwards' 37 percent usage rate ranks fifth in the nation and first among players in power conferences. When he goes off, Purdue is hard to beat. But if a team can stifle him, the Boilermakers struggle. In four of his team's six losses, Edwards has shot 37 percent or worse from the floor. In one of the other losses, he was 9-for-21. Edwards scored 40 of his team's 68 points against Texas, accounting for the sixth loss.
Slowing down Edwards can be done, but it's extremely difficult to do.
"I remember watching him in high school and you saw the burst and athleticism he had to literally sprint into a shot, either coming from his left or right and raise up," Holtmann said. "We've all seen his highlights where he gets to the rim and he punches on somebody. He's got a level of athleticism and explosiveness that he's always had."
Holtmann called Edwards and Cline "two of the best shooters in the country." Both knock down at least 42 percent of their 3-point attempts.
"I think what makes their team really good right now is you have guys around (Edwards) who kind of just allow him to be really good," Holtmann said. "They have a big point guard who can see and get people involved. Cline is an elite shooter. And they have bigs who can get on and off on some of those screening actions."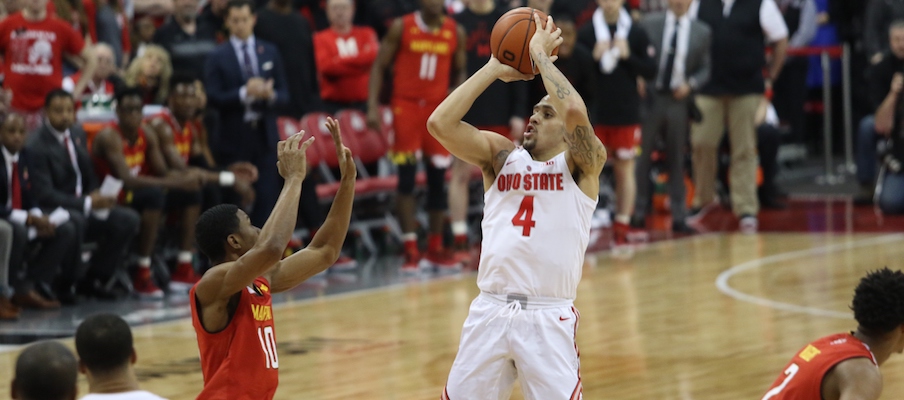 Both Ohio State and Purdue are heading in opposite directions, just like the Buckeyes and Terrapins were entering their game. 
While Ohio State has lost four games in a row, the Boilermakers enter Columbus riding a three-game winning streak that includes wins against Wisconsin and Indiana. 
Ohio State Preview
Before Kyle Young suffered a stress fracture in his right leg that will force him to miss multiple weeks, Holtmann had to make tough decisions. With the Buckeyes scuffling, he had to determine just how major changes were needed to get the team back on track.
"Any coach at any sport at any level, that is kind of the question for you when you are going through a stretch like this," Holtmann said. "This is a first time for a lot of us. Are you saying, 'Listen, we will try and do the things we do and do them a little bit better,' and focus on that, or do you try and make some wholesale changes? By and large, what we're trying to do is just be better at the areas we need to be better in. The one thing I really like about this group is they want to be coached and get better. If we don't have an understanding now, we're never going to."
One of Ohio State's main problems is that its issues just don't have simple fixes with the current slate of players. 
At times, the offense is one-dimensional through Kaleb Wesson, but there just isn't a secondary scorer to rely on. No one slashes through the defense on drives consistently. Duane Washington Jr. can shoot well from range, but beyond him, the team doesn't have other options from beyond the 3-point arc. Size is a problem, but no one is sprouting three inches during the season. So, Ohio State must do what it can with the pieces it has, and that might not lead to as much success as it did in the non-conference portion of the schedule.
How It Plays Out
There weren't many reasons for optimism about Ohio State even before Young's injury. Now, even more concerns persist. 
C.J. Jackson and Luther Muhammad have both played solid defense, but Edwards is among the best scorers in the country. He'll get his points, in all likelihood. On the other end of the court, Ohio State needs someone to join Wesson as a high-output scorer. That simply hasn't happened yet, and unless it does, the Buckeyes will have prolonged stretches without enough points.
Prediction: Purdue 74, Ohio State 64