Ohio State didn't need any added adversity. Not this year. Not during this stretch.
In the midst of the team's toughest three-week period since Chris Holtmann arrived in Columbus, the Buckeyes will now be forced to play without their starting power forward, Kyle Young, who will be out "several weeks" after suffering a stress fracture that he "exacerbated" with a fall during the team's loss to Maryland. Somehow, with one spill from Young, Ohio State's situation became even more dire.
After opening the season 12-1, blowing away predictions that had them ranked in the bottom half of the Big Ten, the Buckeyes look completely vulnerable. They're riding a four-game losing streak for the first time in Holtmann's tenure, and they also have to recover from an unforeseen obstacle amid the struggles.
Young isn't the the team's best offensive player, and he isn't the best defensive player. Holtmann rarely runs a play for him on the offensive end, and for that reason, he sometimes has spurts where you can forget he's on the court. Young wasn't the main catalyst for the 12-1 start, but he also isn't the reason for the four losses in the past couple weeks.
He fully comprehends his role as a supporting player on both ends and makes his impact on offense by making plays off the ball, rebounding and never taking bad shots – he currently has a program record shooting percentage of 73.2. Holtmann never had to worry about Young. He also knew what he was getting from Young. Therefore, he knows what he's losing without him and his 22 minutes per game.
"Obviously, his career's not over, this is a momentary thing, but that's what's going to help him be an effective player is his motor and his athleticism and his feel," Holtmann said. "He gets a lot of opportunities kind of off of the attention that some of our other guys get, in particular Kaleb. I think other guys are going to have to provide that for us, and I think that you're right, we don't necessarily play through him, but he's a perfect guy kind of play off some of those other guys.
"We're going to have to try to look at potentially doing some other things. And we're going to be a little bit smaller, so I'm concerned at how that's going to affect us defensively. But I'm excited about the other guys being able to step up, too."
Ohio State had a size problem before the season even began. Then, it got worse when Micah Potter opted to transfer out of the program just two days before the season began, leaving the team with just three players taller than 6-foot-6 and no one taller than 6-foot-9.
The loss of Young leaves the Buckeyes with just two players – Kaleb Wesson and Jaedon LeDee – who stand taller than 6-foot-6. In the heart of Big Ten play, that's far from optimal, especially considering how often Wesson gets into foul trouble, forcing Ohio State to play without its best player and most impactful big man.
Holtmann doesn't have his lineups sans Young set quite yet, but he has his eye on three younger players who will get increased roles.
"Without getting to specific, I think that's something we're still evaluating here," Holtmann said. "I think it'll be a combination of really a number of guys. It'll be a combination of (Jaedon LeDee), Justin (Ahrens), Musa (Jallow), those three guys in particular."
LeDee, Ahrens and Jallow barely combine to average more minutes per game than Young, but they must step up in his absence.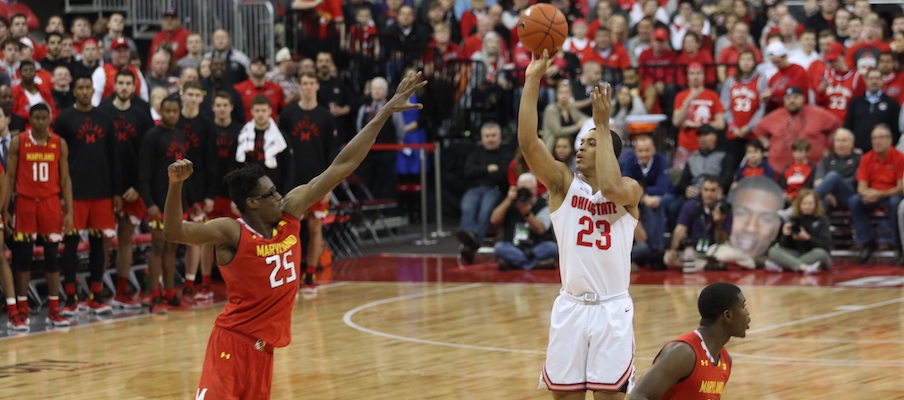 In limited minutes, LeDee has flashed, at times looking like he should play much more than his 6.9 minutes per game that he has been given this season. But, considering he played guard not too long ago and is still adjusting to the college game, he's not fully polished, especially on the defensive end of the court.
"He's a skilled player," Holtmann said. "I think his learning curve has been significant just in general, but primarily on the defensive end. In his high school, he was bigger than everybody else. Your ball-screen coverage was just kind of wait around at the rim and go block a shot. Maybe not as simple as that, but along those lines. He was bigger than everybody he played against for the most part. So I think, like anybody, there's a learning curve there."
On offense, LeDee has had questionable shot selection at times, but he is a tantalizing scoring threat at times, too, and has the ability to get the free free-throw line, something this team doesn't do often enough. Holtmann originally thought LeDee would need a while to develop, but Young's injury will test him, whether he's completely ready or not.
Ahrens has picked up more minutes recently than he had prior in the season, but lacks Young's athleticism and is still adjusting to this level of play.
"Justin, I think, is trying to adapt to the physicality and the athleticism and the length that he's facing," Holtmann said. "I think all of our freshmen are continuing to learn kind of what's a play you can make at this level and what can't you get away with, what play can you not make. And some of that's resulted in blocked shots or turnovers or poorly missed shots. There's not a better teacher than experience, and we tried to show him in film, 'Hey, listen, this is a play that you're not going to be able to make at this level right now.'"
The theory of more play equalling the best teaching will be put to the next in the next month.
Jallow has adjusted to the speed of the collegiate game, but is still refining his game. He makes most of his impact on games in similar ways to Young, with hustle and athleticism, but doesn't do it consistently enough, Holtmann said.
There is no perfect replacement for Young, but Holtmann is playing the numbers game. He thought LeDee would need more development time, had discussions before the season with Ahrens about a possible redshirt and hasn't been thrilled with Jallow's contributions this season. Regardless, those are the three players who will be entrusted to take Young's minutes.
They won't get an adjustment period. Ohio State takes on Purdue Wednesday night, then heads on the road to face Nebraska and Michigan. Not an optimal stretch for a team to get its bearing with new players and an ongoing losing streak.
Holtmann admitted he considers the emotional impact Young's injury might have on an already reeling team, but said he focuses his messages on those stepping into new roles.
"I think any time you have an injury, you're looking forward to the next guy, whether that is stepping into a new role," Holtmann said. "But you try to stay away from that kind of thinking where it's nothing can go right for us, we're losing games, now we lost one of our really important players. I think you just accept it, move on and speak with optimism about the opportunity for more guys."