Ohio State's NCAA tournament résumé looked good. Really good. About as good as possible.
After opening the season with a win on the road against Cincinnati, the Buckeyes stayed hot, beating Creighton in Omaha, Nebraska, and winning their first six games of the season before a slip-up versus Syracuse. They responded well, though, beating Illinois and Minnesota to open Big Ten play with a 2-0 record and defeating UCLA in Chicago.
The group rose to No. 13 in the Associated Press top-25 poll. Chatter of Ohio State's NCAA Tournament hopes sans Keita Bates-Diop, Jae'Sean Tate, Kam Williams and Andrew Dakich, which began with people wondering whether the team would make the dance, turned to questions of what seed the team could earn. Could they conceivably earn a top-four seed? It seemed in play.
My oh my, how quickly the outlook has changed.
For the first half of Ohio State's game versus Michigan State on Jan. 5, it seemed like the Buckeyes might have a chance to knock off a highly ranked Spartans team for the second year in a row. But Tom Izzo's squad pulled it together in the second half for an 86-77 victory. Rutgers knocked off the Buckeyes, 64-61, four days later. Three days after that demoralizing loss, Ohio State headed to Iowa City, Iowa, and lost by 10 points to the Hawkeyes.
A Chris Holtmann-coached team had not lost three games in a row in six years. This group wouldn't lose four straight, right? Wrong.
Ohio State dropped its fifth game of the season and fourth game in a row to a Big Ten team by losing 75-61 to Maryland in a lightly contested game. The Terrapins went on a 10-0 run early in the second half to pick up a double-digit lead, then ended the Buckeyes' hopes of a comeback later in the second half with an 8-0 run.
Not too long ago, an NCAA tournament berth seemed inevitable. Ohio State neared the coveted "lock" status as one of the 68 teams. After this recent stretch, positives aren't easy to find, and a way to end a seemingly endless losing streak isn't readily apparent. The Buckeyes now find themselves squarely on the tournament bubble.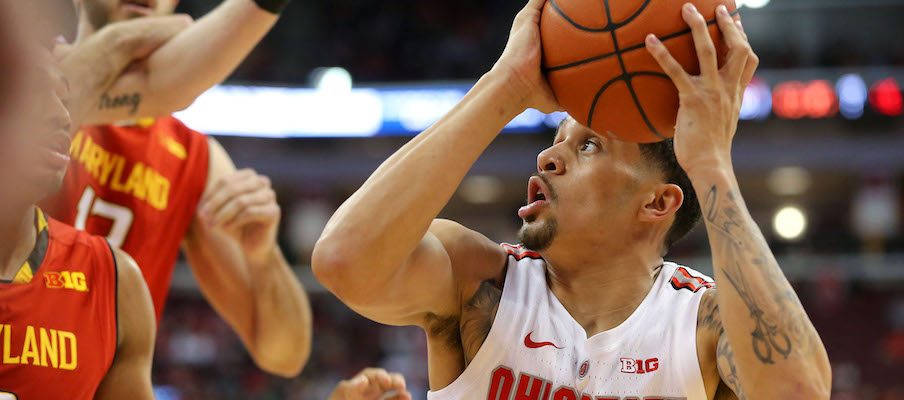 If Holtmann's team doesn't figure a way out of this rut, Ohio State might not dance in March. It has already dug itself quite a hole in the conference with a 2-4 record against Big Ten opponents.
"I think it's a challenge," Holtmann said. "It's not for the faint of heart or weak-minded people. I think we've got a tough stretch here. We've got to find a way to dig our way out. We just have got to all accept responsibility and try to move better and play better."
As Ohio State's 12-1 run to open the season progressed, warning signs appeared. Games in December against Youngstown State and High Point were significantly closer than Ohio State would have preferred.
Holtmann never played the role as hype man this season even when the team was adding up wins, consistently noting the issues with rebounding and turnovers. Kaleb Wesson can score – he seemed to take the next step as a go-to offensive option in December – but no one else consistently put up points.
Despite those issues coalescing and turning into four losses, Holtmann doesn't want to press the panic button.
"Really, I think we just kind of stay the course and we'll work extremely hard as coaches and see what we can do to try to put our guys in a better position," Holtmann said. "We're really trying to just stay the course."
Ohio State's offense – both with and without Kaleb Wesson on the court – hasn't managed to score consistently.
Without Wesson, the Buckeyes simply don't have a go-to scoring option. C.J. Jackson, Keyshawn Woods, Duane Washington Jr. and Luther Muhammad have each had moments in games this season where they look like they could be efficient scorers, but none has proven to do it consistently. Even with him on the court against Maryland, Ohio State couldn't get much going. The Terrapins collapsed multiple players on Wesson and forced him to pass the ball out of the paint, but few players can create, so the offense stagnates.
"I think the book's out on how to guard us," Holtmann said. "They didn't deviate a whole lot on how much they were collapsed on Kaleb, and they did a good job of it. And they've got really good length. Not only do they have really good interior length, but they have good perimeter length. But I thought they made it difficult for us to get the ball inside, and then when we did, they did a good job collapsing. Guys had some open looks. We took some quick ones. I think we've got some guys that we're trying to get some confidence too right now."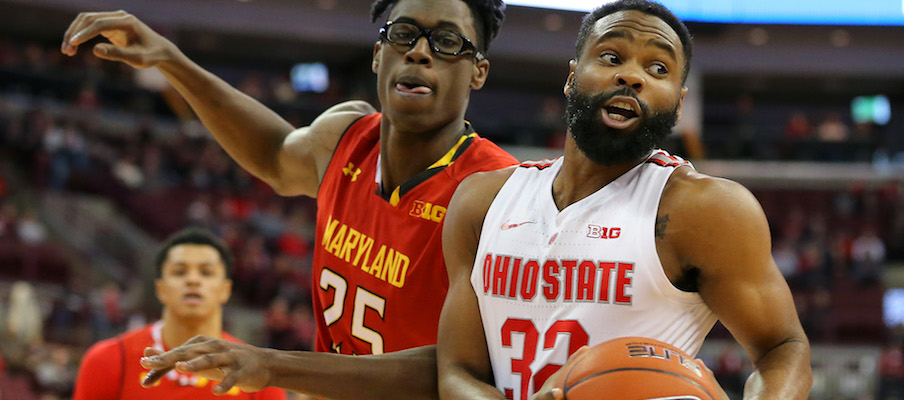 Staying the course, as Holtmann said he hopes his team does, might not sound like an optimal way out of a rut. It's fair to wonder whether Holtmann could make more significant changes. But, also, it's reasonable to ask what those changes would consist of. More minutes for Justin Ahrens and Jaedon LeDee? More playing time for Washington?
Ohio State can't suddenly sprout some big men to spell and play beside Wesson. It can't suddenly materialize a scoring guard such as Anthony Cowan Jr. or Cassius Winston.
Holtmann is still searching for consistent non-Wesson scoring options, and that's unlikely to change no matter how many rotation adjustments he makes.
"It's a good question," Holtmann said. "We have to make plays, we have to make plays, because I think it's frustrating. I think our guys recognize that, and we're trying to give our guys some freedom so that potentially that can open up things. But we just have not been able to have enough consistency on that end where the paint has opened up enough."
As bleak as this stretch has looked, the Buckeyes remain on the NCAA tournament bubble. Their 12-1 opening to the season bought them some time and slip-ups against conference opponents.
The incredible depth of the Big Ten surely won't help Ohio State find what it's missing, but there's still time to get back on track and end this stretch of poor play. It just has to happen soon.