Chris Holtmann knows a little bit about low expectations.
Gardner-Webb, his first stop as a head coach, lost 21 and 20 games his first two years before winning 21 games in his third and final year. In his first year at Butler, many people projected them to take a step back after missing the NCAA tournament the year prior. He responded by leading the Bulldogs to the tournament in each of his three seasons as head coach.
Prior to last year, his first season at Ohio State, no one expected anything special. He responded by leading the Buckeyes to a 25-9 record, a second-place finish in the Big Ten and an NCAA tournament appearance.
So, while Holtmann has dealt with many doubters in his eight seasons as a head coach, he has nearly as much experience blowing the public's expectations away as he has had low expectations foisted upon his teams.
This year was no different. No Keita Bates-Diop and Jae'Sean Tate signaled a step backward. That hasn't been the case. Ohio State moved to 11-1 to start the season with a victory against UCLA on Saturday.
In a performance evaluation completed during the offseason, Holtmann listed four goals for 2018-19:
Add a top-25 2018 recruiting class
Win half of the "signature" non-conference games against Cincinnati, Creighton, Syracuse and UCLA
Finish in the top half of the Big Ten
Play in the postseason
Before the season even began, the first goal was complete. Ohio State's freshman class of Luther Muhammad, Jaedon LeDee, Duane Washington Jr. and Justin Ahrens ranked in the mid-20s by most recruiting services.
Three games into the season, with wins against Cincinnati and Creighton, Ohio State completed Holtmann's second goal. The 80-66 victory against the Bruins gave Holtmann three wins against the team's four most difficult non-conference foes, which set the Buckeyes up with an ample amount of wiggle room entering Big Ten play.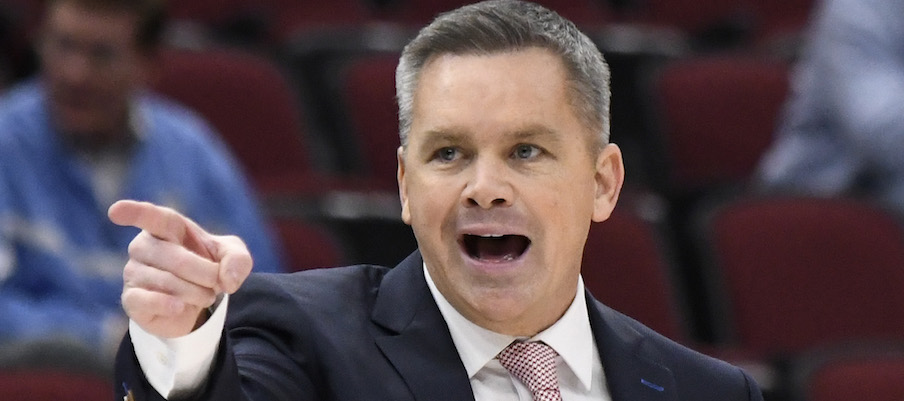 Last year, Ohio State lost to Gonzaga, Butler and Clemson in its non-conference schedule, increasing the importance of its conference games. Of course, Holtmann's bunch made up for that by finishing second in the Big Ten.
Only one game – a home matchup with High Point – stands between Ohio State and a return to conference play this season, and Holtmann doesn't see Ohio State having as much consistent success against Big Ten opponents this year.
"Last year, we did not do a great job in non-conference games that are going to be evaluated at the end of the year by the NCAA tournament selection committee," Holtmann said. "That was something we were trying to be a little more aware of. Doubt we're going 15-3 in the Big Ten this year. So, to have a non-conference where we could pick up some wins that are important was good. But more than anything, we have to keep growing and getting better."
Holtmann certainly believes in this year's team, which also has some notable flaws.
The Big Ten, though, has improved.
"I've never been a part of a league that is this deep and good from top to bottom," Holtmann said. "I've been part of some great leagues, but never one quite like this."
Ohio State went 15-3 in Big Ten play last year, coming one game from the top spot.
"I think Michigan State was 16-2 last year," Holtmann said. "If someone goes through this league this year 16-2, they could certainly cut down the nets."
Unlike last year, the Buckeyes don't need to finish in the top couple spots in the conference to make the NCAA tournament. Obviously, that's the goal, and that would improve their seed. But wins against Cincinnati, Creighton and UCLA will boost their case, even if they struggle against Big Ten opponents more than they did last year. There'll be less pressure to win each night.
A lot can change between December and March, but Ohio State has set itself up well and given itself some room for error entering Big Ten play, which resumes on Jan. 5 with a home tilt with Michigan State.