Ohio State wasted no time bouncing back from its first loss of the season, a decisive 72-62 defeat at the hands of Syracuse.
| Who | Where | When | TV |
| --- | --- | --- | --- |
| Illinois (2-6) | United Center (Chicago) | 7 p.m. | BTN |
The No. 19 Buckeyes (7-1) took care of business Sunday night with a 79-59 win against Minnesota. The Golden Gophers entered the game with a 6-1 record, but never looked quite like a team that could hand Ohio State its second loss in a row. Plus, Minnesota had played a game in Minneapolis just 48 hours before the game tipped on Sunday. Chris Holtmann attributed some of the dominance to the Golden Gophers' tired legs.
Having each played games on Sunday, both Illinois (2-6) and Ohio State will be on equal footing in terms of rest when they play Wednesday night at the United Center in Chicago. The game is scheduled to tip off at 7 p.m.
Opponent Preview
Illinois has beat both mid-major opponents, but has lost to all six opponents from major conferences. However, the Illini have not scored fewer than 60 points in any game and have topped 70 points in six-of-eight games.
Second-year head coach Brad Underwood uses a relentless, high-paced offense that led the nation in KenPom's offensive efficiency his final year at Oklahoma State before Illinois hired him. The Illini don't have the talent or athletes to maximize his style of play, but they still run his attacking, high-ball movement offense. They also have an extremely young team with six freshmen and three sophomores.
Illinois' three top scorers – Trent Frazier, Ayo Dosunmu and Aaron Jordan – are guards. The Illini attempt more than 25 3-pointers per game and have been deadly from deep, hitting 40.4 percent.
However, they have consistently been out-rebounded and they allow opponents to hit 49.3 percent of their shots from the field and 57.5 percent of shots from 2-point range. For comparison, Ohio State's opponents hit 37.2 percent of their shots. 
Ohio State Preview
Not having Luther Muhammad, whose status remains in question for Wednesday's game with a dislocated shoulder, could hurt Ohio State against a guard-dominant Illinois offense. Muhammad is a game-time decision, Jon Rothstein of CBS Sports reported Wednesday morning.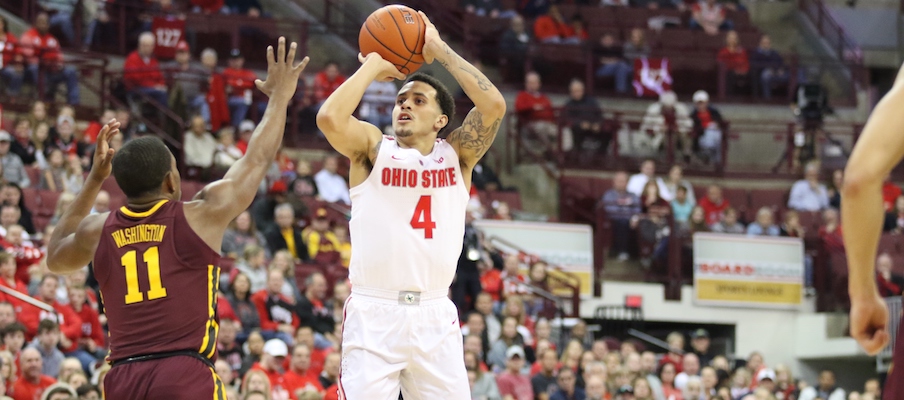 However, Musa Jallow, Andre Wesson and Duane Washington Jr. each stepped up into larger roles against Minnesota, and they'll each need to do the same Wednesday night.
"I thought our bench gave us a real lift when we needed to and got into some foul trouble," Holtmann said after Sunday's win. "It was good to see a good team effort tonight."
In order to not allow Illinois to upset them, the Buckeyes need to minimize the Illini's 3-point success rate and attack them inside, where they have not fared particularly well. Ohio State's opponents shoot just 26.5 percent from beyond the arc, and the Buckeyes need to continue that success to hold down the Illini.
Wednesday night's game also serves as the final game before a 10-day layoff without any games. The Buckeyes won't play their next game until Dec. 15 when they play host to Bucknell. 
How It Plays Out
Ohio State ranks 23rd in KenPom, well above Illinois at No. 97. However, the Buckeyes are just 5.5-point favorites against the Illini. 
If Muhammad plays, Ohio State would be in much better shape on defense against Illinois' high-powered offense. But even if he sits out, the Buckeyes should be able to attack the Illini with Kaleb Wesson inside. It will be pertinent for him to stay out of foul trouble.
Given the Illini's style of offense, if they hit shots, they could be a threat to beat Ohio State. But the Buckeyes have done a solid job preventing teams from getting open looks from 3-point range and have found ways to get buckets without anyone scoring more than 13 points per game, so they have the advantage Wednesday night.
---
Prediction: Ohio State 85, Illinois 71