Keyshawn Woods wants to beat Syracuse. No, he really, really wants to beat the Orange.
In his final game at Wake Forest before opting to transfer to Ohio State this offseason, Syracuse eliminated the Demon Deacons from the ACC tournament. Woods went 1-for-9 with five points in 32 minutes, leaving a bitter taste. He played against Syracuse four times in his two seasons at Wake Forest, winning once.
But in Woods' mind, he's still searching for his first victory against Jim Boeheim's squad.
| Who | Where | When | TV |
| --- | --- | --- | --- |
| Syracuse (3-2) | Schottenstein Center | 7:15 p.m. | ESPN2 |
"I'm a competitor," Woods said on Tuesday. "I don't like losing, and I've lost to them three times now and only beat them once. And the game we did beat them, I got hurt. So in my eyes, I didn't beat them."
He doesn't play in the ACC any more, but he didn't have to wait long for his opportunity for redemption.
Woods and the No. 16 Buckeyes take on Syracuse Wednesday night at the Schottenstein Center. The game is scheduled to tip off at 7:15 p.m. and will be shown on ESPN2.
The Ohio State-Syracuse tilt pits two teams against each other who opened the season with differing expectations, and both teams have started off the year by bucking what most people thought would happen.
The Buckeyes opened the season thought of as a middling, rebuilding team. They were picked to finish in the middle of the road in the Big Ten, and some people even had them among the bottom three or four teams in the conference. However, they opened the year with six straight wins, including road victories against Cincinnati and Creighton.
"It's like going to the dentist, and not just for a cleaning."– Chris Holtmann on Syracuse's zone defense
While some people thought the Orange would challenge for the ACC title, the season hasn't gone as hoped. It knocked off Eastern Washington and Morehead State to begin the year, but then lost by seven points to Connecticut and 15 points to Oregon before getting back on track with a win against Colgate.
Still, Chris Holtmann downplayed Syracuse's early struggles.
"I think everybody that has watched them play and knows them really believes they're Final Four good, and I think they are," Holtmann said.
Opponent Preview
Not too many people truly enjoy watching teams play zone defense, but much fewer people like having to play against the style of defense, and that only amplifies when taking on the Orange.
"It's like going to the dentist, and not just for a cleaning," Holtmann said.
Syracuse and zone defense are synonymous.
Samford gave Ohio State a taste of zone defense a week ago, and Holtmann was prepared for it, but didn't expect the Bulldogs to run it the entire game. He has no disillusions about the Orange. The moment this summer he learned that Syracuse would be the Buckeyes' opponent in the ACC-Big Ten challenge, he knew what his offense would be in for.
"I don't throw this lightly, but I do think coach Boeheim is – I mean, he's a defensive wizard," Holtmann said. "He's a genius in some of his concepts, the adjustments they make. I don't throw that around lightly. I mean, it is phenomenal what they do."
Syracuse's length and activity on defense separate its zone from other teams, Holtmann said. Plus the Orange is never surprised by how teams attack the zone since it's the base defense.
Playing against the zone can make things difficult for offenses, and can even be mentally straining.
"It's frustrating because, I mean, 40 minutes of them just laid back," Woods said. "And then you having to guard them man on the other end, and then they're just right there in your face at all times. They move, but they don't move all the time."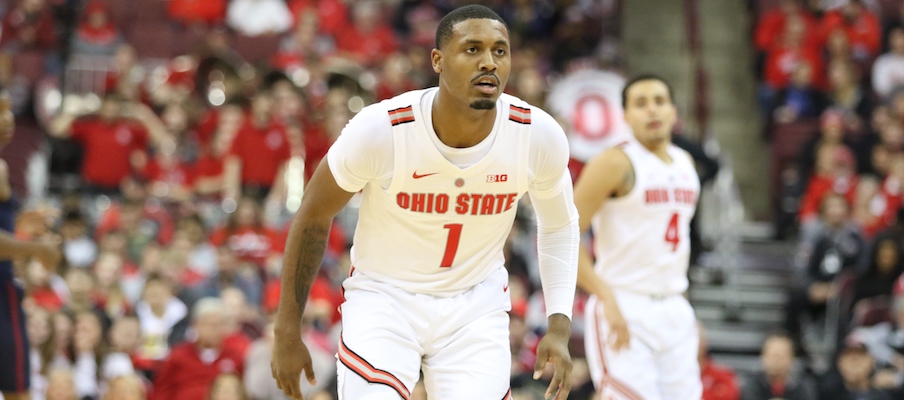 The Orange utilize a lineup filled with an abundance of length. All five starters stand at least 6-foot-5, while three Ohio State starters are 6-foot-3 or shorter. Holtmann said his team hasn't faced an opponent this season with Syracuse's size and length either as a collective unit or in the backcourt.
Even point guard Frank Howard, who returned to the court a week ago after missing the first four games of the season with a left ankle injury, stands 6-foot-5. He plays at the top of Syracuse's zone defense and led the team with 1.8 steals per game last season. Howard averaged 14.4 point, 4.7 assists and 3.5 assists per game as a junior.
Howard's loss hurt versus Connecticut and Oregon, and Syracuse hopes his return will steady the team.
"He's a bigger guard than we're used to seeing," C.J. Jackson said. "Offensively, he's very aggressive in the sense of kind of their floor leader. He kind of gets the guys in the right spots. He looks for his teammates and hits them in their spots and allows them to get going a little bit. And then we know, as well, he can get going. He's a very tough player."
Though Howard had twice as many assists per game as any player on the team last season, the offense flows through Tyus Battle.
Battle declared early for the NBA draft in the spring, but the 6-foot-6, 205-pound wing ultimately opted to pull his name out of consideration and return for his junior season. He leads the team with 17 points per game, having hit 46.8 percent of his shots. Battle isn't efficient from beyond the arc and prefers to get buckets from 2-point range.
"He's versatile and very aggressive on offense," Woods said. "He's going to go get his at the end of the day, and he can score at all three levels. And we know from scouting report, and I know from playing against him in the ACC, that he's their go-to guy and he's going to try to get his as much as possible. We've got to maintain him."
Two Orange players – Elijah Hughes and Oshae Brissett – both average 14.8 points per game. They're Syracuse's most prolific 3-point shooters, though they have collectively hit just 13-of-52 shots from beyond the arc.
Paschal Chukwu, Syracuse's 7-foot-2 starting center will play after suffering an injury last week.
Ohio State Preview
Woods has seen first-hand what happens when teams can't penetrate Syracuse's zone defense.
"We didn't shoot the ball well and we also had a lot of turnovers, and that's one thing you can't do against Syracuse because they sit back and wait for you to take bad shots, and then they also sit back and wait for you to turn the ball over," Woods said. "And we did both those things in the tournament last year."
A fairly simple plan to beat zone defenses exists. Teams must penetrate the lane and either get the ball inside or at the high post. They have to control the ball and, when searching for shots, they look for open 3-point attempts that should exist if teams are patient.
It's much, much easier said than done, though. Like Woods said, zone defense can frustrate teams.
"It's really important that as long as we can get the ball in the middle, we'll be fine," Woods said. "If we can get it in the middle, we'll break down their zone because that's when they really get spread out. And if we move and attack gaps, we'll have the upper hand at the end of the day."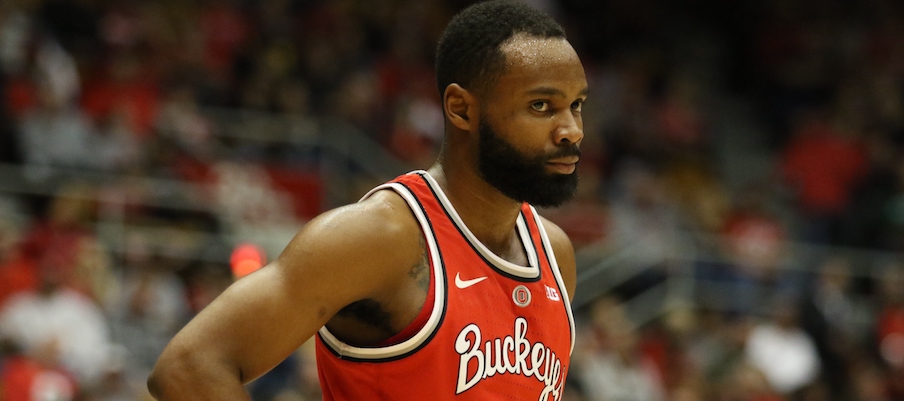 The Buckeyes haven't shot as well from 3-point range in the past two games, but that won't stop them from searching for open looks from deep. They have to ensure they're not forcing shots just beyond the arc, though.
"They do a great job of challenging 3s," Holtmann said. "That's one of the things they've always done is they just, you don't get clean look against, occasionally, but not much. You get a lot of rushed looks at them."
On the other end of the court, keep an eye on Luther Muhammad, who likely will take on Battle. He should be tasked with holding Syracuse's primary scorer to minimal points or inefficient production.
Scoring and defense haven't been the biggest areas of concern for Holtmann in the opening six games. Instead, he's still nervous about turnovers and defensive rebounding.
Against Syracuse, which flusters offenses and possesses an abundance of size, both areas could be issues on Wednesday.
"People asked me about all kinds of numbers yesterday with this new whatever-it-is ranking," Holtmann said. "The only numbers I'm concerned about is we're 136 in turnover percentage and 154 in defensive rebounding percentage. Those numbers are the only numbers I'm concerned about. Those aren't very good right now, and they're symptomatic of a team that is just – that's going to get us beat if we don't do everything we can. It's not like we've got incredible size or length, but we have to do a better job in those areas, and I've got to do a better job coaching them."
How It Plays Out
Though Ohio State has not lost a game and Syracuse has two losses on its record, the Orange are ranked higher in KenPom (No. 20) than the Buckeyes (No. 23). It's the first time this season that Ohio State has faced a team placed higher in the rankings. Still, the Buckeyes are 5 1/2-point favorites.
Syracuse hasn't impressed much with two losses to open the season, but it might be the most naturally talented team Ohio State has played thus far, and it's certainly the most physically intimidating opponent. If the Buckeyes get flustered by the Orange's length, it could be a long night for them. They've had turnover issues before, and they can't afford that against Syracuse.
However, Ohio State's defense has kept them in games while the offense works out its kinks, and that could happen again Wednesday night. Kaleb Wesson's ability to play all over the court on offense while being a solid passer will help break the zone defense and Duane Washington Jr.'s shooting prowess will be important off the bench.
In front of a packed house and on Thad Matta's return to Columbus, I'm picking Ohio State, though the Buckeyes are certainly in danger of dropping their first game of the season.
---
Prediction: Ohio State 71, Syracuse 70