Days before the tip-off at 8 p.m. Friday against Cleveland State, well before anyone knew the Buckeyes would wear alternate jerseys or go all-out in their attempt to maximize the old-school nature of the game, St. John Arena sold out of 13,276 tickets.
If Chris Holtmann get what he wants, Ohio State will return every single year, and it might not be for another beatdown similar to the Buckeyes' 89-62 win against the Vikings.
"We have talked about it a little bit and kind of tossed around that idea," Holtmann said. "We want to get some feedback on how this night was, and I know logistically it's a lot of work. There are questions about the amenities, but it's not something that we have said no to. We have considered it. Is it something we'll do? Would we do two games a year? I don't think it would be more than that. But I do think we'd like to make it an annual thing, and we have talked about potentially a Big Ten opponent."
"It was a fun night and something we anticipate doing on a regular basis. Obviously, the Schottenstein Center is our home and we recognize that, but this was a fun night for, I think, our fans and our basketball community and Buckeye Nation."– Chris Holtmann
It might not take long for Holtmann to receive enough positive feedback to push for an annual game at St. John Arena.
Since he was hired last summer, fans had pushed him to have Ohio State return to the historic venue for a game. Interest was strong enough to sell out the building with ease. Friday night's matchup against Cleveland State was the only scheduled game to take place at St. John Arena this season, and there was an eight-year wait between then and the last time Ohio State had played at the arena. But there likely won't nearly as long as a wait until the Buckeyes return to St. John Arena.
"It was a fun night and something we anticipate doing on a regular basis," Holtmann said. "Obviously, the Schottenstein Center is our home and we recognize that, but this was a fun night for, I think, our fans and our basketball community and Buckeye Nation."
Both Andre and Kaleb Wesson grew up around Ohio State basketball since their father, Keith, played for the Buckeyes. They haven't heard too many stories about St. John Arena, though. Andre Wesson said their dad doesn't volunteer many stories without being asked, but he said he "definitely had his fair share of moments here."
Both Wesson brothers have heard from many fans who want Ohio State to play more games at St. John Arena, and that has only increased in recent years.
"I think we've actually heard it more since we've been here than growing up, actually," Andre Wesson said. "I mean, it was fun. I see why so many people want us to start playing here, but at the end of the day, the Schott is still our home, and we love it there too."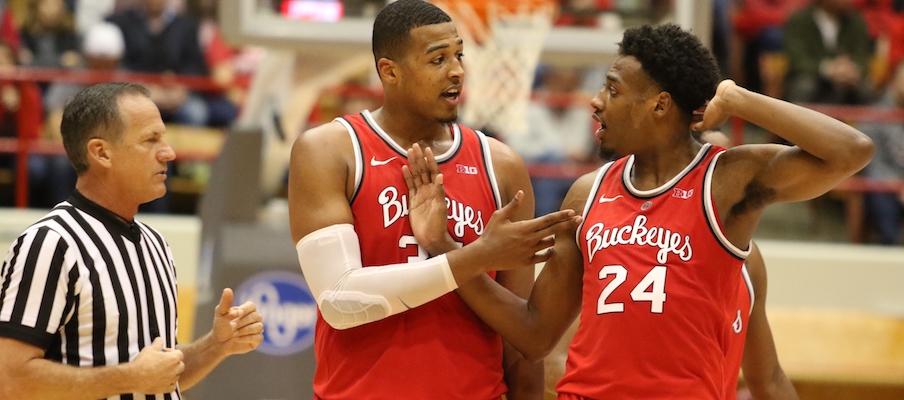 Ohio State didn't hold back Friday night. It turned back the clock on every possible item at St. John Arena.
Players wore throwback scarlet jerseys modeled after those worn by the 1980 Buckeyes, and nine cheerleaders donned old-school regalia with two buckeye nuts and a buckeye leaf emblazoned on the front. Graphics sent out on social media mimicked designs from decades ago. Ohio State's pre-game hype video on the miniature video board on the scoreboards featured highlights from games at St. John Arena. Players wore headbands while warming up.
Sheck West's "Mo Bamba" and Travis Scott's "Sicko Mode," two songs that get played constantly at basketball games, didn't make the playlist. Instead, the music piping through the arena before during and after the game included hits from the 1980s, including Phil Collins' "In The Air Tonight," Toto's "Africa," Michael Jackson's "Beat It" and Dexy's Midnight Runners' "Come On Eileen."
The lack of recently released pump-up music didn't decrease the crowd noise, though, which was intensified inside St. John Arena.
"I feel like games where it's loud like that and at times, you can't even hear yourself think sometimes," Kaleb Wesson said. "I feel like that's good for us and the young guys because there's going to be games where we go in and that's going to be on the opposite since where everybody's against us and we're the only people in the gym."
The best seats in the building were rickety wooden pull-out bleachers rarely seen anywhere outside of a high school gymnasium that had fading painted numbers dictating each seat. Televisions hanging from the rafters look like they haven't worked since the 1960s.
Ryan Pedon attempted to pull off a black jacket with dark blue vertical stripes, and Chris Holtmann even wore a salmon jacket.
"That jacket was hot," Kaleb Wesson said. "Everybody keeps saying the jacket was ugly. I liked the jacket. The jacket was crazy."
Andre Wesson added: "Little salmon. It had a little drip to him. It was all right. Little drip. I like it."
Holtmann nearly didn't rock the off-colored jacket. He might have opted for his typical dark-colored suit had his wife, Lori, not been around.
"The story behind the jacket is I do have a tailor. He does a great job," Holtmann said. "He said, 'Hey, is there a special game you'd want a special jacket,? and I was like, 'No, no, I'm good. Dark suit, scarlet tie.' Most games, I'm good with that. My wife unfortunately was in the room and she piped in and said, 'Yeah, we've got a game over in St. John Arena, so let's make a special jacket for that.' I got it about a month ago and finally put it on today, walked downstairs, looked in the mirror and I had some serious second thoughts.
"If my wife was not there pushing me out the door, probably you'd have seen me in a dark suit."
If Holtmann has his way next year, he'll be back in St. John Arena, but he won't be wearing the salmon suit again.