Brought in as part of Thad Matta's final recruiting class, Micah Potter started 12 games as a freshman, averaging 4.1 points and 3.1 rebounds in 14.1 minutes per game.
But as a sophomore last season in Chris Holtmann's first year as head coach, the big man's role decreased. Potter suffered an ankle injury early in the season and didn't play more than 16 minutes in a game after Dec. 19. He played just 10.1 minutes per game and once again averaged 4.1 points per contest.
Potter, who Ohio State announced on Monday will transfer from the program, said at the team's media day in late September that "it was tough" dealing with his injury while the Buckeyes took off in the rankings last season. He also referenced "distractions" that he mentally had to deal with.
"Last year was a very good teaching point for me," Potter said in September. "A lot of it came with me not playing as much as I would have liked to, which, like I said, it's part of the business. If it's not broke, don't fix it. It is what it is. But that's just something I had to deal with personally, and it really was a big teaching point for me and humbling point for me, just because I came in with a lot of confidence, a lot of high expectations for myself.
"But at the same time, when things happen that you can't control and it's not something you'd like, there's nothing you can do about it. You've just kind of got to take a back seat and just sit down and just watch and just learn."
At Big Ten Media Day last month, Holtmann empathized with Potter's feelings, but said the coaches made the necessary moves to win.
"It's hard for kids when they don't play a whole lot or don't play as much," Holtmann said. "It's really hard and they've got to manage it the best they can. We're always forced to make a decision when you feel like it's in the best interest of the team. But he's really grown and matured, and I'm excited about his junior season."
How Potter's transfer affects Ohio State this season
Potter's announced transfer away from Ohio State came at an inopportune time for the Buckeyes, at least in the short term.
He was never going to be a starter on the team this season, unless Kaleb Wesson got hurt, but he was slated to back up Wesson at center. And Holtmann said he didn't plan to play Potter and Wesson together in the lineup consistently, if ever.
The 6-foot-9, 240 pounder offered the Buckeyes depth in the frontcourt, though. Potter showed that in the team's exhibition against UNC Pembroke on Thursday when he led the team with 13 points and grabbed six rebounds in just 10 minutes. After the game, Holtmann said Potter did "some really good things."
"I thought he rebounded the ball well, really well," Holtmann said after the game. "We all know with Micah offensively, he's always really been a guy who offensively can do some things. He can shoot the ball. He's got great lift around the rim. He's gotten where he can catch the ball. It's defense and defensive rebounding at the end of the day for him. Because offensively he's really gifted in some areas. I thought our guys did a great job finding him. He did a great job attacking the rim."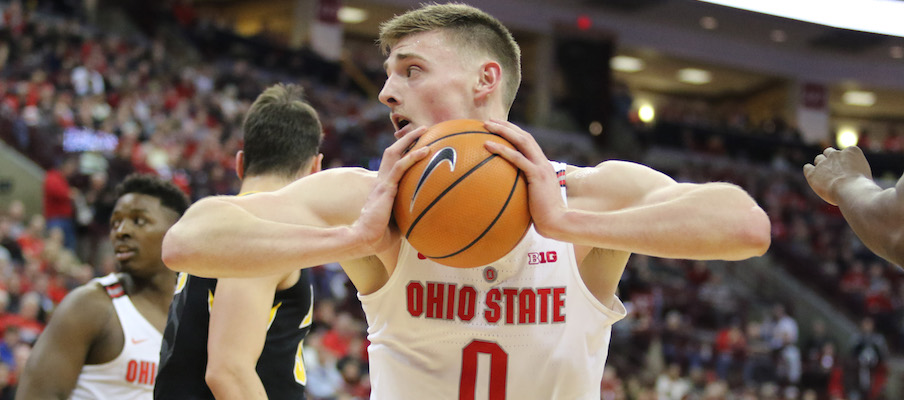 The loss of Potter increases the pressure on Wesson to play more minutes per game than he managed last season. It also likely forces Jaedon LeDee into a larger role than Ohio State expected when it landed a commitment from the freshman.
Both Wesson and the coaching staff spent much of the preseason talking about Wesson's improved conditioning, and he looked slimmed down in the exhibition game. But Holtmann said Wesson was in good shape to begin the season last year, and it deteriorated as the season progressed. Wesson also has to stay out of foul trouble after 2.8 fouls per game in 20.7 minutes as a freshman.
Any minutes without Wesson on the court will now either force the Buckeyes to rely on LeDee as a freshman or play small.
Beyond Wesson, the Buckeyes now have just two players taller than 6-foot-6. Kyle Young, a 6-foot-8 sophomore, started in the exhibition at power forward, but he is listed at 205 pounds and is not a classic post player. LeDee, a 6-foot-9, 230-pound big man, is the other post player, and while he looks the part, he's still young and inexperienced.
Teammates have touted LeDee's rebounding ability, and he grabbed seven boards while scoring nine points in 15 minutes during Thursday's exhibition. But at Big Ten media day, Holtmann cautioned the ability of freshmen big men to immediately contribute.
"I think any time you're a big guy like Jaedon is, your learning curve is a little more significant," Holtmann said in early October.
Had Potter chosen to stay, he likely would have played around 10 to 14 minutes per game, just as he did in his first two seasons. Even though he wouldn't have played big minutes, his loss means the Buckeyes could have even more trouble if Wesson gets in foul trouble, has conditioning issues or has any injury problems. Sure, they would have had problems if that happened even if Potter stayed, but the safety net shrinks even more with him gone.
How Potter's transfer affects Ohio State beyond this season
While losing Potter hurts Ohio State for the upcoming season, it isn't a huge blow to the team's long-term plans.
Potter would have been Wesson's backup this year, and he might have even had less playing time as a senior in the 2019-20 season had he chosen to stick around. The Buckeyes will add four-star forwards E.J. Liddell and Alonzo Gaffney to the roster, and both players would have infringed upon Potter's playing time.
Though the front-court isn't deep this season, Ohio State won't have that problem next year. Wesson, Liddell, Gaffney, Young and LeDee will make for a versatile, potent group of big men.
Potter's transfer opens up a scholarship for the Buckeyes next season. They could either choose to add another player to their 2019 recruiting class, which already includes three top-50 prospects, or they could opt to add a graduate transfer.
Ohio State will have a chance to win the Big Ten championship and make a run in the NCAA tournament in the 2019-20 season. The loss of Potter might hurt this season at times, but if the Buckeyes make an addition to an area on next season's roster that Holtmann believes needs to be shored up, it might not be a big loss next year.