Since Keita Bates-Diop began playing at a Big Ten Player of the Year level this past season, it's been widely presumed that the Ohio State star would declare for the 2018 NBA draft.
While Bates-Diop still has one remaining season of eligibility, the fourth-year Buckeye already graduated from Ohio State in December, and played his way into potential first-round draft consideration with this performance throughout the 2017-18 season, over which he averaged 19.8 points per game – best among all Big Ten players – and 8.7 rebounds per game, third-most among Big Ten players.
Bates-Diop was also honored alongside Ohio State's seniors on Senior Night, which he was given the opportunity to participate in because he graduated, but is also usually an indication that a player is leaving.
Following Ohio State's season-ending loss to Gonzaga in the second round of the NCAA Tournament on Saturday night, however, Bates-Diop told reporters that he had not yet made a decision on his future.
"I just wanted to focus on the season and not worry about it until afterwards," Bates-Diop said. "I will think about it, talk with my family and coaches about it in the next few days."
While that's a common response for a potential draft departee to give in the moments following the final game of a season, and shouldn't be taken as any indication of his decision one way or the other, there are a number of legitimate factors that Bates-Diop will reason to discuss with those close to him before making his final decision.
First and foremost, Bates-Diop should consider his NBA draft stock and whether he could elevate it by playing another season at Ohio State. To some extent, it would appear that he could. While he is currently projected as a first-round pick by ESPN's Jonathan Givony (No. 22 to Atlanta Hawks) and CBS Sports' Gary Parrish (No. 25 to Portland Trail Blazers), among others, he is not unanimously projected as a top-30 pick; NBADraft.net currently projects him to be on the board until the middle of the second round (No. 43 to San Antonio Spurs).
That said, Bates-Diop is already 22 – young in life, but on the old end of the spectrum for an NBA draft prospect – and coming off a season that would be difficult to top next season. Even if he was to return and win Big Ten Player of the Year honors again, there's no guarantee that his draft stock would improve, as the early first-round picks will still be dominated by younger players with higher perceived upside.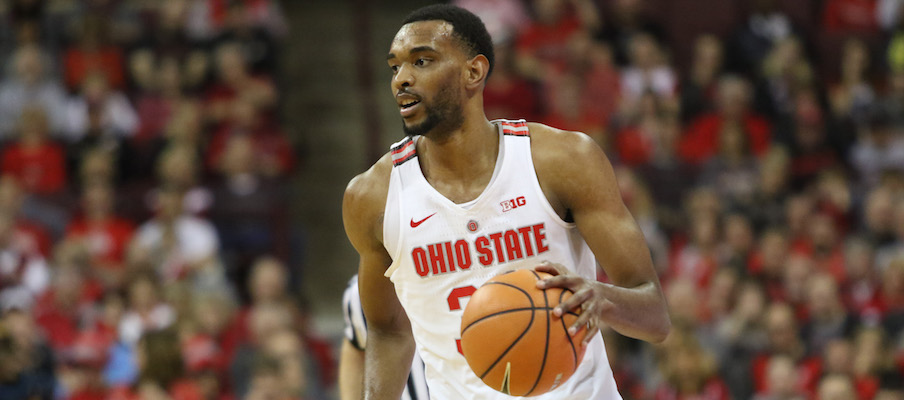 Even so, it could be worthwhile for Bates-Diop to return if he believes another year at Ohio State could improve his game and improve his chances of succeeding in the NBA when he does turn pro.
While Bates-Diop's game already appears to be fairly complete – he has both inside and outside scoring ability, was effective this past season as both a rebounder and defender and has demonstrated his ability to play within a team – and the biggest question surrounding him could be whether he has enough athleticism to translate his skill set to the NBA, there are still areas in which another year in college could make him better. One area in particular, as suggested by Ohio State coach Chris Holtmann throughout this past season, would be his ability to play with physicality – something else he will certainly need to be able to do to succeed in the NBA.
Finally, Bates-Diop's decision could simply come down to what feels right to him. If he believes he has accomplished what he set out to accomplish at Ohio State, and feels ready to take his shot at playing professionally, then entering the NBA draft will be an easy decision. But if his heart compels him to play for one more year at Ohio State, with teammates and coaches who he has grown close to, his decision for what's next could be much tougher.
"It's the hardest decision I'll ever make, either way, just because I love this group of guys," Bates-Diop told The Columbus Dispatch after the game.
Bates-Diop wouldn't be the first Buckeye to choose to come back despite having potentially already maximized his draft stock. Jared Sullinger made the surprising decision to return for his sophomore season despite being projected as one of the top picks in the 2011 NBA draft after earning First-Team All-American honors as a freshman. Evan Turner probably would have been a first-round pick in the 2009 NBA draft after earning All-Big Ten honors as a sophomore, but ended up being the No. 2 overall pick in the 2010 draft after returning for his junior year and earning national player of the year honors.
KBD is in a different position than both of those players were – along with the several other recent Buckeyes like D'Angelo Russell, Greg Oden and Mike Conley who left Ohio State after just one year – in that he has already been at Ohio State for four years and earned his undergraduate degree. Additionally, Bates-Diop would be the last player left in Columbus from his recruiting class; Jae'Sean Tate, the only other member of Ohio State's 2014 recruiting class still on the Buckeyes this past season, has exhausted his eligibility.
Bates-Diop does have one advantage in making his decision that all of those players did not, though, thanks to the NCAA rule change adopted in 2016 that allows players to declare for the NBA draft without forfeiting their collegiate eligibility, provided that they do not hire an agent, and participate in workouts for NBA teams before making a final decision – an opportunity that Kam Williams took advantage of last season before ultimately deciding to return for his fifth year of eligibility.
If Bates-Diop is on the fence about whether to stay or go, he could opt to declare for the draft but hold off on hiring an agent, which would give him until the June 11 withdrawal deadline to make his final decision – and give him the opportunity to gauge his stock with NBA teams before his final decision.
Ohio State shouldn't count on Bates-Diop coming back next year, and no one should blame him if he decides to leave, given that he is already an Ohio State graduate and might not have much to gain from a draft stock standpoint. But he'll presumably take time to consider all the above factors, and discuss them with the people he trusts, before announcing his decision one way or the other.