Much like everyone expected, Ohio State made easy work of Rutgers on Tuesday night, rolling over the Scarlet Knights, 79-52, in a game the Buckeyes in which the trailed for less than three minutes of game action. 
The game, however, wasn't the story. 
The Buckeyes' victory over the Scarlet Knights served as an almost perfect farewell to four Ohio State veterans, all of who have made a permanent impact on the basketball program in Columbus.
For the first time in his collegiate career, Andrew Dakich came out with the starting lineup, and scored in the opening minutes, finishing with two points, two assists and two rebounds in his final home game as a Buckeye. A graduate transfer, Dakich played just one season in the Scarlet and Gray after four years of wearing maize and blue. Dakich, who experienced Senior Day as a Wolverine last year, said the experience of going through the festivities again was a unique experience, and one he will remember forever.
"I appreciate Coach Holtmann giving me the opportunity to start in front of my family like that," Dakich said. "What was so great about this game is it was a one-day prep. We were able to get back out on the court and get that bitter taste out of our mouth. This time, I am actually playing. I was hoping I was going to get an opportunity to play my fifth year and try to contribute. Last year (at Michigan), I just voiced my opinion. This year, the Nuthouse goes crazy for me every time I check in. That stuff, I will remember and cherish, probably for the rest of my life."
Dakich was joined in the starting lineup by Kam Williams, who had come off the bench in his last two games coming off of a suspension. The longest-tenured Buckeye on the roster poured in 13 points in his final home game, and gave a kiss to the Ohio State logo at mid-court before exiting the Schottenstein Center floor for the final time.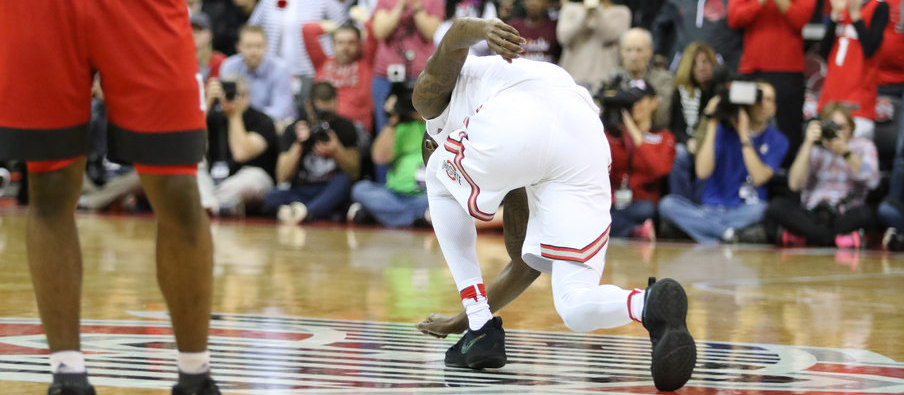 His performance is one that Ohio State will need going forward, and was a product of playing at home, Holtmann said. 
"Playing at home probably helps with the comfort level. He had some really good looks against Michigan that he is normally going to make," Holtmann said. "The deal with Kam as always, he has to continue to help us on both ends, so that we can keep him on the floor, because he is a real weapon when we can do that."
Ohio State's biggest weapon this season has consistently been Keita Bates-Diop, who was also honored on Senior Day as a recent graduate of the university. The Normal, Ill. native, who has one more year of eligibility left at Ohio State, received chants of "one more year" prior to giving his postgame speech. Bates-Diop said postgame he had not yet made a decision on what his plans are beyond the 2017-18 season.
In what very well could have been his final game at the Schottenstein Center, Bates-Diop scored a season-low six points on 3-of-11 shooting. Despite his off night, Bates-Diop said the night was nearly perfect, citing the moments the Buckeyes shared on the court following the game. 
"It was almost the perfect way to do it. Leading up with only a couple days of prep, having a great game like that, and then giving our seniors that sort of walk off," Bates-Diop said. "That moment, we'll remember that forever. Those talks at the end, that was real. That was a lot of emotion."
The final senior to speak after the game was Jae'Sean Tate, Ohio State's emotional leader for the better part of four years, and a Columbus native. Like Dakich, Williams and Bates-Diop before him, Tate gave a speech to the remaining Buckeye fans in attendance before beginning to tear up near the end. In that moment, Ohio State's entire roster ran up to embrace the Buckeye captain before Tate finished his speech by thanking the fans. 
In his final home game as a Buckeye, Tate scored nine points and hauled in 10 rebounds in 34 minutes of action. He was the last senior Holtmann removed from the game, as he, much like the veterans before him, earned a standing ovation. 
Tate's speech capping off Senior Day was the perfect way to end the night, Bates-Diop said, adding that Tate poured out the emotions everyone else on the Ohio State roster was feeling. 
"We were so glad JT went last. We were all almost there, and then he finally let out all the emotion that we were trying to hold back," Bates-Diop said. "Tonight was the perfect storm. We came off a couple losses, and being that it was Senior Night we obviously wanted to get the win for additional reasons against a good Rutgers team. We wanted to make sure to send everyone off."