If you don't feel like reading some major gloss of Ohio State senior (point-)forward Jae'Sean Tate, this article isn't for you.
As Chris Holtmann's first Buckeye squad continues to exceed expectations and amid all the national press deservedly tossed Keita Bates-Diop's direction as a result of his own sensational season, it's Tate who is the unquestioned leader and glue-guy of the 119th edition of Ohio State basketball. 
Tate's style of play and team-player mentality epitomizes why this squad has seemingly come out of nowhere to post a season-to-date record of 23-7 overall including a 14-3 mark in Big Ten play featuring wins over both Michigan State and Purdue. 
He's a relentless defender and rebounder despite facing constant size mismatches when he patrols the baseline, he's skilled and selfless enough to run the point for a team at times in desperate need of a floor general and he just has an uncanny knack for making shots and giving his teammates exactly what they need on a given night based on how the game is unfolding.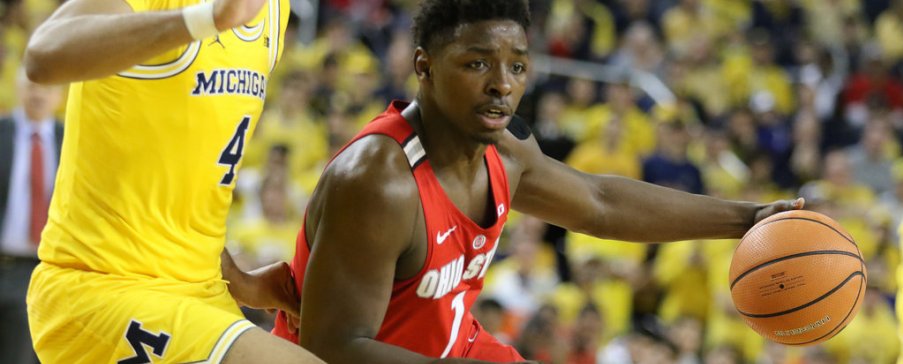 Ohio State's two games this week, a loss at Michigan on Sunday afternoon and Tuesday night's win over Rutgers, served as a microcosm of this reality. 
Against the Wolverines, as Bates-Diop and the rest of the squad combined to shoot 34% from the floor (15 of 44), Tate almost single-handedly kept the Buckeyes in it connecting on 9 of 14 shots (64%) for a game-high 20 points. 
His career-high 15 rebounds in Ann Arbor were of equal importance especially as five of those came off the offensive backboards allowing Ohio State to stay close midway through the second half thanks to a 13-2 edge in second chance points. 
It was truly a virtuoso performance from Tate which was unfortunately lost in the shuffle as the Buckeyes lost back-to-back games for the first time since November. 
Such is the life of a grinder like Tate who has never been the unquestioned "main guy" during his four years in Columbus despite leading last year's squad in points per game and averaging double figures four straight seasons. 
One thing in particular Tate has done amazingly – yet quietly – well over the course of his career is make shots. He's been particularly hot the last four games connecting on 21 of 33 field goal attempts, good for 63.6%, while largely doing so against bigger defenders who should be pretty certain by now he's going to drive to his left, lunge hard toward his right shoulder and extend his right arm to buy shooting space. 
Tate entered the season with a career field goal percentage of 55.0% and he's added two-tenths of a point to his accuracy thanks to a season-to-date mark of 55.8%. 
OSU ALL-TIME CAREER FG% LEADERS (MIN 400 ATT)

| RANK | PLAYER | HEIGHT | YEARS | FG / FGA | FG% |
| --- | --- | --- | --- | --- | --- |
| 1 | JERRY LUCAS | 6'8" | 1960-62 | 776 / 1,243 | 62.4% |
| 2 | BILL ANDREAS | 6'7" | 1973-75 | 439 / 774 | 56.7% |
| 3 | DAVE SORENSON | 6'8" | 1968-70 | 636 / 1,130 | 56.3% |
| 4 | TERENCE DIALS | 6'9" | 2002, 04-06 | 604 / 1,082 | 55.8% |
| 5 | PERRY CARTER | 6'8" | 1988-91 | 645 / 1,160 | 55.6% |
| 6 | JAE'SEAN TATE | 6'4" | 2014-18* | 596/1,080 | 55.2% |
His current career field goal percentage of 55.2% is good for sixth place in school history which is all the more impressive when you consider the five guys in front of him all stood at least 6-foot-7 while Tate checks in at 6-foot-4. 
Speaking of career stats, Tate also finds himself just 15 points shy of 20th place on the school's all-time list and will move up even higher especially if Ohio State makes a decent run in the Big Ten and NCAA tournaments. 
While his statistical contributions are many, it's his leadership that sets him apart especially for the 2017-18 squad. The team's heartbeat, Tate is chiefly responsible for the team's chemistry rebuild, which was very much on display last night as he addressed the crowd post game to cap the Senior Night festivities. 
Beyond his passionate, emotional words about Thad Matta, Holtmann, his teammates and Buckeye fans, the way his guys flooded the floor as he choked up tells you all you need to know about what Jae'Sean Tate has meant to the program and in particular what he means to this year's squad. 
Bates-Diop summed up the moment perfectly. "We were so glad JT went last. We were all almost there, and then he finally let out all the emotion that we were trying to hold back." 
It doesn't get much better than that.