Senior Day isn't the only festivity taking place Sunday afternoon in Columbus. There's an actual game, too. One that carries importance for both participants, especially for slumping Ohio State.
The Buckeyes have lost consecutive games and are just 9-8 in the Big Ten. Yet, a first-round bye in the conference tournament remains a possibility. Ohio State won't know its fate until Sunday evening.
Head coach Thad Matta spoke about the importance of establishing confidence prior to the postseason, with a game against Michigan State acting as the perfect igniter. 
| Who | Where | WHEN | TV |
| --- | --- | --- | --- |
| No. 22 Michigan State (23-7, 12-5) | The Schott | 4:30 p.m. | CBS (CBS Sports) |
"This is our 18th Big Ten game, and 16 of them have been tooth and nail and down to the last couple minutes," Matta said Friday. "With that said, you're playing a team that's obviously a great basketball team. It's a great opportunity for us to come out and close out the final game of the season."
Throughout their careers, Aaron Craft and Lenzelle Smith Jr. have been part of many indelible moments against the Spartans. William Buford's game-winner to win the conference title, the 2012 Big Ten championship game, three classics last season and this year's epic comeback in East Lansing.  
Craft and Smith sport a 4-4 record against Michigan State.
"I honestly don't think there could be a better way to play our last game here. I've loved playing against Michigan State," Craft said. "Since freshman year, we've always had great battles with them. I wouldn't want it any other way. I'm excited to see what we can do as a team going into this game."
The Buckeyes and Spartans have developed a rivalry on the hardwood and football field. While fans argue with one another, coaches and players share a mutual respect. Matta and Tom Izzo's friendship has evolved through years of intense, high-level games.
Keith Appling is one of Craft's favorite players to watch, and former Michigan State standout Draymond Green was at the Final Four in 2012 cheering on Ohio State.
"We've hung out in the summer [with Michigan State players], we went to the Big Ten media day in Chicago and got a chance to hang out with those guys, we talked and had fun," Smith said. "It's different when you see them on the opposite side of the court. It's like, 'I'm not here to be your friend, don't even talk to me.' But after the game, we text each other and we talk, and we have a lot of fun."
When Smith texts Appling, Adreian Payne or Branden Dawson next week to discuss Sunday's game, he's longing for the conversation to include regret for the Spartans. A Buckeye victory would elevate their confidence meter with the Big Ten Tournament looming. 
"We can get a lot of momentum with a win on Sunday to carry us over into the Big Ten Tournament," Smith said. "We can get that going, and if we get hot at the right time, that's the name of the game. You want to play your best basketball toward this time of the season. I think we can accomplish that."
Opponent Breakdown

It's been one of those years in the Big Ten where no team is immune to a down week or two. Michigan State, at one time a national title front-runner, was recently mired in one of those droughts. But, my did the Spartans ever break out of that slump.
Wednesday was Senior Night at the Breslin Center, and it acted as an appropriate send off when the three-pointer came – and kept coming. Michigan State beat up on a good Iowa team, winning 86-76 and connecting on 10 threes.
For the first time in months, the Spartans are fully healthy and resembling the team many saw at the beginning of the season. Shocking that Tom Izzo would have his group of veterans peaking with the NCAA Tournament rapidly approaching.
"I'd like to thank all the fans for sticking with us," senior guard Keith Appling said. "It has been a long season. But I hope to see you all at the Final Four in Dallas."
Appling's struggles have been a microcosm of his team's issues. He made his first 3 this week since the month of January. A wrist injury was the biggest culprit in Appling's shooting woes. There was some fear that his stroke might not rebound, but he was 4-of-7 shooting from the field and 2-of-3 from outside the arc. His 12 points marked the first journey to double digits since early February.
"It felt pretty good to see the ball go through the net," Appling said. "It's been a while since I've made one."
Said Izzo: "I think he's had the weight of the world on his shoulders. It doesn't come off because of one night. But it was a big, big, big, big step. Big step."
Michigan State shot nearly 60 percent from the field and three-point range against the Hawkeyes. Defense is the name of the game for Ohio State, though the Buckeyes did have one of their first outings of the season in the only previous meeting against the Spartans.
Even on that night in early January, Michigan State was not 100 percent. In fact, it was the beginning of months-long health crisis. Adreian Payne suffered an injured foot in warmups and came off the bench. He still scored 18 points and created problems for Ohio State down low.
During the month of February, long faces became a common sight on the Spartan sideline. No one was more flummoxed than Izzo. Sophomore guard Denzel Valentine saw an entirely different image Thursday.
"Throughout these weeks and months, with all the injuries we've had, it felt good to play with everybody," he said. "Everybody was happy before the game. We weren't stressed about who's going to do this and who's going to do that."
The Big Ten Tournament has never been one of Izzo's favorite events. However, this season, it could serve as a momentum booster for Michigan State. Still, the focus becomes Dallas. Izzo's sent every four-year class to at least one Final Four during his 19 years as head coach, and this year's class is yet to achieve that mission.
Said Payne: "We've got to get on the road now and get to the Final Four. There have been a lot of excuses. Now, it's time to man-up and do what we need to do."
Buckeye Breakdown

Few players in the history of Ohio State athletics have ever been more beloved than Aaron Craft. On Sunday afternoon, the senior point guard will walk off the court at Value City Arena one final time. His entrance and exit should generate perhaps the largest ovation of the entire season.
Craft arrived at Ohio State as a relatively unheralded recruit despite his success in high school and on the AAU circuit. But with Jared Sullinger and Deshaun Thomas as the centerpieces to one of the nation's top recruiting classes, all is forgiven related to Craft's anonymity.
Three years later, he's anything but anonymous. Craft isn't the best basketball player in the country. He might not even be the best player on his own team. But there's no debating his national appeal and status among Buckeye Nation. Craft is one of the most recognizable players in all of college basketball and adored by home fans.
For years, head coach Thad Matta campaigned to have a statue of David Lighty constructed outside the Schottenstein Center. He lauded Lighty for the selflessness and intangibles he brought to Ohio State. When asked about the possibility of a Craft statue, Matta said, "Put it right next to David's."
Craft said he'd first ask, "Why'd they waste so much money? There are a lot better things to do with it."
A statue of Craft isn't likely, but it doesn't diminish his giant status. Craft is tied for the Big Ten record for career steals, owns the school record for career assists and became the first Buckeyes to be named a three-time first-team Academic All-American. He's been a throwback to the generations when being a student-athlete also included the student part.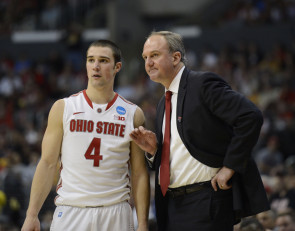 There have been mission trips, hospital visits, book readings at elementary schools, countless photos with awestruck girls and plenty of A's. Craft isn't comfortable talking about his own legacy and doesn't know how he'll be remembered, but he hopes when fans mention him in the future, it's in addition to his teammates. 
"It's about this university and things we've been able to do as a team, whether it's putting a year up on the banners in the gym and things like that," Craft said. "That's what's going to be remembered, and that's what should be remembered." 
Craft and Lenzelle Smith Jr., the two remaining pieces of what was a six-man recruiting class, have been a part of two Big Ten championships, the Final Four and last year's Elite Eight run. The wins number well over 100.
"Both guys, you look at how many games they've won here, championships they've been a part of, it's really an amazing four years," Matta said. "They've had a major impact on this program in terms of making it better, and that's what we ask guys to do."
Said Smith: "I've been proud to put the jersey on that says 'Ohio State,' and that's what it's all about. I just want to leave this place knowing that I gave my all for the school. I did everything I could for Buckeye Nation."
He and Craft's senior season has been filled with trials and tribulations. Many did not foresee such struggles when the Buckeyes were 15-0 and ranked third in the country. But Ohio State's under .500 since that fast start.
The duo's play has been criticized during the uneven stretch in January, February and March. Adversity isn't foreign to either players or Ohio State. Three successful seasons all included rough patches, so for Craft and Smith, there's reason to see clear, sunny skies.
"I think the stage is set," Smith said.
And for each of them, the curtain will be drawn one final time.
Etc

If Ohio State wins and Nebraska loses to Wisconsin, the Buckeyes will be the 4 seed in the Big Ten Tournament.
If Ohio State and Nebraska both win, the Cornhuskers will be the 4 seed and the Buckeyes will be the 5.
If Ohio State loses, it will be the 6 seed.
Thad Matta is 10-10 against Michigan State, 4-3 in Columbus.
Matta is 8-1 on Senior Day at Ohio State. The unranked Buckeyes defeated No. 17 Michigan State 63-54 in 2008. 
Aaron Craft is averaging 12 points per game against the Spartans in eight career games.