Ohio State has already begun to take advantage of the wealth of in-state talent in the 2021 recruiting cycle, landing commitments from Convoy Crestview's Kalen Etzler and ISA Academy's Meechie Johnson.
With Ohio teeming with prospects in the 2022 cycle, as well, Chris Holtmann and his coaching staff have begun to make forays into the class of rising sophomores. Only one Ohioan in the 2022 class – five-star Chris Livingston, a top-10 overall prospect from Buchtel – currently holds an offer from the Buckeyes.
Eventually, Cincinnati Princeton's Bowen Hardman could join Livingston as an Ohio State offer recipient.
Hardman, a 6-foot-4, 168-pound shooting guard, is Ohio's second-ranked shooting guard in the class of 2022, only ranking behind Livingston, per Triple Double Prospects. He earned his first two offers this summer from Ohio University and Xavier. In recent months, Hardman has visited both schools that have extended offers, along with Cincinnati, Purdue and Ohio State.
His first unofficial visit to Columbus came in early August, and he plans to make the drive with his family for another visit to Ohio State this weekend. Coincidentally, the Cincinnati native will watch the Buckeyes take on the Bearcats at Ohio Stadium just a week after taking a visit to Cincinnati to see Luke Fickell's team face UCLA.
"At UC, there's a lot of people," Hardman told Eleven Warriors on Thursday. "It's packed. There are like 38,000. They're like, 'At Ohio State, it fits up to almost like 100,000.' I was shocked."
Though Hardman said he "can't wait" to watch the football game, which he predicts will be a blowout victory for the Buckeyes, he's more so looking forward to continuing to build a bond with Ohio State's coaching staff.
Assistant coach Jake Diebler has taken the lead in his recruitment, and Hardman has also talked to Holtmann and assistant coach Ryan Pedon. The Buckeyes' contact with him picked up after the second Nike EYBL session in Indianapolis, Hardman said. Though college coaches aren't allowed to initiate contact with recruits in the 2022 class, prospects can call coaches, so Hardman calls Diebler once every week.
"Our relationship's definitely really good. It's great," Hardman said. "One in a while, we'll call. The first time they called, I was on the phone with coach Diebler for an hour. He just asked me questions and it was just like until we went to that unofficial, it's like that. But once you actually get to see them in person, it's even crazier."
2022 PG Bowen Hardman is A Bucket!!! Check out his mannerism, he reminds me of a young Kyle Guy @kylejguy5 @ALLOHIORED2021 @BowenHardman @CREI_Adam @BSnow247 #inthegymhoops #crossroads pic.twitter.com/Jssy6BOaC7

— In The Gym Hoops (@inthegymhoops_) June 5, 2019
Hardman said Diebler and the coaches treat him "like family." 
To Hardman, it's still a bit of a surreal feeling to get recruited by major programs. He grew up playing wide receiver in football before giving that up to avoid injury. A growth spurt that sent him from 5 feet 6 to 6 feet in seventh grade spurred his decision to transition fully to basketball. 
The following year, he began to make his name known in the basketball circles, competing at high-profile events as an eighth grader, including the CP3 National Middle School Combine and John Lucas International Middle School Combine. Hardman's shooting, especially, got him noticed.
"I think definitely what I do best is penetrating and getting stronger at the basket for a guy my size," Hardman said. "But also, I think, one of the biggest things is definitely my shot. Shooting's a big thing now in college, and I feel like I can do that exceptionally well. Also not just that but creating space for shots and creating space for other teammates and moving around. I think that's a big part of my game, as well, is being long for my size and being able to guard well on help side and stuff like that. I think that's a big plus."
That skillset has already translated to a pair of Division-I offers, and it will lead to more.
During his August unofficial visit, Hardman said, Ohio State's coaching staff didn't give him a list of areas to improve in order to earn an offer from the Buckeyes. Instead, the coaches have focused on building a relationship with Hardman and his family.
"They said they trust my game, and I kind of loved it that they said that," Hardman said. "It's like, 'We want to have a relationship out of basketball with you.' They want to know what character I was, how I treat my family, what I do in my spare time. Every college coach is going to be about your skillset, can you play, can we trust you in the final minutes. And I think that's a big part, just getting to know that player like, 'Can this guy be in the game in the last 5 seconds and hit a shot.' I think that's a big thing. 
"I love the way coach Holtmann put things in perspective and was like, 'We love you, you're a great kid. You have a great family and great people behind you. But we want to still kind of get to know you a little bit more and not just basketball-wise.'"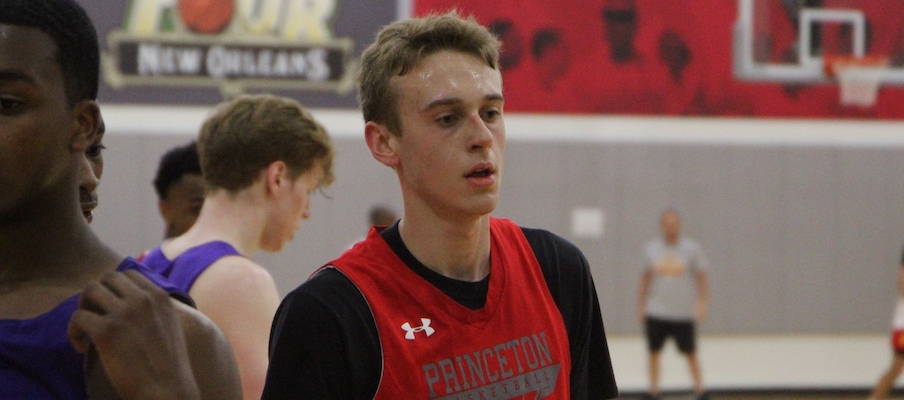 He'll have a chance to continue to build that relationship with the coaches on his visit this weekend, which will begin with him watching the team go through workouts on Saturday morning.
Interestingly, Hardman already knows Etzler well, giving him a ready made connection to Ohio State.
"I've known him for probably around like two years," Hardman said. "Not real close until this year. I started playing up a little bit at the end of the season and kind of got more closer with him. He's just really cool. He's a great kid. We connected really well. We would always talk about Ohio State and he always checks up on me. He's like a big brother to me. It's kind of cool to have that relationship."
At just 15 years old with three years left of high school, Hardman has oodles of time before he has to even consider making a college decision. Between now and when he enrolls in college, his doctor thinks he will grow from 6-foot-4 to between 6-foot-6 and 6-foot-8.
In the meantime, Ohio State has begun to build a relationship that it hopes pays off in the coming years.
"Definitely a big thing why they're saying that definitely to pull me in for is being the Ohio kid and being something special," Hardman said. "I think that's a big part of it is having kind of a family and home feel for it. I think that's a big thing that they do well. It wasn't just about basketball. It was more about the education. You have a place you can come back to for the rest of your life. I think that kind of clicked big time. Definitely an Ohio school, it felt like home. It was really cool to be able to have that experience and connection with those coaches."
Zed Key To Visit This Weekend
A week after hosting four-star shooting guard Moses Moody and four-star power forward Lance Ware on official visits, Ohio State will welcome another 2020 prospect to campus this weekend.
Three-star power forward Zed Key will take an official visit to Ohio State this weekend, a source confirmed to Eleven Warriors. Adam Jardy of the Columbus Dispatch first reported the visit.
Key, the No. 163 overall prospect in 2020, is a 6-foot-8, 230-pound big man who plays for plays for Long Island Lutheran High School in Glen Head, New York. In particular, Key has drawn attention as a post scorer and high-level rebounder.
"He's always been a terrific scorer," NY Jayhawks executive director and Long Island Lutheran assistant coach Jay David told Eleven Warriors in June. "I think Zed is probably one of the best scoring power forwards in the entire country. There are very few people who have his patience and his footwork, high school 3-point line and in. He can still shoot that ball and kill you on the block a little bit. I think, it's just people now understanding and seeing that."
Florida and Providence are among the top options for Key, who also holds offers from Boston College, Cincinnati, Georgia, Illinois, Notre Dame, Penn State, Pittsburgh, Seton Hall, Rutgers, St. John's and Wisconsin.
Key blew up as a recruit with an impressive performance at the NBPA Top 100 Camp, during which he averaged 13.5 points, 6.5 rebounds and 2.3 blocks. He added more than one offer per day during the week following the game. Ohio State extended him an offer on June 19 after its coaches, including Chris Holtmann, watched him play at the Top 100 Camp.
Zach Loveday Sets Visit Up To Ohio State
Years ago, Thad Matta's coaching staff began recruiting four-star center Zach Loveday. In two weeks, Chris Holtmann's staff will host the prospect on a visit in what could be his last trip to Columbus before making his college decision.
Loveday will take an official visit to Ohio State on Sept. 21-22, a source confirmed to Eleven Warriors. The upcoming visit was first reported by Jody Demling of 247Sports.
At 7-foot, 200 pounds, Loveday is the No. 121 overall prospect and the 16th-ranked center in 2020. He attends Huntington Prep in West Virginia after transferring from Gallia Academy in Gallipolis. 
During his recruitment, Loveday has not publicly cut his list of schools. However, he appears to be nearing a decision between three schools: Ohio State, Baylor and Louisville. He went on an official visit to Louisville last weekend and will take an official visit to Baylor this weekend before going on an official visit to Ohio State in two weeks.
"That's the three schools that have connected with me the most and tried to show me the most love," Loveday told 247Sports.
In the past few years, Loveday has earned offers from Purdue, Indiana, Stanford, Florida, Michigan, Iowa, Xavier and North Carolina State.
Puff Johnson Locks In Official Visit
A few weeks ago, four-star small forward Puff Johnson took an unofficial visit to Ohio State, and already has plans to return to Columbus.
Johnson will take an official visit to Ohio State on Oct. 5-6, a source confirmed to Eleven Warriors. The visit was first reported by Evan Daniels of 247Sports. 
At 6-foot-7, 185 pounds, Johnson is the No. 46 overall prospect and the 13th-ranked small forward in 2020. He included the Buckeyes in his top seven, along with Pittsburgh, Arizona, North Carolina, Miami, Notre Dame and Louisville.
Given Johnson's familial ties with other programs, Ohio State has widely been viewed as the underdog in his recruitment. Given how many times he has visited, including this upcoming official visit, the Buckeyes continue to position themselves as best as they can to possibly gain his commitment in an upset.
Still, though, Arizona and North Carolina are the two frontrunners for Johnson. His brother, Cameron, played the Tar Heels for Roy Williams. Cameron got drafted by the Phoenix Suns. Johnson transferred to play his senior season of basketball at Hillcrest Prep in Phoenix. His father, Gil, was a college teammate with Wildcats head coach Sean Miller.