As 2017 comes to a close, it's important to reflect upon the numerous moments in Ohio State athletics that we've been fortunate enough to witness up close.
Eleven Warriors was on the baseline when the men's volleyball team captured its second-consecutive national championship and behind the end zone when redshirt senior quarterback J.T. Barrett led the Buckeyes back from an 18-point, fourth-quarter deficit to beat Penn State.
We also watched through our camera as Kelsey Mitchell became the all-time leading scorer in Ohio State women's basketball history, and did our best to avoid being run over by C.J. Jackson as he chased down a loose ball during last season's win at Michigan.
No matter the circumstance or opponent, our sole mission was to bring you closer to the action with our photography. So without further ado, here are Eleven Warriors' Top 11 photos from 2017:
11. PASSED DOWN FROM GENERATION TO GENERATION
Ohio State head coach Urban Meyer usually greets his players with high-fives and hugs as they enter Ohio Stadium on game days. But prior to September's win over UNLV, Meyer posed for a photo with his grandson, Troy. "I already said I think I know my Christmas present. It's going to be a nice canvas of me and my grandson in the Horseshoe. That was awesome."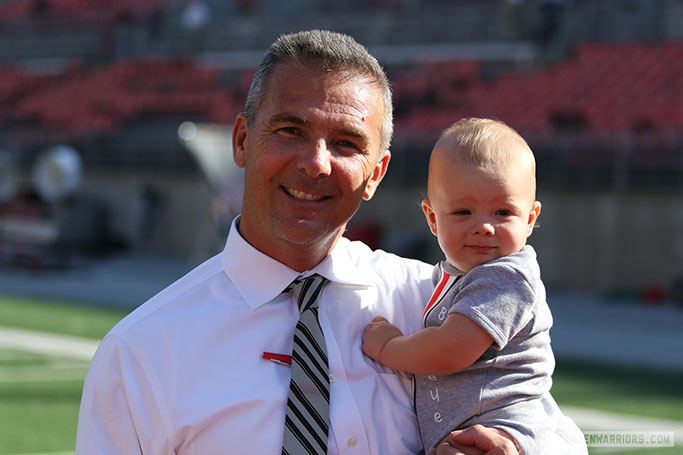 10. FEELING THE PRESSURE
The Ohio State basketball team was in the midst of yet another subpar season that already included an embarrassing 23-point loss at Wisconsin in early January when Michigan State came to Columbus. The Buckeyes responded with a 72-67 win over the nationally ranked Spartans, a game in which head Thad Matta was repeatedly overcome with emotion. "We needed it," he said.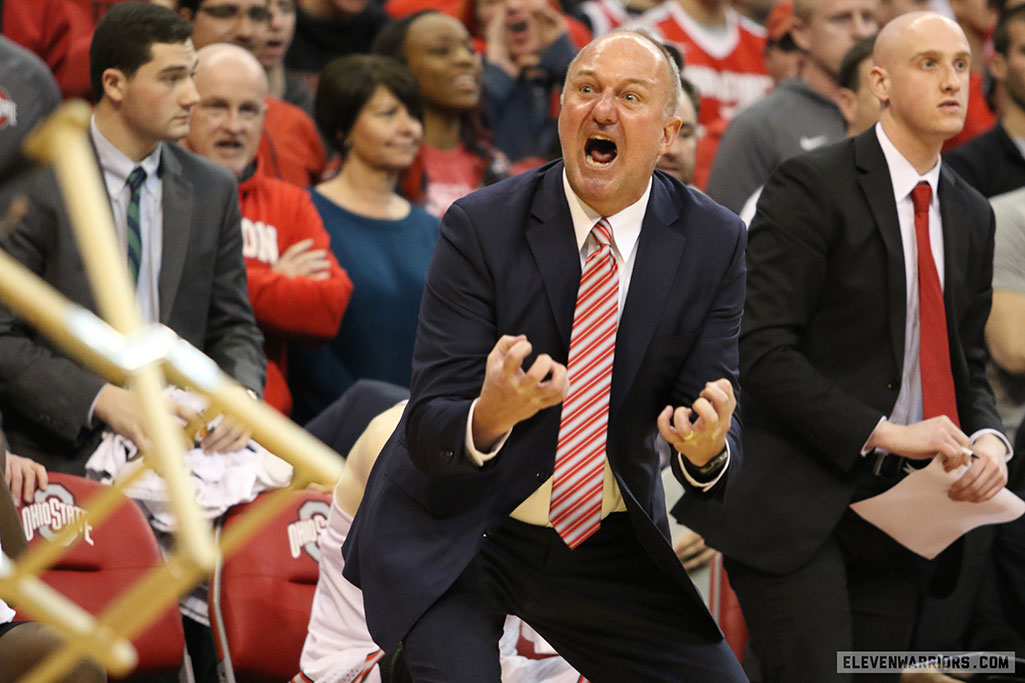 9. JTB4-0
Even though he was sidelined in the third quarter with a knee injury, Barrett became the first quarterback in the history of the storied Ohio State-Michigan series to go 4-0 in The Game. His 21-yard score, which was punctuated with a fist pump, got the Buckeyes on the board after a slow start.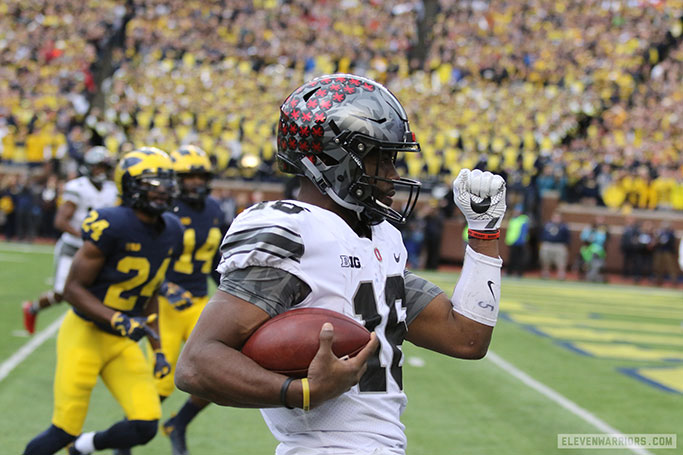 8. FROZEN IN TIME
It was a beautiful 60 degrees and sunny at kickoff of Ohio State's final home game of the season, but the skies opened in the second half. We got drenched, but a torrential downpour made for some great photos with the rain essentially stuck mid-air round players like freshman cornerback Jeffrey Okudah.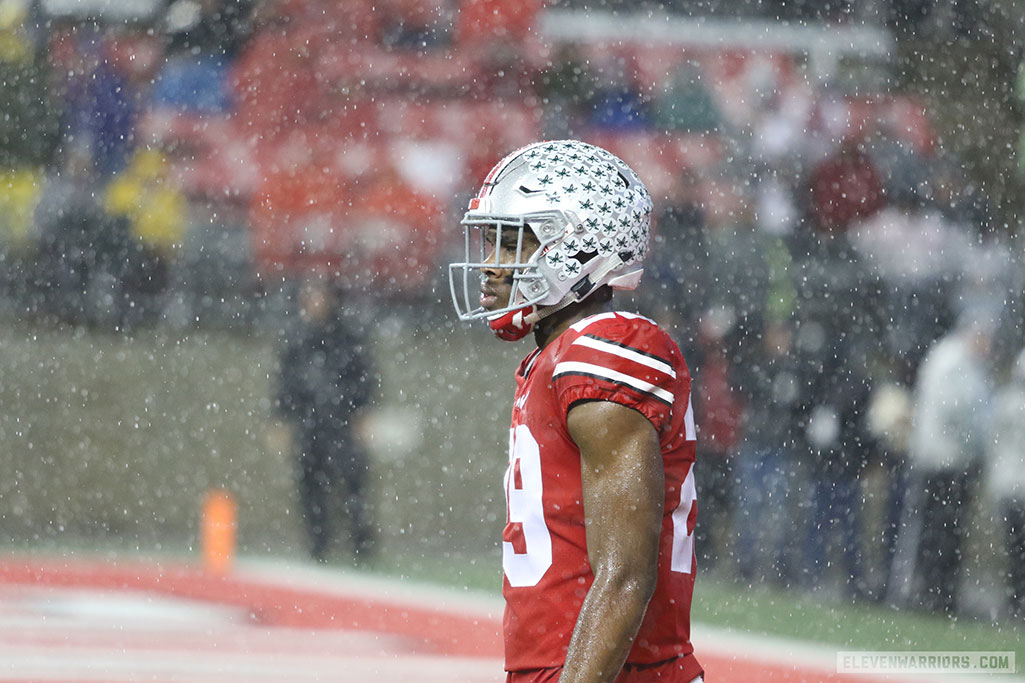 7. THERE'S MORE TO LIFE
Though they'd rather forget the game itself, Ohio State quarterback J.T. Barrett and his teammates joined Iowa in college football's newest — and arguably best — tradition: Waving to kids on the top floor of the nearby children's hospital after the first quarter. "We're honored to be able to take part in that," Meyer said.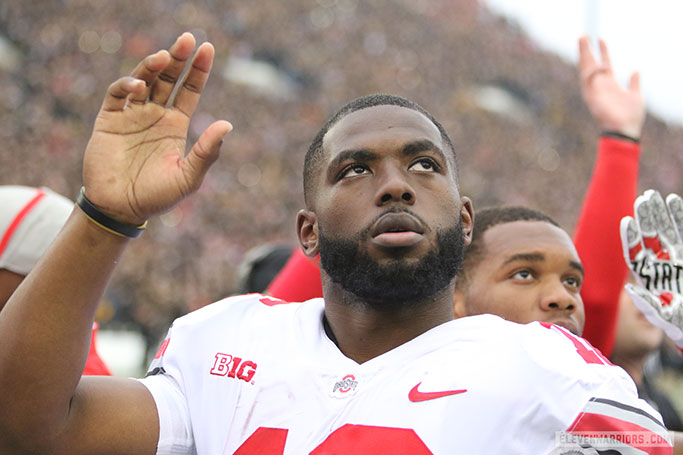 6. THE WOLF PACK
Ohio State donned all-gray uniforms as a nod to the "Land of the Wolves" for this season's highly anticipated game against Penn State. The uniforms combined with the haziness of a gray sky and the gray concrete background makes the players look even more focused on getting revenge for last season's loss in Happy Valley than they already were.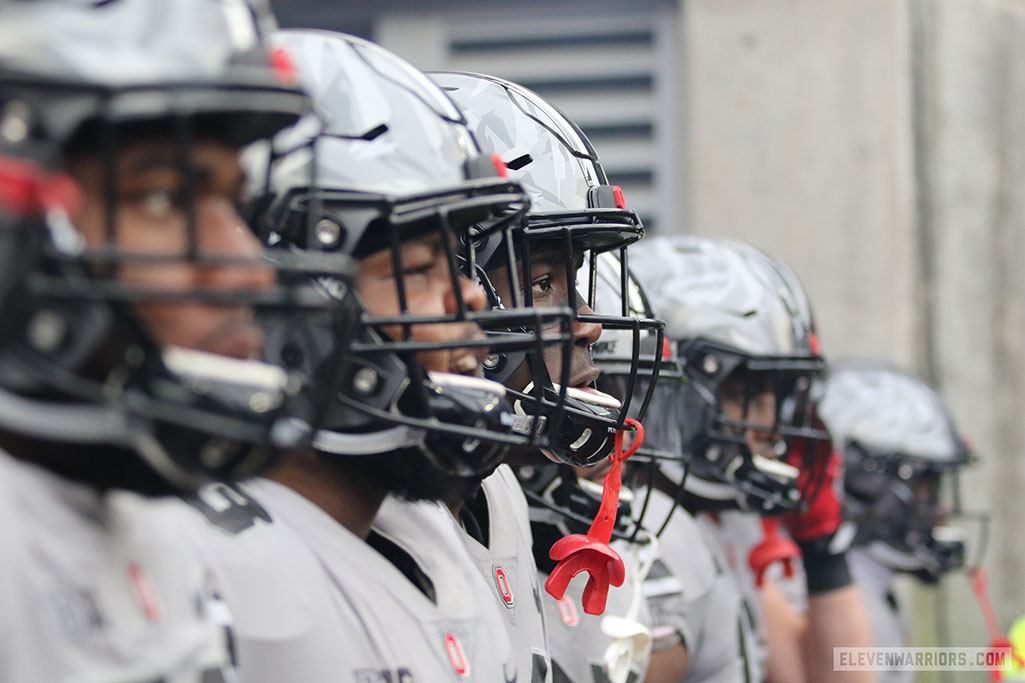 5. WHO ME?
Though he rushed for a game-high 174 yards in Ohio State's 27-21 win over Wisconsin in the Big Ten Championship, running back J.K. Dobbins was genuinely shocked to find out he was named the game's Most Valuable Player. "I'll never forget that moment. Ever," he said. "It's probably one of the best moments of my life."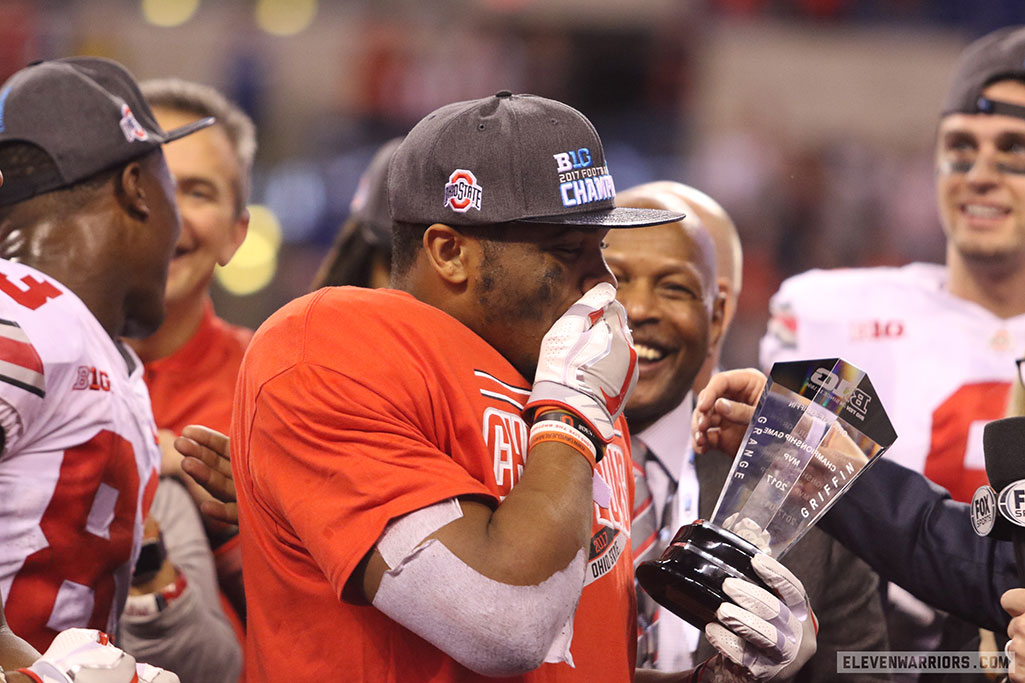 4. HERE COMES THE BOOM
With Ohio State already leading 28-0 in the second quarter, Nebraska attempted to throw a screen pass to the running back. Linebacker Jerome Baker ran right through the wide receiver trying to block him, and hit the running back so hard his mouthpiece went flying.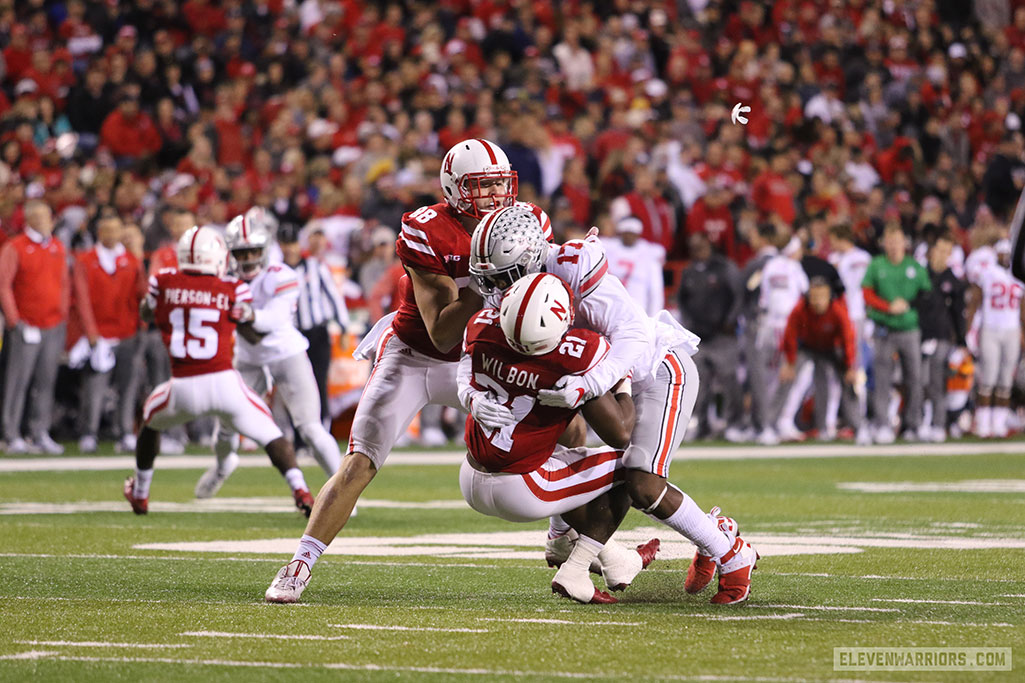 3. HUNTERS WATCHING FROM THE SHADOWS
As Rutgers entered the field to smoke and pyrotechnics, Meyer and his Buckeyes watched down a dark lit tunnel like a pack of hunters watching their prey from the shadows and waiting to strike. The Scarlet Knights didn't see what was coming, either, and fell 56-0.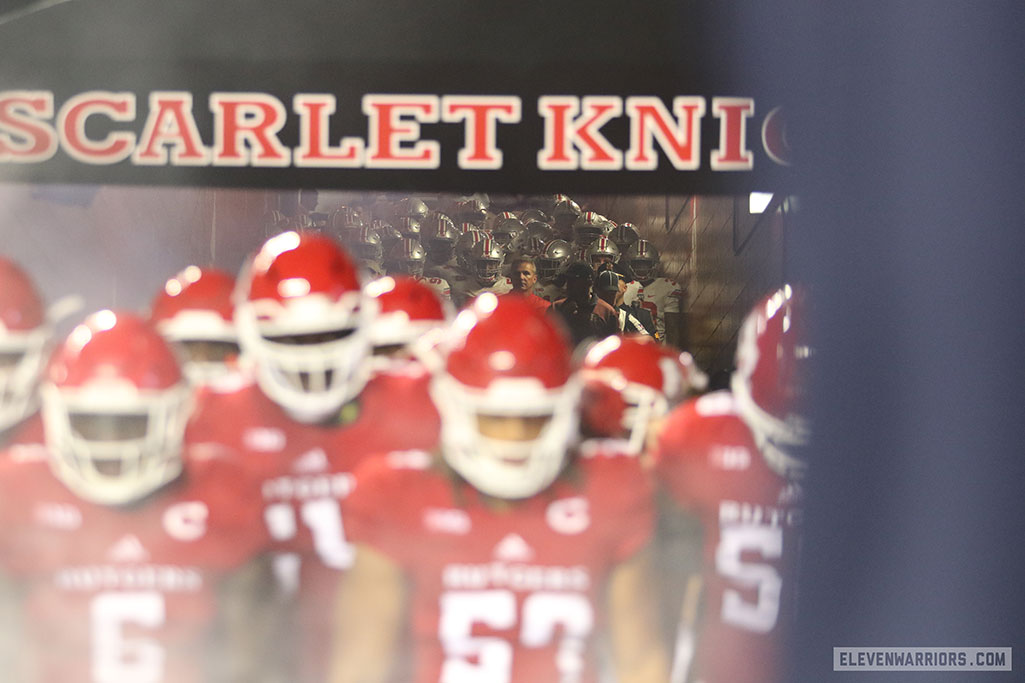 2. GLORY LASTS FOREVER
Though Ohio State missed out on the College Football Playoff, Meyer didn't want to overlook the accomplishment of winning the conference title for only the second time during his tenure. "There will be a wall for this team," he said. "This is a special group [that won a] Big Ten Championship. That will never change."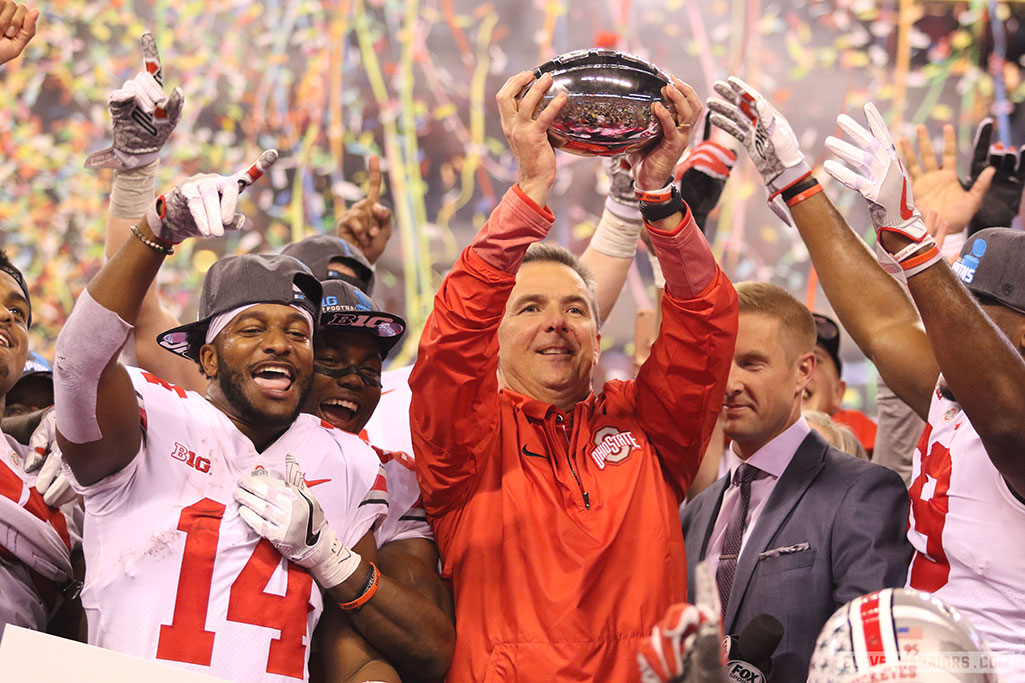 1. CARMEN OHIO FROM ATOP THE WORLD
When Barrett completed a go-ahead 16-yard touchdown pass to tight end Marcus Baugh to give Ohio State a 39-38 win over Penn State, there was a big sigh of relief in Ohio Stadium. Fans rushed the field, chanted Barrett's name and lifted players on their shoulders while singing the school's alma mater, Carmen Ohio.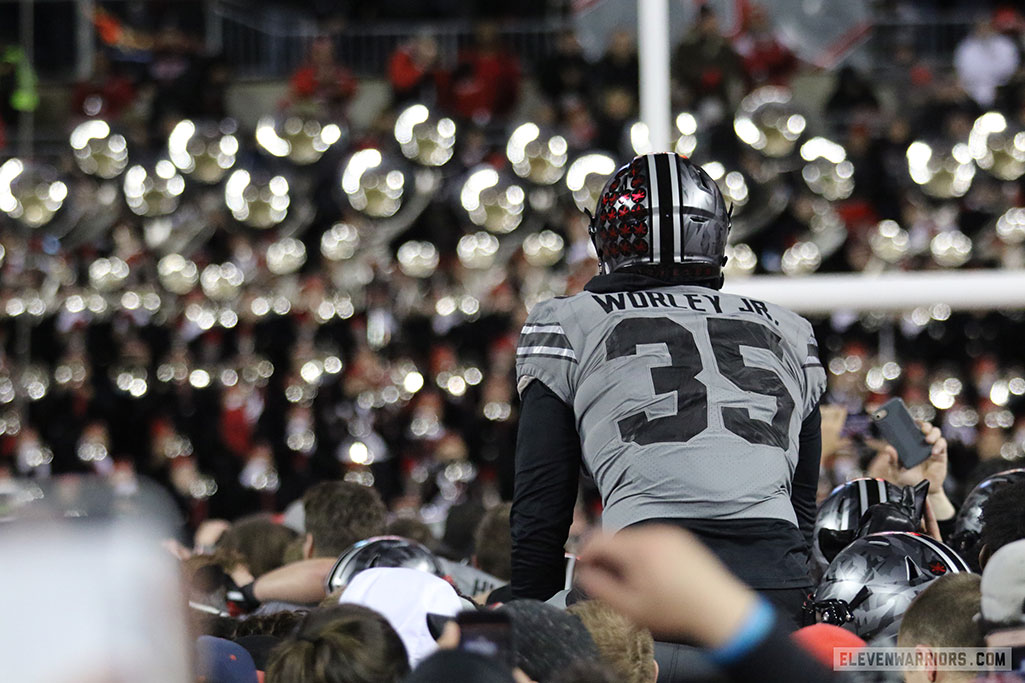 Do you agree with our list or have any favorites that didn't make the cut? Make sure to share in the comments below.