Welcome to Saturday Spotlight! Here, we dive deep into the lives of Ohio State student-athletes and learn more about their journeys to Columbus, their love of the Buckeye traditions and who they are as competitors and students.
Growing up in the Columbus area, Ohio State women's lacrosse midfielder Liza Hernandez was immersed into the Buckeye tradition from a very young age. A four-year starter and two-time All-American for New Albany High School, Hernandez helped carry the Eagles to a 2013 State Championship, and scored 253 goals in her high school career —including 83 as a senior.
Now a true freshman on the Scarlet and Gray roster, Hernandez leads the Buckeyes with 26 points (17 goals, nine assists) through six games this season including two goals and two assists in an 17-5 victory over Duquesne Friday afternoon.
We sat down with Hernandez this week to discuss her first year on campus, being a business major and her love of Condado's tacos.
When did you realize you might have a chance to play lacrosse at the collegiate level?
Liza Hernandez: I grew up around lacrosse. I have two older sisters that played at the collegiate and club level. It wasn't until the summer going into my sophomore year in high school where I really thought there was a chance to play at the next level.
What drew you to come to Ohio State outside of lacrosse?
LH: Growing up in Columbus and being raised as an Ohio State fan, I have always been surrounded by everything Ohio State. The culture, traditions and academics that Ohio State has, it was an easy decision to make once I realized I had the opportunity to play here.
What is the best part about being an athlete?
LH: The relationships you build with your team and being able to play the sport you love. You spend countless hours with your team and they become a second family to you.
What's been your best lacrosse moment in your career?
LH: Winning the state championship my freshman year of high school. My team was down five goals at halftime and came back to win it in the final minute.
Do you or the team have any special superstitions?
LH: My team sings the Buckeye fight song during warmups to pump us up for the game.
What are you studying? What are your plans after you receive your degree?
LH: I've decided to go into business. After I graduate, I would like to do something with my degree that is sports related, if I can.
What's been your favorite class at Ohio State and why?
LH: Being that I am a freshman, I haven't taken many classes yet. So far, my favorite class has to be my sport history class, because it's interesting to see how sports have evolved throughout the years into what they are today.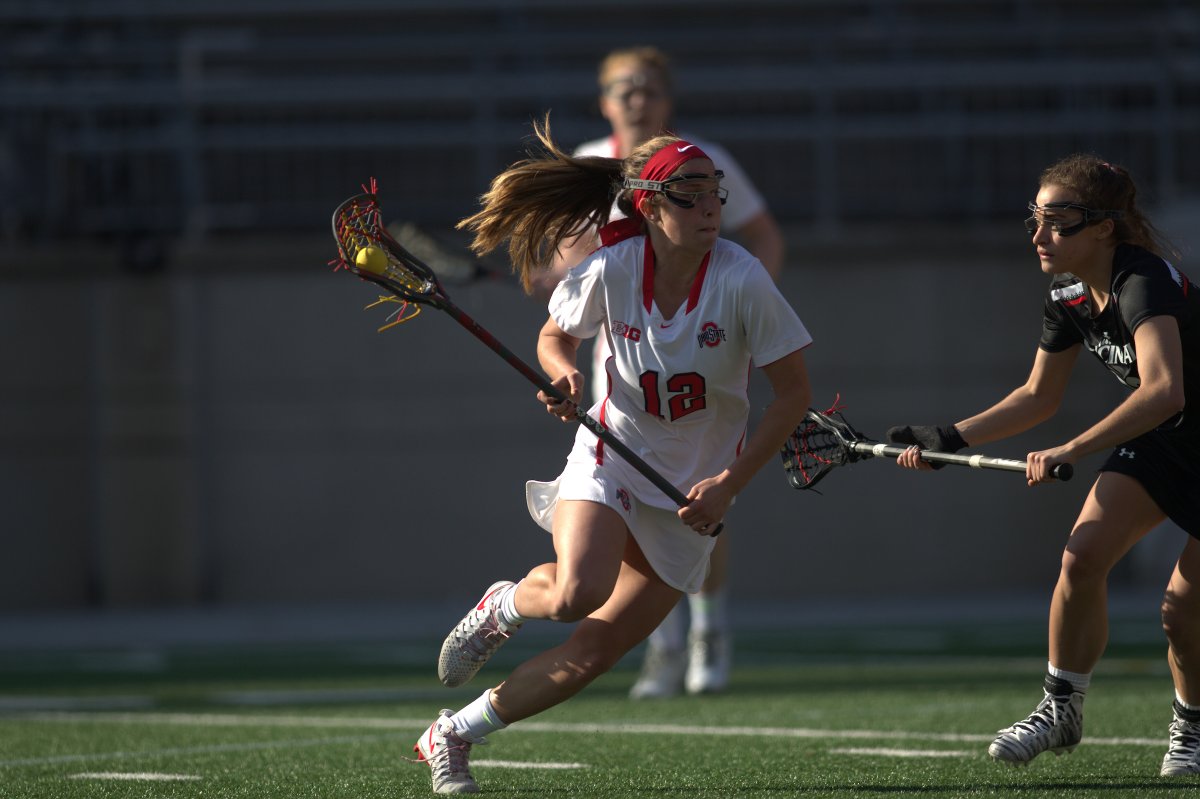 What's your favorite part about/spot on campus?
LH: All the amazing facilities Ohio State has to offer. Not only are the athletic facilities incredible but, places like Thompson Library and The Union.
What's your favorite Ohio State or Buckeye tradition?
LH: All of it. The atmosphere that surrounds Ohio State, is unlike anything I've experienced. More specifically, football season and game day.
What's been your favorite aspect of Columbus?
LH: Being from Columbus, it is hard to choose. I think one thing about Columbus that is so great, is how it is a community and/or almost a lifestyle, when it comes to Ohio State and the sports. It is cool to see how an event can bring so many people together.
What's your favorite meal/restaurant in Columbus?
LH: My favorite restaurant is Condado. I love how you can build your own tacos and the guac is amazing.
What's something that not a lot of people know about you?
LH: In my free time, I like to bake. It's just about all I do around the holidays.
What is something you would tell an incoming student about Ohio State that you'd like them to know?
LH: To explore everything that Ohio State has to offer. This place has so many opportunities that will help you to become successful.