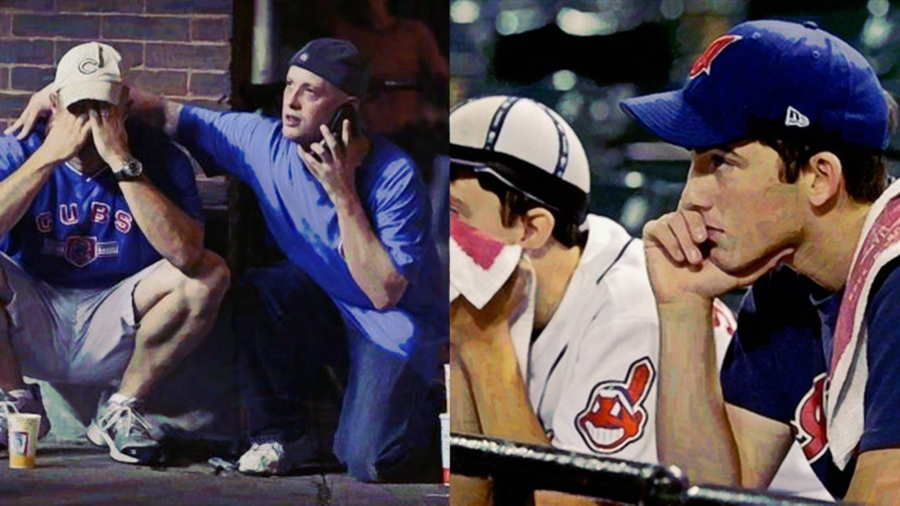 Do you know what it's like to actively root for two baseball teams celebrated for being historically shitty?
I know what it's like because I'm from Columbus, OH and at an early age decided to plant my allegiance with Cleveland's professional sports teams. That night six years ago when LeBron James took his talents somewhere else I wrote a column about a city's identity, pulling for a perpetual underdog and growing up in the 1980s rooting for - not the Cavs - but the perpetually shitty Cleveland Indians.
Anyone can root for a winner. It takes character to invest your emotions in something so lousy. 
After graduating from college in the early 1990s I moved to Chicago and found they had their own version of the Cleveland Indians. Unlike my youth where I had to drive two hours north, fill up at a Shell station (and get two free tickets with an 8-gallon purchase) I could literally walk to Wrigley Field from my apartment. Bleacher tickets were $6. They played games in daylight. And they always sucked, like worse than Cleveland.
Everyone loved them, because they were engineered to suck. The 1st baseman, Mark Grace, used to shower after day games and wander into the bars around the stadium to drink with the people who had just skipped work to watch him lose. The right fielder, the pre-pharmaceutical Sammy Sosa, used to dilligently remind everyone sitting in right field behind him how many outs there were (why?) so you would know when it was okay to get another beer or go pee.
Oh, this is fine I thought at the time. They're National League and the Indians are American League. This is harmless. It's not like either team will ever make the playoffs or the World Series.
That fall the Indians made the World Series. They made it back two years later. No one reading this needs to be reminded of what happened. I reminded myself as a coping mechanism that baseball is an antiquated radio sport whose utility is split between outdoor drinking and socializing. Baseball is a bad movie that you can talk during all while getting drunk and vitamin D. No one should care about baseball. 
Six seasons later, still in Chicago, tickets had gotten a little more expensive. I watched a lot of those games that summer on TV with my windows open which served as a spoiler due to the broadcast delay; you could hear the cheering from Wrigley while the pitcher was still in his windup so you knew before the ball left his hand that you were about to see a hit. It was entertaining, and the Cubs were also somehow good.
The Indians lost 94 games that season, in 2003. The Cubs made it to the NLCS and were up 3 games to 1 against the then-Florida Marlins. That Saturday Ohio State - the defending national champions - lost in Madison, breaking a 19-game winning streak. On Sunday the Cubs lost their first opportunity to clinch in Miami, returning home 3-2 with both aces - they had two aces - still left to pitch. 
No one reading this needs to be reminded of what happened next. That, 13 years ago this month, was probably the most comprehensively shitty sports week I had experienced. This is harmless, I thought to myself while coping. Real pain would have been watching the Indians simultaneously blow the AL pennant while Cubs pulled this shit.
So we have now arrived at the 2016 World Series where - how adorable! - the Cubs and the Indians have both arrived in what is surely to be a ratings festival for a sport that has gotten its ass kicked by football for the better part of the century. Liking both teams in a championship series screams of convenient bandwagoning, doesn't it.
Well let me tell you how fucking convenient it has been for the past few decades to cheer for the Cubs and Indians.
Both teams are in the bottom third for wins in MLB this decade, down from being in the bottom half last decade. The 1990s were very good to the Indians, and Cleveland's reward for one team's success was Art Modell getting jealous and taking the Browns to Baltimore. Meanwhile the Cubs were in the MLB's worst 25%, which is where both teams were during the 1980s.
Do you know what it's like to actively root for two baseball teams celebrated for being historically shitty? I know, because I've done it.
So now only one of those teams will win a World Series, during a year that has already seen one Cleveland professional sports team break through a championship barrier in the least Cleveland way imaginable. Who are you going to root for? It's a fair question. I didn't know when I started writing this and was hoping this exercise would help me figure it out. It's a question that was impossible until the impossible happened this season.
I'm rooting for seven games, ulcers, headaches and distractions from real life. I'm rooting for both cities to be elevated by the fervor of their fan bases and the excellence of their franchises. I'm rooting for more heroes than villains and more extraordinary plays than routine ones.
And I'm rooting for the loser to win next year's World Series.