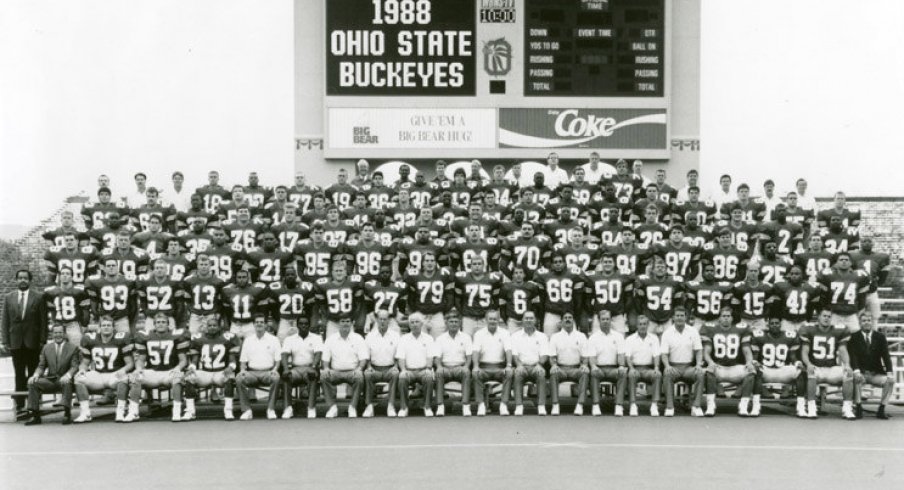 In September of 1988, following the second game of John Cooper's Ohio State coaching career, he attended an event with the Upper Arlington Rotary Club. Cooper's squad was coming off of a 42-10 drubbing at Pittsburgh and the attendees were looking for answers from the new head man of the beloved football team. Coach Cooper addressed the question and created a public relations nightmare when he blamed the state of the team on "too many slow white guys."
Newspapers and other media outlets quickly learned of the remark and ran with it. The Associated Press published a story a couple of weeks later. Below, from an article in the Oklahoman, Cooper is quoted as saying:
"The point I was trying to make to the Rotary Club is the fact we don't have a lot of speed on our team," Cooper said. "I didn't come out and explain it like this, but most of our black guys can run."

"So when you start talking about it, we've got too many guys who can't run. They happen to be white. We don't have a lot of slow, black guys that I know about."

Asked if he thought his comments were racially offensive, Cooper said: "No, I don't. If it's taken that way, it wasn't intended to be."
The next game was against No. 7 LSU and the unranked Buckeyes stunned the Tigers 36-33 in Ohio Stadium. However, Ohio State would go on to lose its first three Big Ten contests of the season (for the first time since 1943) and finish the 1988 campaign 7th in the Big Ten with a 2-5 league record and 4-6-1 overall. The program's first losing season since 1966.
So, why bring all of this up from the sleeping depths of the past? A question from LCT was recently posed in this forum post. He wanted to know about the NFL talent on the 2012 and 2016 Ohio State rosters. While doing that research, I took it a step further to see how much NFL talent was inherited by Ohio State coaches going back to Woody Hayes. Had John Cooper changed his answer to, "we don't have enough NFL talent", he would have avoided a racially charged firestorm at the beginning of his Ohio State tenure. He also would have been correct.
The 1988 team that Cooper started his Ohio State career with had 10 players that would get selected in the NFL Draft. Four of the players were selected in the 1989 draft, two in 1990, three in 1991 and one in 1992. How does that talent compare with the teams Urban Meyer, Luke Fickell, Jim Tressel, Earle Bruce and Hayes started with?
Hayes and Bruce both inherited rosters with 17 players that would get selected by the league. Fickell had 18 NFL players in 2011, Meyer's 2012 roster had 22 players with NFL talent and Tressel had a whopping 28 players who would get their name called on draft day.
What do these numbers mean? Cooper started his Ohio State career with far less NFL talent than the other Ohio State coaches of recent memory. To add insult to injury, when Tressel took over for old Coop, Tressel inherited a roster with more NFL players than any other first-year Ohio State coach. Who recruited that talent? John Cooper. The man started his days in Columbus with a cabinet lacking stock in talent and left Columbus with a cabinet overflowing in 2001.
Did Cooper have "too many slow white guys" on his 1988 roster? Perhaps, but that is subjective. What isn't subjective is that the 1988 roster did not have the NFL talent that the other Ohio State coaches started their careers with. For the Buckeyes to only have 10 players with NFL talent on the 1988 roster shows how far the program had fallen at the end of Bruce's tenure.
NFL Talent On First Roster
YEAR
COACH
INHERITED
NFL TALENT
RECRUITED
NFL TALENT
TOTAL
NFL TALENT
RECORD
2001
TRESSEL
25
3
28
7-5
2012
MEYER
16
6
22
12-0
2011
FICKELL
18
0
18
6-7
1979
BRUCE
15
2
17
11-1
1951
HAYES
12
5
17
4-3-2
1988
COOPER
10
0
10
4-6-1
Hot take: Tressel and Fickell did less with more talent than any other Ohio State first-year head coach since 1951. Hard to believe that Tressel only had seven victories with a roster that had 28 future NFL draft picks.
To answer LCT's initial question, the 2012 roster had 22 NFL draft picks and the 2016 roster is currently at 14 draft picks. 2012 had three 1st Round picks and 2016 currently has five 1st Round picks. Considering that players from the 2016 roster can get selected in at least two more drafts, it appears that Meyer's 2016 team had more NFL talent than the team he inherited. Especially when you consider that he recruited six of the eventual 22 draft picks from the 2012 roster.
In Case You Missed It
Highest Selected: Ohio State's Defensive Ends and the NFL Draft
Highest Selected: Ohio State's Quarterbacks and the NFL Draft