Legend has it that when anyone asked Jimi Hendrix what it felt like to be the world's greatest guitar player he replied: "I don't know. Go ask Rory Gallagher." Maybe because he died young (47), but more likely because he was completely disinterested in self-promotion or stardom and its trappings, Rory is the best blues rock guitarist that many avid rock fans have never heard of.
William Rory Gallagher was born in Ballyshannon, County Donegal, Irish Republic, on March 2, 1948. His prodigious musical talent surfaced at 8, when Rory began playing a plastic ukulele. By his next birthday he had an acoustic guitar that he taught himself to play. Rory also played slide and lap steel guitar, mandolin, electric sitar, harmonica and saxophone. He was playing shows at local schools when he was 10, and after winning a talent contest when he was 12, Rory put the prize money down on a 1961 Fender Stratocaster – he would play it until he died.
Rory was consumed with the American blues he heard on the radio. His earliest influences were Muddy Waters, Albert King, Freddie King, Leadbelly, Buddy Guy, Albert Collins and John Lee Hooker. Shortly after getting that Strat, Rory joined the Fontana Showband, one of the many Irish touring groups that played dance music, interspersed with comedy skits, impressionists, and other entertainment acts. After two years in this apprenticeship of sorts, Rory, the bass player and the drummer followed in the Beatles footsteps and went to play the clubs in Hamburg, Germany.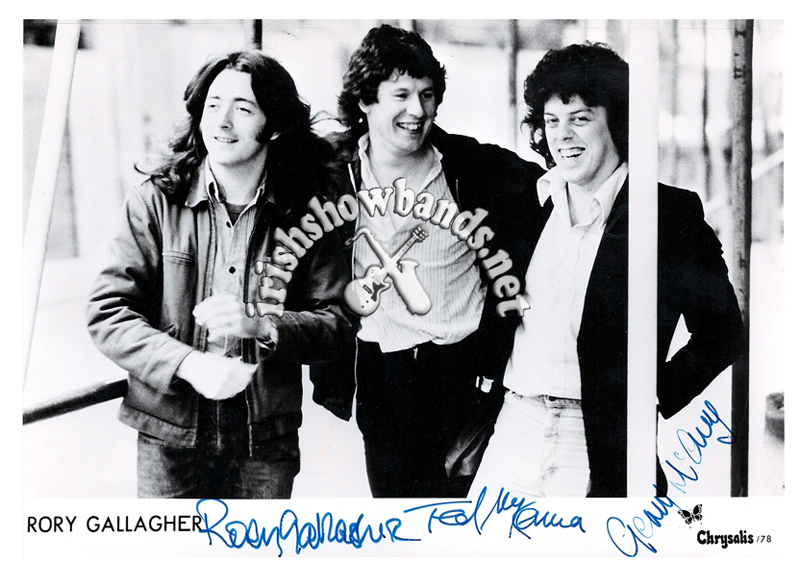 Taste
When he returned to Ireland in 1966, Rory formed a blues rock power trio he called Taste. Playing a combination of blues covers and Rory's own compositions, Taste was well on its way to international stardom. Taste had a residency at the Marquis Club, London's hottest venue. The band opened for Cream on its last tour, and in 1969, opened for Blind Faith on its one and only North American tour. Eric Clapton gave credit to Rory for "getting me back into the blues." Following an acclaimed show at the Isle of Wight festival in 1970, Taste broke up. The Rolling Stones tried to get Rory to replace Mick Taylor, and Deep Purple wanted him to replace Ritchie Blackmore. But, for the rest of his days, Rory would lead The Rory Gallagher Band. His fans included Bob Dylan, Brian May of Queen, and The Edge of U2.
Rory Gallagher -- Muddy Waters
Rory was a solitary soul. He never married, had no children, and lived for years in a hotel room. All he wanted to do was play. His group would tour the UK, Ireland (including Northern Ireland during "the troubles", Europe, and occasionally the US. They played up to 300 gigs a year and released a dozen or so albums. Highly recommended among them are Irish Tour 1974, Calling Card, and Fresh Evidence. Rory played some of his best work on Muddy Waters' The London Sessions, and Albert King's Live. Unfortunately for a musician always on tour, Rory had a fear of flying, and took painkillers with alcohol to sedate himself. He collapsed on stage in Rotterdam in January, 1995, and it was found that the pills and booze had destroyed his liver. Rory received a liver transplant and was ready for discharge to a rehabilitation facility when he contracted an infection that caused his death on June 14, 1995.
A life-size bronze statue of Rory was placed in Ballyshannon in 2010. The Rory Gallagher Tribute is an annual music festival held in the town, and recently concluded. Today, we remember Rory Gallagher, electric blues and rock guitarist extraordinaire.