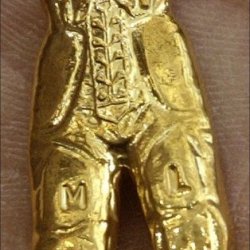 Whoa Nellie
---
MEMBER SINCE December 27, 2012
Recent Activity
Back in just to wish you many happy returns of the day, GB!
The best I've been lucky enough to play. Hope to add to these experiences before all is said and done. Whether it's on the pro tour, or a 9-holer in Canal Fulton, I've never seen a golf course I didn't want to play!
CA: Pebble Beach, Torrey Pines
AZ: Troon North Monument
OH: Canterbury, The Country Club, Sand Ridge, Inverness, Firestone South/North, Canton Brookside, Shaker
PA: Oakmont
SC: Harbour Town, Caledonia Golf and Fish, The Dunes
FL: PGA National Champions
Generalissimo! Molto grazie!
My second favorite team is winning today =====> Whoever is playing Michigan
Thank you BTB! My nearby Heinens have only been carrying Space Station Middle Finger. Good, but not ZD.
I'd just like to find a regular source of 3 Floyd's (Muncie, IN) Zombie Dust around Cleveland.
I had 2 significant disc herniations, one on the left and one on the right, at 2 lumbar levels. I got as far as the neurosurgeon meeting. Decided to give PT/stretching regimen one more try. Over a decade later, that formula still relieves episodes of back pain and has allowed me to avoid surgery. The older I get, the fewer problems I have (though I'm having a bout now after an afternoon on a bar stool -- serves me right!). Good luck to you!
It's hard not to be disappointed remembering back to the beginning of the season when the Buckeyes looked absolutely unstoppable. And with a substitute HC, no less. Then, Nick. His absence exposed weaknesses in the secondary, because opposing offenses weren't constantly in fear for their lives. Nick's unfortunately timed announcement that he was quitting the team was a gut punch, leading to a drunken spree, and a painful hangover. But, eventually the Buckeyes pulled themselves together and won out, thrashed the pretenders from up north, and captured the BiG championship. Lots of things to be proud of. Ultimately though, the team, players and coaches, failed to handle unexpected adversity by believing in themselves and the players who didn't quit. Purdue was a self-inflicted wound, the cost of which will probably be standing on the outside looking in on the playoffs.
I thought he would be another Manziel, but I was wrong. Mayflield is stronger, smarter, and more disciplined. Pleasantly surprised.
How many times can one watch lions devouring Christians? It's gruesome, predictable, and boring.
Rick Bayless' restaurants in Chicago are my favorite Mexican places. My first taste of authentic Mexican was when Bayless and his wife were at Lopez y Gonzalez in Cleveland Hts. My friend who had gone to American HS in Mexico City vouched for the food.
Veering slightly, I also love New Mexico food. Was lucky enough to hit Santa Cafe back when Ming Tsai was there, and Coyote Cafe under Mark Miller. Chile harvest should be on right now - yum!

133 posts later:
The Pretenders
Dreamboat Annie
Good one, KBonay!
"Now look at them yo-yo's that's the way you do it
You play the guitar on the MTV
That ain't workin' that's the way you do it
Money for nothin' and chicks for free."
Try the Port Course. Great views of downtown, Skyway Bridge, Lake Calumet.

The Harborside courses are lots of fun. Who doesn't like windy, links-style golf the week after The Open? Ruffled Feathers in Lemont is nice, too.
Good one, Hove! Here's an article linking 20 of Cameron Crowe's best movie music tracks.
https://www.indiewire.com/2015/05/the-20-greatest-musical-moments-in-the-films-of-cameron-crowe-263399/
Happy Birthday Ringo! Enjoy the 10th annual Peace & Love birthday celebration.
http://www.ringostarr.com/news/ringo-starr-announces-details-his-10th-annual-peace-love-birthday-celebration-july-7-2018
You're in town and didn't tell me? WTF? ;-)
"Too late the hero"; too soon gone.
Appreciate the kind words, and your contributions, brother!
Thanks a ton, RB4. I might try to revive the articles, since I didn't cover the last half of the year the first time. We'll see.
Yes, that was sarcasm. There's a reason the original article called JLP Morisette's "international debut".
Honestly, it was nit-picking like that, and "this music sucks" posts that made me quit writing the series. I was researching and writing on pretty much a same-day basis, and trying to choose relevant topics including those outside my own tastes and foreknowledge, so I'm sure there were a few errata. And, obviously not all of the music appealed to everyone, even me. It's gratifying that you and others find the articles worth re-visiting, and thanks mainly to Hove for the bumps!
"With the stage name of Alanis, she signed a record deal with the Canadian division of MCA Records for two dance-pop albums. The label released her self-titled album (1991), which was certified platinum by the Canadian Recording Industry Association and earned her a Juno Award,and Now Is the Time (1992), which was less successful. These albums, released only in Canada, are often not mentioned in the media, which tend to consider Jagged Little Pill (1995), released on Maverick Records, as her debut album."
I am so sorry.
The Tedeschi Trucks Band will play a 6 night residency at The Beacon Theatre in NYC this October. Our pal JLBNYC will surely be there.
Happy Birthday, Derek!