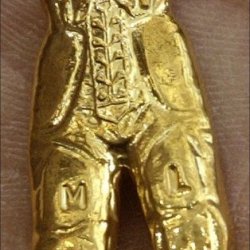 Whoa Nellie
---
Member since 27 December 2012 | Blog
Recent Activity
133 posts later:
The Pretenders
Dreamboat Annie
Good one, KBonay!
"Now look at them yo-yo's that's the way you do it
You play the guitar on the MTV
That ain't workin' that's the way you do it
Money for nothin' and chicks for free."
Try the Port Course. Great views of downtown, Skyway Bridge, Lake Calumet.

The Harborside courses are lots of fun. Who doesn't like windy, links-style golf the week after The Open? Ruffled Feathers in Lemont is nice, too.
Good one, Hove! Here's an article linking 20 of Cameron Crowe's best movie music tracks.
https://www.indiewire.com/2015/05/the-20-greatest-musical-moments-in-the-films-of-cameron-crowe-263399/
Happy Birthday Ringo! Enjoy the 10th annual Peace & Love birthday celebration.
http://www.ringostarr.com/news/ringo-starr-announces-details-his-10th-annual-peace-love-birthday-celebration-july-7-2018
You're in town and didn't tell me? WTF? ;-)
"Too late the hero"; too soon gone.
Appreciate the kind words, and your contributions, brother!
Thanks a ton, RB4. I might try to revive the articles, since I didn't cover the last half of the year the first time. We'll see.
Yes, that was sarcasm. There's a reason the original article called JLP Morisette's "international debut".
Honestly, it was nit-picking like that, and "this music sucks" posts that made me quit writing the series. I was researching and writing on pretty much a same-day basis, and trying to choose relevant topics including those outside my own tastes and foreknowledge, so I'm sure there were a few errata. And, obviously not all of the music appealed to everyone, even me. It's gratifying that you and others find the articles worth re-visiting, and thanks mainly to Hove for the bumps!
"With the stage name of Alanis, she signed a record deal with the Canadian division of MCA Records for two dance-pop albums. The label released her self-titled album (1991), which was certified platinum by the Canadian Recording Industry Association and earned her a Juno Award,and Now Is the Time (1992), which was less successful. These albums, released only in Canada, are often not mentioned in the media, which tend to consider Jagged Little Pill (1995), released on Maverick Records, as her debut album."
I am so sorry.
The Tedeschi Trucks Band will play a 6 night residency at The Beacon Theatre in NYC this October. Our pal JLBNYC will surely be there.
Happy Birthday, Derek!
Interesting how we picture particular actors playing book characters. In Burke's Dave Robicheaux series, John Goodman was fine as Clete, but I always pictured James Gandolfini.
Love James Lee Burke's books.
Thanks for the kind words, Knarcisi. And, thanks for tracking me down!
Thanks RB! Back at ya.
Haven't hit a ball yet. :(
Just checking in and found this great article and thread. Worthy subject, Gen'l.
This one goes on the list, IMHO.
JCsLP: "This bump's for you!"

Thanks again, GB. Kinda miss doing these.
Thanks SD! Found a few on that auction site, too.
Thanks Major!
Anyone know where I might find a copy of that 1966 Powerhouse LP?
:bump:
In honor of one of this year's inductees in the HOF.
Steve Winwood joins the septuagenarian ranks today. Cheers!