Urban Meyer's fifth Ohio State football recruiting class is signed – a group that finished as a consensus top-five class, which has become a theme under Meyer.
Since signing his first class in 2012, only the 2015 class was ranked outside of the top five by the four major recruiting services – 247Sports, Rivals, Scout and ESPN – and that class finished 7th in the 247Sports composite rankings.
Meyer's latest class is considered his best at Ohio State since the 2013 class, featuring soon-to-be early NFL draft picks Darron Lee, Vonn Bell, Ezekiel Elliott and Eli Apple, among others, earned top class recognition from Scout and No. 2 class honors from Rivals and 247Sports.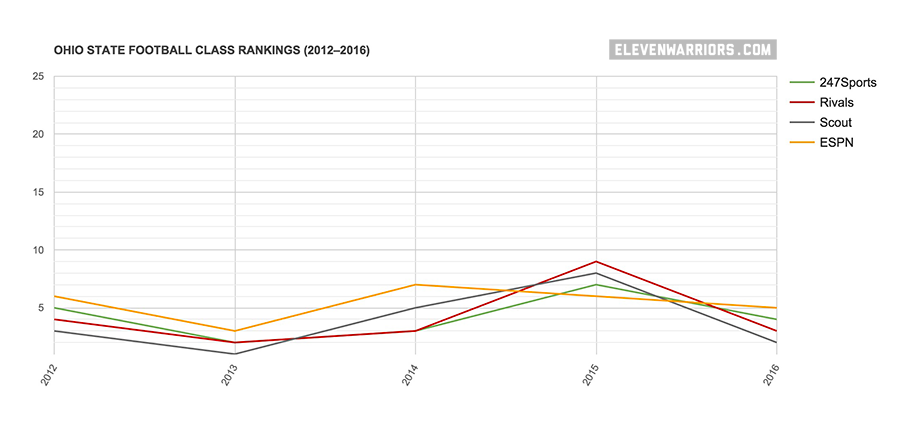 Looking back at the 10-year trend for Ohio State football, you can clearly see Meyer's impact on the recruiting trail. While Jim Tressel was no slouch at convincing young men to continue their careers in Columbus, signing top-five classes several times, and Scout's No. 1 class in 2009, Meyer took a purring engine and slapped a flux capacitor on it when he arrived.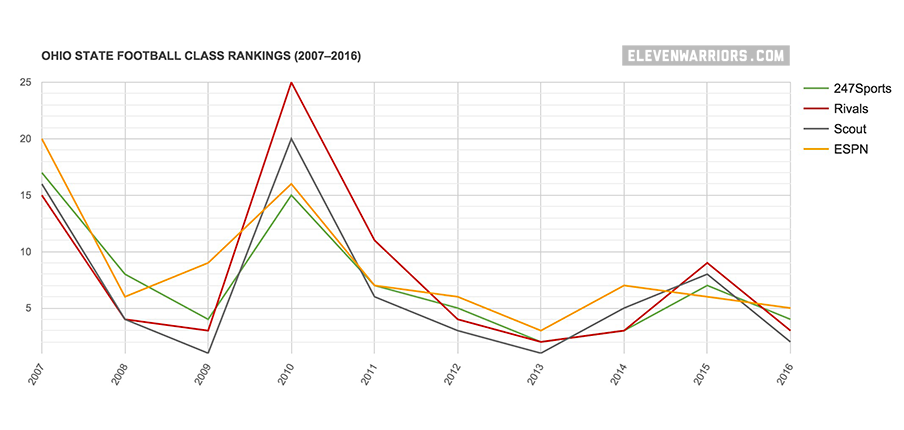 Interestingly, Meyer's 2016 class features the least Ohio flavor of any Ohio State recruiting class in history with just 36% of the class from the great state of Ohio. While our records only go back to 1970, it's safe to say that prior classes featured even more native sons, what with it being an era before private planes and other luxuries modern recruiters take for granted.
As Meyer continues to cast a wide national net, expect this trend to continue.
1979, Earle Bruce's first class in Columbus, featured a roster of 21 Ohioans and just three out-of-state kids. Jim Tressel's 2003 class, while small in size at just 14 members, packed 12 Ohioans.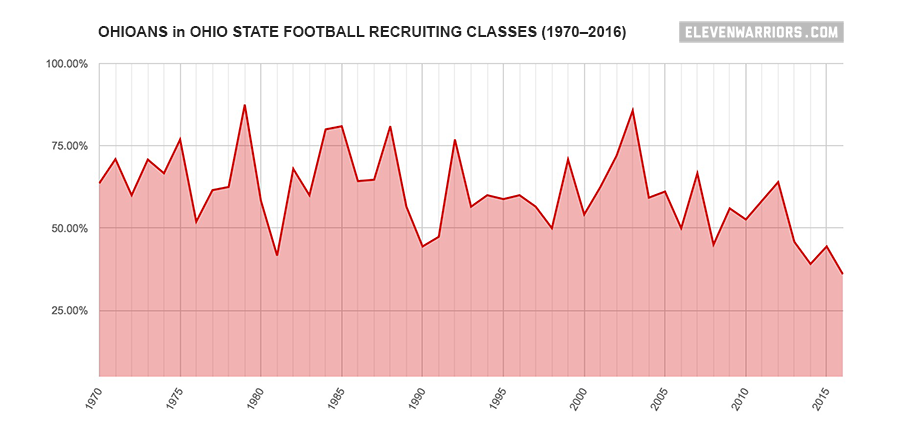 No surprise here, but Ohio State football recruiting classes are getting heavier. The average weight of the 2016 class is 226.1 pounds, which is a little above average as far as the last 47 years go, but considerably larger than the class of 1972, which checked in at an average weight of just 196.5 pounds. Cornelius Greene (170 lbs.) and Archie Griffin (185 lbs.) were two members of that class.
Ohio State's largest class was arrived in 2011, a group that averaged 241.5 pounds. That class featured four members – Chris Carter, Tommy Brown, Joel Hale and Antonio Underwood – who signed on at over 300 pounds and several more who were approaching that mark.
The heaviest player to sign with Ohio State? That would be St. Henry's Matt Zahn, an offensive lineman who tipped the scales at 360 pounds and was a member of John Cooper's 1999 class. The lightest? 150-pound Jeff Compton, a kicker in the class of 1984.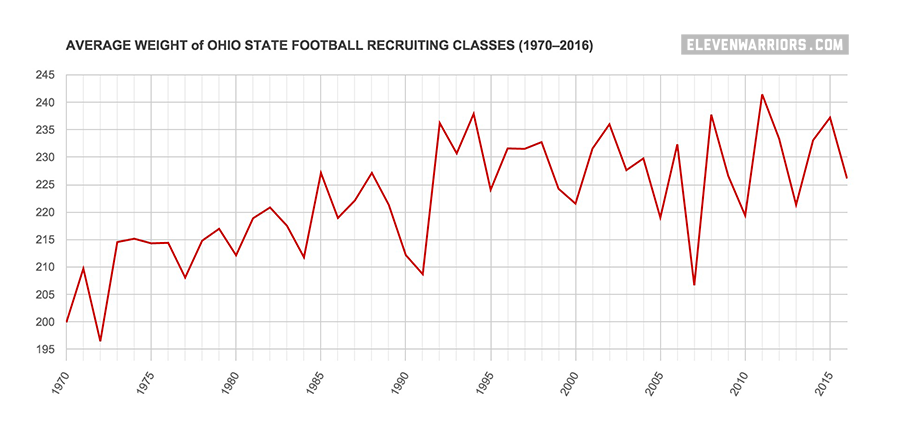 While the growth in height isn't as apparent as the growth in weight in Ohio State's recruiting classes over the last 47 years, it's still trending up.
Urban Meyer's 2016 class averages nearly 6'3", which is an inch taller than classes from the mid-1970s and nearly two inches taller than the 1972 class.
The 2008 class, which featured the massive "Brew Crew" consisting of linemen J.B. Shuarts (6'8"), Mike Adams (6'8") and Michael Brewster (6'5") is the tallest class on record, checking in at an average of 75.7 inches tall.
The tallest signee in Ohio State football history appears to be 6'9" Kevin Feder, an offensive lineman from the 2015 class. The shortest – in the last 47 years, at least – award goes to 5'7" Adam Griffin (2010) and Elmer Lippert (1970).