The Buckeyes are 3rd in the only poll that matters.
Their path to the CFP trophy and subsequent unanimous preseason No. 1 started at 16th in last season's inaugural CFP ranking one year ago last month. They now sit at 3rd in any poll for the first time since the week in 2013 when they last took a bus to Ann Arbor.
Way back then getting into the top-4 wasn't good enough. It is now.
Nebraska, Arizona State, Arizona and Georgia were just some of the teams Ohio State was chasing after the first poll was released in 2014. Interesting fact: There was as much distance between Kansas State (No. 9) and the Buckeyes as there was between the Buckeyes and East Carolina (No. 23).
The Wildcats and Pirates are 12-16 combined since that poll was released. Toledo enjoyed about four hours of being in it last night before losing to Northern Illinois. The CFP ranking is terrifying.
Last year the two Mississippi schools found themselves in the top-4 and only had each other, the Alabama schools, the last place teams in each SEC division and a date with Chickenshit Saturday (Ole Miss battled Presbyterian — that's not a church; Mississippi State dueled Tennessee Martin — that's not a crusty character from an obscure western) standing between themselves and making the final four.
Fact: The 16th-Ranked Team in the First CFP Ranking has won the title 100 Percent of the time.
The Rebels fell to Auburn and then got blown out by Bert (!) while the Bulldogs lost the Egg Bowl and to Alabama. The Buckeyes moved from 16 to 14, then beat Sparty and jumped to 8. That was striking distance. They then spent two weeks at 6 before sliding into the playoff with the final spot in the final poll.
You know what happened after that. The CFP ranking is exhilarating.
Ohio State began that seven-week stretch as an afterthought. Interesting fact: The 16th-ranked team in the first CFP ranking has won 100 percent of the CFP titles. This year that's Florida State. If the Buckeyes truly want to repeat as champions they'll have to fight history and buck the trend. The CFP ranking is steeped in tradition.
If the Buckeyes win out the defending champs are back in the dance. Let's get Situational!
---
The GIVING Tree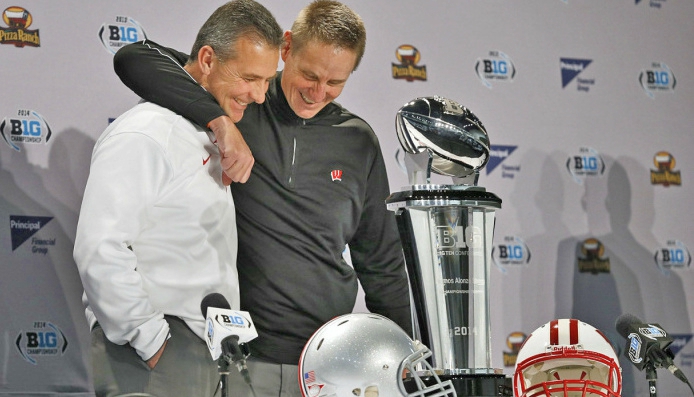 At least half the teams on Ohio State's schedule are already or will be soon looking for new head coaches. College football coaching is a bloody business.
When the carnage is finally over after the bowls are all finished there should be as many as 30 FBS programs turning over coaches. Some of those jobs will be filled by current head coaches, like (probably) Western Michigan's P.J. Fleck.
Fleck was Jim Tressel's former Ohio State grad assistant and his Broncos haven't lost a game since visiting Columbus. Fleck is one of nine former Tressel assistants who have held head coaching positions.
Urban Meyer has stated his preference for assistants with head coaching aspirations and his coaching tree reflects it: Steve Addazio, Gary Andersen, Dan Mullen, Charlie Strong and Kyle Whittingham all currently run Power Five programs. Doc Holliday (Marshall), Mike Sanford (UNLV), Everett Withers (James Madison) and Jay Hill (Weber State) also coached under him. Then there's that Tom Herman guy at Houston.
Meyer is only 51. His coaching tree is already RUNNING PROGRAMS BIG AND SMALL, NATION-WIDE.
Tim Beckman and Dan McCarney also coached for Meyer and are two of 2015's coaching casualties. They along with current FBS assistants Gregg Brandon, Billy Gonzales, Vance Bedford, John Hevesy and Zach Azzani may all be on the market this offseason. Stan Drayton is with the Chicago Bears. Several current assistants have been in the mix for head jobs in the recent past and that won't change this offseason.
Meyer is only 51. His tree is already enormous. Consider Bob Knight, who coached for over 40 years and won 902 college basketball games has a coaching tree that features Mike Krzyzewski, Randy Wittman, Jim Crews and Mike Davis — along with bunch of guys you've never heard of who are long out of the business — and Dan Dakich. He coached Krzyzewski back before he reached 100 wins. Dave Bliss and Isaiah Thomas are also on that tree. Not great, Bob.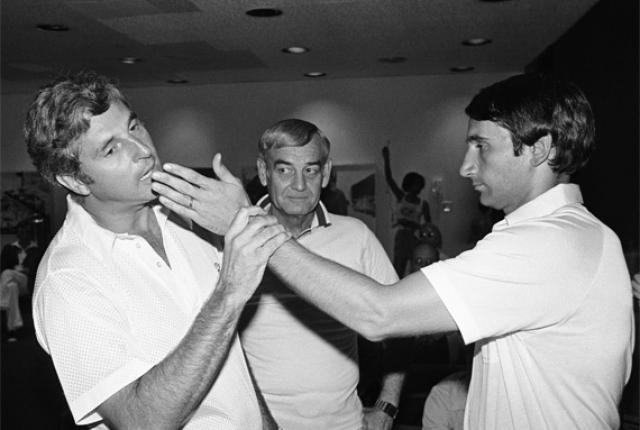 Also consider the retiring Frank Beamer, one of the most beloved and successful coaches in the game. If his defensive coordinator Bud Foster is his replacement in Blacksburg he would become the only Beamer assistant with a head coaching job. Ron Zook and Ralph Friedgen were Beamer assistants who once held head coaching positions, but that's it. He has been a head coach for 34 seasons.
Programs with vacancies are going to continue shopping for Meyer assistants and that gives many Buckeye fans indigestion. But look at the men who coached under Meyer previously, left to take over programs and are now thriving. They had to be replaced too.
When the time comes for Ohio State's current assistants to move on, Meyer will fill in the vacancies left by them. His track record suggests that will all turn out just fine. That's exactly how giant coaching trees continue to bloom.
---
The OVERESTIMATION
"If the facts don't fit the theory, change the facts." - Albert Einstein
HEY GUESS WHO WAS OVERRATED

| TEAM | 1st AP POLL | CURRENT | CFP |
| --- | --- | --- | --- |
| Alabama | 3 | 7 | 4 |
| Arkansas | 18 | no votes | - |
| Auburn | 6 | no votes | - |
| Florida | 36 | 11 | 10 |
| georgia | 9 | no votes | - |
| Kentucky | 49 | no votes | - |
| LSU | 14 | 4 | 2 |
| Missouri | 24 | no votes | - |
| Mississippi | 17 | 19 | 18 |
| Miss State | 26 | 24 | 20 |
| South Carolina | 57 | no votes | - |
| TEnessee | 25 | 36 | - |
| Texas A&M | 27 | 25 | 19 |
| Vanderbilt | no votes | no votes | - |
Currently LSU and Florida are overachieving while Alabama, the Mississippis, Texas A&M and Vanderbilt are what voters thought they were. Half of God's conference has fallen completely off the page after 13/14 (!) SEC teams inexplicably began the year receiving votes. Only Vanderbilt was in nobody's preseason ranking.
Five SEC teams that were preseason top-25 are unranked in November. Two were in the top 10. Tennessee, Auburn and Georgia were among the favorites to win the conference. If you think there's a more disappointing conference through October I bet I can name your favorite team inside of 14 guesses.
HEY GUESS WHO ISN'T SO TERRIBLE

| TEAM | Pre (AP) | CURRENT | CFP |
| --- | --- | --- | --- |
| Illinois | 48 | no votes | - |
| Indiana | no votes | no votes | - |
| Iowa | no votes | 10 | 9 |
| Maryland | 52 | no votes | - |
| Michigan | 40 | 16 | 17 |
| Michigan State | 5 | 6 | 7 |
| Minnesota | 55 | no votes | - |
| Nebraska | 34 | no votes | - |
| Northwestern | no votes | 29 | 21 |
| Ohio State | 1 | 1 | 3 |
| Penn STate | 31 | 31 | - |
| Purdue | no votes | no votes | - |
| Rutgers | no votes | no votes | - |
| Wisconsin | 20 | 26 | - |
The B1G has three teams currently ranked in the top-10, a quarter of the top-16, three teams that were grossly underrated - and poor Nebraska who hired a nice, old man who had never won anything in his life to replace its foul-mouthed abrasive former coach who always won nine games.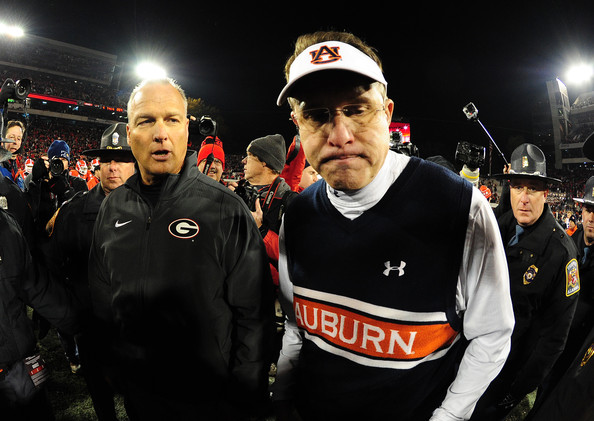 The point here is that for every Pat Forde who predicts the Big Ten to go 0-10 in the bowl season and be off by only six wins, there are several dozen voters who shape the perception of the college football landscape.
Auburn, Arkansas, Georgia and Missouri all lost games to teams that can categorically claim to have beaten ranked opponents. Ole Miss has two bad losses, still clocks in at No. 19 and is 5-11 in November over the past four seasons (which includes two Chickenshit Saturday wins). The Rebels are a quality win candidate for Arkansas, LSU and Mississippi State.
Perception extends to the CFP rankings: Alabama and Ole Miss have already been forgiven for their losses. Penn State's losses are to one-loss Temple and Ohio State. Wisconsin's are to Alabama and Iowa, both undefeated. Guess who was left out of the poll.
Circular logic is dumb. Not all SEC teams are good because SEC. And not all B1G teams are bad because Purdue.
---
The GUIDE
A lot of Eleven Warriors readers ask me for direction when it comes to whiskey (which led to how this series was originally created). My experience with brown liquor comes from many years of practice and experimentation, but oftentimes I still have whiskey questions, too.
Whenever that happens I go to Fred Minnick, the earth's preeminent bourbon writer.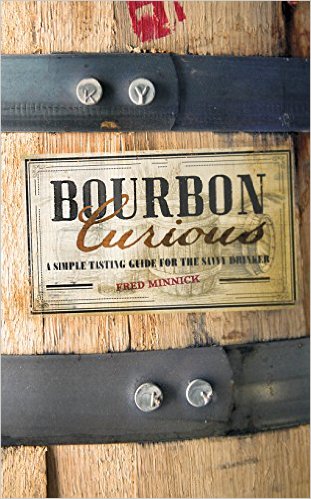 Fred just published Bourbon Curious, which if you're too lazy to read the rest of this segment can be summed up in four words: Situational Bourbon, The Book.
Bourbon Curious (which is being featured this month on Amazon.com for only $2.99) examines over 50 bourbons and tells you what's inside the bottle, which the label rarely ever does. He also clears up misconceptions about bourbon and arms you with the knowledge to make the appropriate selection for yourself.
The book is divided into three sections:
History, Legends and Contemporary Truths, where he corrects that guy in the bar who knows everything about bourbon - but is often wrong. He also covers bourbon's role in politics which is a fascinating history lesson.
Sources of Flavor. The four most common flavor notes in bourbon are caramel, cinnamon, grain and nutmeg. This section is enlightening in understanding how and why individual bourbons achieve their character.
Tasting. In which you learn the proper way to taste bourbon. Helpful.
Fred also happens to be a big college football aficionado. His favorite team is his alma mater, which is 8-0 OSU! (it's not the OSU you cheer for)
Recently I asked Fred about his Fall Saturday bourbon of choice:
Easy! Elijah Craig 12 year is a must-sip while watching Oklahoma State. I think it all started when we beat Texas the year Brandon Weeden was quarterback.
You might remember Elijah from The Devereaux back before it became harder to find. Sipping it straight, if you can get your hands on it, is the recommendation in 2015. You might also remember Brandon Weeden from his time with the Browns. Hopefully you don't.
Bourbon Curious receives a strong buy recommendation. Bourbon knowledge is power.
---
The Bourbon
There is a bourbon for every situation. Sometimes the spirits and the events overlap, which means that where bourbon is concerned there can be more than one worthy choice.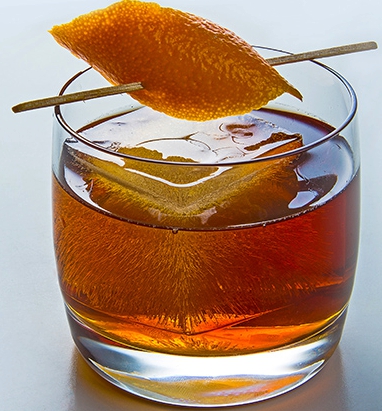 There's been a lot of SEC/B1G chatter in this edition so the bourbon is going to stay on message. Let's take a classic southern bourbon aperitif and B1G-ify it. We're going to reconstruct The Uppercut, a wonderful southern cocktail.
The Uppercut begins by reducing a can of Coca-Cola down to 3/4 of a cup in a saucepan over medium heat. You then dissolve sugar into what's left and squeeze a lemon over it.
Add dark vermouth, spiced rum, orange bitters and bourbon to what you've just cooked up inside a shaker with ice. This drink is at its best where it was conceived, at The Kimball House in Decatur, GA. The original Kimball House in Atlanta was built right after the Civil War on a lot where the previous hotel had been burned to the ground (by guess who).
The Uppercut is savory and enchanting. Now we'll create a B1G version. 
Substitute Atlanta's cola pride with Chicago's Goose Island root beer. This renders just as easily as Coke over heat but with a bitterness better suited for a bourbon pairing. Finish it the same way with sugar and lemon and pour it in your shaker.
The B1G UPPERCUT

| Ingredient | quantity |
| --- | --- |
| KOVAL | 2 shots |
| Sailor JERRY | 1 shot |
| ARMADILLO CAKE | 1oz (2/3 shot) |
| ROOT BEER | 1 bottle |
| Sugar | 1 teaspoon |
| Orange Bitters | 4 dashes |
| Lemon | 1 squeeze |
| ICE | 1 fat cube or ball |
You're going to stick with the dark vermouth, spiced rum, orange bitters and bourbon - but they're going to take on a decidedly northern flair. Get your hands on some Armadillo Cake from New York, which you should have in your bar anyway.
In honor of Jerry Kill sailing off into the sunset last week - and Minnesota's visit to Columbus this Saturday - take a pass on Captain Morgan's (you lazy, unimaginative bastard) and grab some Sailor Jerry instead. 
Koval is a sturdy Chicago bourbon. Cody Road (Iowa) might be easier to find. Few bourbon (right by Northwestern) is the lightest and smoothest new bourbon I've tried this year. And here's a list of places you can buy Tom's Foolery, from northeast Ohio. Disclosure: Korval was what I had on hand when the B1G Uppercut was originally conceived. 
Even if you can't find a reasonably priced cocktail-worthy midwestern bourbon, chances are whatever you do get your hands on was probably finished in Indiana anyway. Bourbon is surprisingly B1G. It's got some perception working against it but it's still worthy of being ranked.
Enjoy your Uppercut - however you choose to make it.
---
The Playoff
We'll close with Richt at Georgia, since it's likely Richt at Georgia will be an historical statement in the coming weeks. Back in 2007 his team scored the opening touchdown of what used to be referred to as The World's Largest Outdoor Cocktail Party.
Then this happened:
The Georgia bench emptied and close to 70 players celebrated in the endzone, happily accepting Richt's pregame swagger challenge as well as a 15-yard flag. The Bulldogs won 42-30, serving Urban Meyer his first loss to Georgia after two victories to start his tenure in Gainesville. It would be his only loss in the WLOCP.
Three hundred and seventy-one days later they met again. And this happened:
Florida had a 39-point lead with 44 seconds left. It also had two timeouts remaining. And Meyer used both of them to savor the moment for as long as possible and shove it in Richt's face give Emmanuel Moody a couple extra carries.
Notice the sideline shot of Meyer after stopping the clock for the first time - you'll see his 3rd string quarterback giving him a big congratulatory smack as he passes him. That is Cam Newton, Florida Gator. Oh, what could have been.
We're No. 3! We're No. 3! Go Bucks. Beat Minnesota.