On paper, Michigan's 32-29 win against Nebraska in Lincoln on Saturday wasn't anything to write home about. The Cornhuskers are rightly unranked and led by one of the most inconsistent quarterbacks to ever pick up a pigskin, and you'd expect a top ten team like the Wolverines would... actually, wait. Forget this crap for a minute. I need to talk about rankings.
Right now the Big Ten has five teams in the top ten of both polls. Can we stop pretending that this isn't really stupid or a harbinger of the apocalypse or both? Iowa "won" against Penn State in the same way that I "win" arguments in the shower with imaginary jerks and clods: yes, I emerge victorious, but only with an extreme handicap and it's frankly a little sad. Michigan State has Payton Thorne and a mediocre defense (which are Ohio State parallels I'll happily ignore) and Michigan is Michigan.
I don't know who else you put in those spots that these teams currently occupy, because every other team in college football is just a different flavor of Dr. Jekyll and Mr. Hyde, but the long and short of it is I'm irritated that 120th-ranked offense-having Iowa is likely going to be in the College Football Playoff picture until potentially early December.
Anyway, check this out!
HASSAN HASKINS! pic.twitter.com/oTUgMmUbww

— Yahoo Sports College Football (@YahooSportsCFB) October 10, 2021
Cool!
THE OFFENSE
Cade McNamara continues to be just good enough for a certain variety of Michigan fans to stan for him until the end of time and for me to be annoyed by them.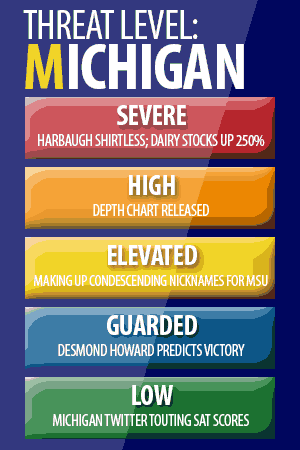 You can focus on his potentially disastrous interception in the third quarter, but his biggest issue is his inaccuracy downfield. McNamara ended up 22/38 for a semi-respectable 255 yards, but that's a lot of attempts to get there. The one big downfield pass he hit on, a 48 yard bomb to Mike Sainristil, was completed due to the wideout going flat-out. Had the throw been on target it would've gone for six; instead the Wolverines had to settle for one of Jake Moody's four field goals. Moody is great, but Michigan's struggles in the Red Zone might end up biting them in the ass (they're tied for 68th in the country in touchdown conversion percentage).
The good news for Michigan is that their running game woke up. Aside from Hassan Haskins' aforetweeted run, Blake Corum also played very well and together they accounted for 212 yards on 34 carries. A lot of this was due to the offensive line getting the job done, especially in the second half.
THE DEFENSE
The thing about Adrian Martinez isn't just that he's hilariously inconsistent, it's that even when he's doing well you never really perceive him as a significant threat to put his team on his shoulders. Yes, in the second half Scott Frost and company figured out that Michigan has a mediocre secondary and will more often than not lose one-on-one battles with talented wide receivers. And yes, Nebraska had a chance to tie the game on a final drive that saw them start off with a cheeks-clenching 25 yard pass that got the Huskers to midfield. But then Adrian was Adrian.

I will say this: I am now incredibly interested in seeing how Jim Harbaugh and company try and attack Payton Thorne. If a guy like Aidan Hutchinson (who again was great) can get pressure on Thorne, that could change the tenor of the game. If not, then, well, let's just see if the Michigan offense can keep up.
ARMAGEDDON (1998)
Michael Bay movies make me anxious. Not because of the plot or the acting or the effects or whatever, but because the editing gives me a panic attack to the point where I'm yelling RELAX! CHILL OUT! HOLY GOD JUST STOP FOR FIVE SECONDS! at the screen anytime something happens, which is all of the time. And this is admittedly kind of cool when that something happening is anything to do with big hunks of rock crashing into people or big hunks of people crashing into rock. This doesn't work when Bay applies that same gusto to shit like, a dude eating a bagel. Ultimately this lessens the (Deep) impact of all of the supposedly cool stuff to the point where you're just kind of numb by the end of the movie.
THREAT LEVEL
To prove I'm not a complete hater, I'll ten thousand percent agree with McNamara, who said this after the game:
"Michigan teams in the past, no disrespect, since I've been at Michigan we lose this game sometimes"
He's right! They didn't win big, but they did win. We'll stick with ELEVATED as Michigan heads into their Bye week, and the truth is we may not get concrete illumination as to where this team is truly at until the Sparty game, which should be a fun one. Northwestern at home comes first, so we'll see in a few weeks if a middling Wildcats team can put a scare into the Fighting Harbaughs.