Now we're talking!
See, this is exactly the kind of Michigan game that makes this whole endeavor worthwhile: one that is impenetrable to analysis and leaves everyone either irritated or confused at the outcome.
The Wolverines under Jim Harbaugh are at their most entertaining when they're at their least predictable, and on Saturday and Jekyll and Hyde'd their way to a sort-of quality win against a semi-decent opponent. Maybe! Because after a dominant first half, Michigan did absolutely nothing in the second, failing to score a point or even get a first down until five minutes were left in the game. They ended up winning 20-13, but at a certain point it was just a coin flip as to how it'd turn out. Which is very, very funny.
Greg Schiano probably deserves a decent amount of credit for making some halftime adjustments, but my theory that Jim Harbaugh was cursed by a gnarled troll for stealing his apples is much more fun, so I'm going with that.
THE OFFENSE
I have to admit that starting a game by running the ball five hundred consecutive times (as Michigan did on Saturday) is a pretty boss move, especially when it works. It makes your offensive line look invincible, bleeds the clock like an 17th-century physician trying to cure "ill humors," and opens up the passing game. On their opening drive, the Wolverines ran the ball 15 times, reluctantly passed twice, and scored an easy touchdown.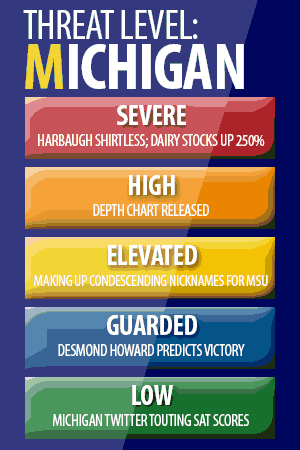 The problem is that if you keep running the ball, eventually the other team is going to start to think that you're incapable of doing anything else. And then they'll test that theory.
Michigan's (up to this point very successful) running game isn't that fancy, but they got somehow even less fancy in the second half against Rutgers. The sweeps and bash concepts that the Wolverines had used to weaponize the speed of Blake Corum disappeared in favor of running headlong into the brick wall that Schiano and company were happy to provide.
Also I think quarterback Cade McNamara is hurt, or bad, or both. All told: McNamara was 9/16 for 163 yards, 156 of which came in the first half, and the Wolverines as a whole ran for 112 yards on 38 carries.
THE DEFENSE
The good news for Michigan is that defensive end Aidan Hutchinson is living up to every bit of the billing that I questioned at the beginning of the season. He's already got 4.5 sacks on the season, and registered one of those against Rutgers. The defense is still fundamentally solid, although perhaps a little slow on the uptake.
That's because the bad news is that now there's a blueprint to confuse them. Rutgers happily employed all kinds of motion and forced Michigan to think as they often deployed quarterback Noah Vedral in the running game. It didn't work well enough for the Scarlet Knights to win, but against a team without a clear talent disparity, the Wolverines might be in trouble.
THE POSEIDON ADVENTURE (1972)
Gene Hackman never gave a bad performance in his career. The Poseidon Adventure isn't high art, but it is fun as hell watching Hackman chew scenery and lead an extremely 1970's group of archetypes through an upside-down ocean liner. So maybe with him at the center it's not surprising that The Poseidon Adventure turns into a very soggy Twilight Zone episode about halfway through. After the movie is done showing people getting drenched with jets of seawater and falling from things, it's mostly concerned with carefully documenting the process of stressed-out stock characters yelling at each other and dying randomly. It's goofy, but it's also shot well and has a gritty, industrial DNA that later movies like Alien would borrow liberally from (especially the last half-hour).
Gene Hackman! He's great!
THREAT LEVEL
I'll keep this thing at GUARDED for now; as expected, Michigan eventually played a team that had the wherewithal to force them to be one dimensional, and it almost bit them in the ass. The operative word here is "almost," and it'll be interesting to see if October Michigan ends up betraying the promise of September Michigan by being booty, as is tradition.
Which begs the question: do Michigan fans trust their head coach? The elements are there for a good (but maybe not great) team, but can Jim Harbaugh, at long last, learn from his mistakes and use that to improve instead of compounding them and making things worse?
Wisconsin is up next. They're reeling, desperate, and maybe kind of bad. If Michigan wants to prove their bonafides, now is the time to do it.