Well, it happened.
I asked a few weeks ago if there was anything that Michigan could do this season to force my gnarled, wizened hand and tick up the Threat Level a tad. That would involve the Wolverines looking much better than their dismal campaign in 2020, to the point that stretched credulity given, you know... everything.
But the thing about Threat Level is that it's a comparative measure; I'm not here to tell you whether Michigan is good or bad, I'm here to tell you whether Michigan is good or bad relative to Ohio State football. The Threat is Michigan, and the Level is how likely I believe they are to actually pull out a win against the Buckeyes.
And therein lies the rub. If Ohio State had a functional defense, a decent 31-10 Michigan win over a middling Washington team wouldn't give me too much pause. I'd skate over Blake Corum emerging as a home run threat every time he touches the ball. I'd happily ignore Aidan Hutchinson's 2.5 sacks as he set up a pup tent in Washington's backfield all game long. I'd probably make stupid jokes about Cade McNamara being about as important as the Tuesday afternoon shift at a Waffle House.
But now I can't do any of that! As of today it appears that it is within the realm of possibility that Michigan could, potentially, beat Ohio State at the game of football in the Year of Our Lord Two Thousand and Twenty One. It sucks!
THE OFFENSE
Football is a weird sport. C.J. Stroud throws for 484 yards, loses, and has fifty thousand people looking for his address so they can mail him cat entrails. Cade McNamara completes seven passes for 44 yards and nobody bats a single eye or starts googling local animal shelters.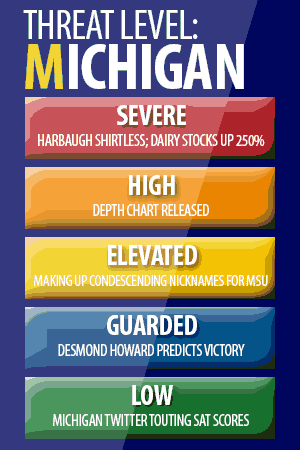 Of course, had Michigan lost it'd be a different story. I'm sure Wolverine fans would pry themselves away from typing their ACT scores over and over into a Word doc to send a pithy Tweet or something. And anyway it's all moot because Blake Corum and Hassan Haskins were both easily able to shoulder the offensive load themselves, both rushing for over 150 yards (Corum had three touchdowns by himself). This is apparently the first time that a Michigan team has had two 150 yard rushers in a single game since 2017? I have a question mark at the end of that sentence because that doesn't seem right at all.
Point is, Blake Corum has had two fantastic weeks of football thus far. Luckily Michigan football has no precedent for a player kicking ass in September and then falling back to earth like a plane jettisoning waste over a playground.
THE DEFENSE
Again, pretty excellent. Not that Washington is a team of offensive savants or anything close to that, but Michigan's defense was consistently and borderline worryingly disruptive. Seven tackles for loss, four sacks, and as mentioned, Hutchinson was a beast wherever he was lined up on the defensive line. I've mentioned before that linebacker Josh Ross needed to be a productive player for the Wolverines, and he has been. The Huskies ran the ball 32 times for 50 yards, and much like my dad eating handfuls of Macadamia nuts every Christmas even though he's allergic to them, refused to stop way past the point that it became obvious to everyone around them that they should.
If you're looking for weaknesses, the secondary still seems to be fairly open to exploitation by a team with an elite receiving corps and a quarterback with a live arm, so, you know, maybe Michigan shouldn't book any hotels in Indianapolis quite yet.
TITANIC (1997)
Titanic gets a lot of crap from dudes mad that the guy who made Terminator 2 used all of his bombastic energy to turn the most famous ocean liner disaster into a love story. People wanted blood, and they got Kate Winslet and Leonardo DiCaprio making moon eyes at each other for most of three hours. Titanic is poorly written and acted and yeah, the love story is dumb as hell, but look: the next time you're roped into watching it with someone, try and appreciate it as the insane achievement in filmmaking that it is. Corny-ass dialogue and thinly sketched characters can be easily ignored in favor of the extreme historical detail and technical wizardry that Cameron pours into every single frame. I recommend revisiting Titanic on that basis alone.
And once the boat starts sinking you know that part with the guy hitting the propeller is coming up, which is dope.
THREAT LEVEL
I haven't used the GUARDED .gif in so long that I wasn't sure that I still had it, but I do and here it is. I'm not convinced that Michigan's offense can lean on Haskins and Corum for an entire season (or for even through the Wisconsin game on October 2nd), but their defense is as legit as Ohio State's is bad. There is a universe where Cade McNamara throws for 300 yards and four touchdowns on a dour late November afternoon and ruins our lives for a year. I'm not convinced that it's this universe, but it's out there.