Prior to this weekend, Michigan State, Ohio State, Iowa, and Michigan all had defenses ranked in the top 25 in the country. I have to say "top 25" instead of "top 10," because Michigan's defense was ranked 22nd, thus watering down my point right out of the gate. Great job, idiots.
Anyway, the question I'm getting at here is that all four of these teams played each other on Saturday, and yet one of those two games was eminently watchable, with multiple big plays and a decent amount of scoring, and the other was like eating cold oatmeal with a sock. Why?
Well: yes, Michigan is bad. But they were also kind of good in their 10-3 win against the Hawkeyes, just not in entertaining ways. More to the point though, with Ohio State you have a team that try and find ways to be fun and cool because that's how they win games, and with Michigan... well, they're just trying to beat Iowa.
THREAT LEVEL
Iowa is no great shakes offensively. Prior to their tilt against Michigan, the Hawkeyes were a top 30 offense, but those bonafides were established against the likes of Miami (Ohio), Rutgers, and Middle Tennessee State. The one team with a semi-pulse they had played, Iowa State, only lost to them by a point in an 18-17 victory.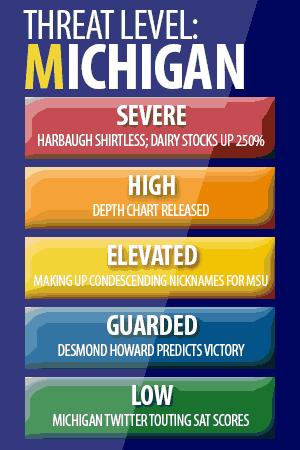 Credit where credit is due, however! Michigan's defense was dominant in a game where they absolutely had to be. Eight sacks, 13 tackles for loss, and holding a rushing attack that had been averaging over 217 yards per game to a literal single yard of offense is pretty good. Defensive lineman Kwity Paye had 2.5 sacks, which is more than enough sacks to make jokes about his name sound petty.
The Wolverines picked off Nate Stanley three times, which is a nice distraction from Shea Patterson looking like approximate butt (over a third of his measly 147 passing yards came on a single 51 yard play, which also accounted for nearly a quarter of Michigan's total yardage) and the rest of the offense looking like absolute butt (33 rushing attempts, 120 rushing yards). Ace over at the increasingly aggrieved MGoBlog mentioned that "[Michigan offensive coordinator Josh] Gattis dial(ed) up a direct snap to [running back Zach] Charbonnet from a covered receiver formation," which is a real thing that happened. Charbonnet's longest rush of the day was seven yards.
The Wolverines fumbled twice and Patterson threw an interception. Will Hart punted eight times. Harbaugh thinks the offense is "hitting their stride." That rules.
Oh, and no! This isn't a quality win. Michigan was favored, at home, and Iowa was a paper tiger. The Threat Level remains LOW.