Don't look now, but the college football season is coming sooner than you might think.
OK, maybe not exactly. But we're a month away from Big Ten Media Days and that's the unofficial kickoff to everyone's favorite sport. Fall camps around the country begin shortly after that and then, before you know it, Ohio State will take the field in Bloomington, Indiana, on Aug. 31.
The offseason is filled with debates because there's simply nothing else to do. So, why not keep that going today? People love lists and love to debate lists so we figured it'd be fun to present yet another.
What follows is an absolutely perfect, indisputable ranking of this year's Big Ten East quarterbacks.
7. Kyle Bolin — Rutgers
There is going to be a quarterback competition during fall camp for Rutgers between Bolin, Gio Rescigno and freshman Johnathan Lewis. Bolin, a graduate transfer from Louisville, might be the favorite, though.
Either way, the quarterback position was a disaster last season for the Scarlet Knights and they're going to be in the No. 7 spot on this list until that changes.
6. Caleb Henderson — Maryland
Henderson is a bit of an unknown on this list simply because he hasn't played a lot of football. He transferred to Maryland from North Carolina and as a result sat out the entire 2016 season.
Henderson was a former four-star recruit and an Army All-American, so he has some talent. The Terps do have a solid nucleus of wide receivers that should give Henderson some help, too.
5.  Brian Lewerke — Michigan State
Michigan State is coming off a 3–9 season and is in the middle of some serious off-field issues. It hasn't been a great 12 months for Spartans head coach Mark Dantonio.
Lewerke appeared to well on his way to earning the starting job last year before a leg injury derailed his season. He'll be pushed by Damion Terry during fall camp, but Lewerke appears to have the inside track having shown some promise last season.
4. Richard Lagow — Indiana
There were certainly some fine moments for Lagow during the 2016 season — his first as the starter — but he was no doubt inconsistent. Lagow threw for 3,362 yards with 19 touchdowns and 17 interceptions.
It will be interesting to watch his development this year without Kevin Wilson calling the shots on offense. Wilson, of course, is the offensive coordinator at Ohio State. Still, Lagow is a solid option.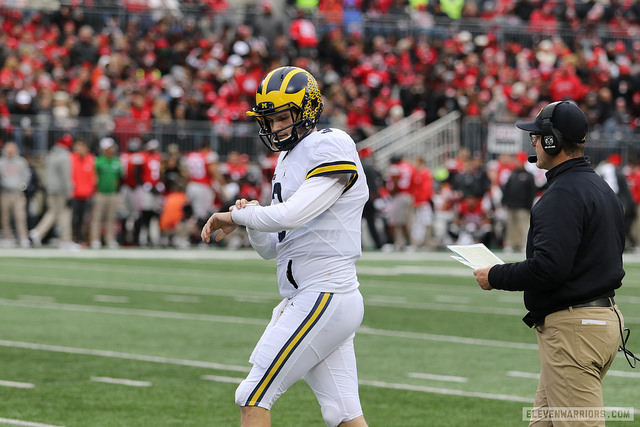 3. Wilton Speight — Michigan
There's a pretty significant gap between the previous tier and our final one, which begins with Speight. The Michigan signal caller threw for 2,538 yards with 18 touchdowns and 7 interceptions during his first year as the starter.
Assuming he holds off freshman Brandon Peters for the job, Speight should be even better in Year 2 under Jim Harbaugh. The Wolverines lost a lot on offense — most notably Jake Butt, Amarah Darboh and Jehu Chesson — but have plenty of young talent eager for an opportunity.
2. Trace McSorley — Penn State
McSorley — and Penn State, really — exploded onto the scene in the second half of last season. On the year, McSorley threw for 3,614 yards with 29 touchdowns and 8 interceptions. He added 365 yards rushing and seven scores on the ground.
With arguably college football's best running back, Saquon Barkley, in the same backfield, Penn State has as potent a 1–2 punch as there is in the country. It will be interesting to see if McSorley can maintain the high level he played at toward the end of last season where he threw 20 touchdown passes over the final seven games of the year.
1. J.T. Barrett — Ohio State
McSorley probably had the better individual season a year ago and he has a strong argument for No. 1, but Barrett's overall body of work gives him the slight edge. He's about to own nearly every record in Ohio State history, and that probably matters to some degree.
Barrett and the Buckeyes' offense should see improvement from last year with the additions of Wilson and Ryan Day to the staff. Still, despite all of last season's struggles, Barrett still threw for 2,555 yards with 24 touchdowns against just 7 interceptions. Additionally, he ran 845 yards and nine more scores and that dual-threat ability is a big part of why he comes in at No. 1.